At the pagodas tasked with cremating victims of Covid-19, those who are handling the services say there is a backlog of cremations across the capital, as morgue freezers pile up with bodies and crematorium workers don protective equipment to perform funerals.
Cambodia has seen a high case rate for the last two weeks, averaging more than 900 cases daily, with a similar spike in Covid-19 deaths. With the rising number of deaths, select pagodas across the city are working overtime to ensure the dead are given formal ceremonials.
City hall deputy governor Keut Chhe said on Monday that the three pagodas approved by the state for cremating bodies of deceased Covid-19 patients were overbooked, with 50 bodies waiting in freezers until monks can hold a cremation. The week before, there were more than 100 backlogged bodies, and he said officials were trying to repair old electric cremators or using traditional methods like a wood fire to manage the cremations.
"First, our kilns have a limitation, so we can only cremate a limited number [of bodies]," he said. "Because [the outbreak] continues building and the death rate is higher than before, so we have to hold the bodies, but we put them in freezers."
Cambodia's Covid-19 death toll is approaching 1,000 since widespread community transmission began in February, with the Health Ministry reporting 33 deaths on Wednesday, the second highest daily fatalities to date.
Each day, Toek Thla pagoda in Sen Sok district cremates between 14 and 16 bodies, taking up to an hour and a half to fully incinerate the body, said Kong Chan Dara, who's in charge of cremating bodies of Covid-19 patients.
"Today we cremate the bodies of those who died on July 2," Chan Dara told VOD on Tuesday, July 12. "We follow day by day. For the other bodies, we put them in a morgue freezer until it's their turn."
Chan Dara said the pagoda received a second incinerator, but the team was slowed by the precautions they take when handling Covid-19-infected bodies.
While those who handle cremations for non-Covid-19 deaths do not need additional protection, Chan Dara said his team wears full personal protective equipment, changing and discarding it after each cremation.
"I'm not afraid to do it because the doctors are preparing the bodies very well and sanitizing them with alcohol," he said. "The thing is the clothing to prevent the virus is an obstacle for us. It's hard to wear and we stand by next to the incinerators. It's too hot for me, the temperature is around 40 to 50 degrees Celsius."
He said the cremation process does not produce any smell, but it produces smoke for about 5 minutes while the deceased person's clothes burn, but the body's incineration does not produce smoke.
"After the body is cremated, we prepare the ashes in urns for their families," he said. "We put the name on urns in case we confuse them."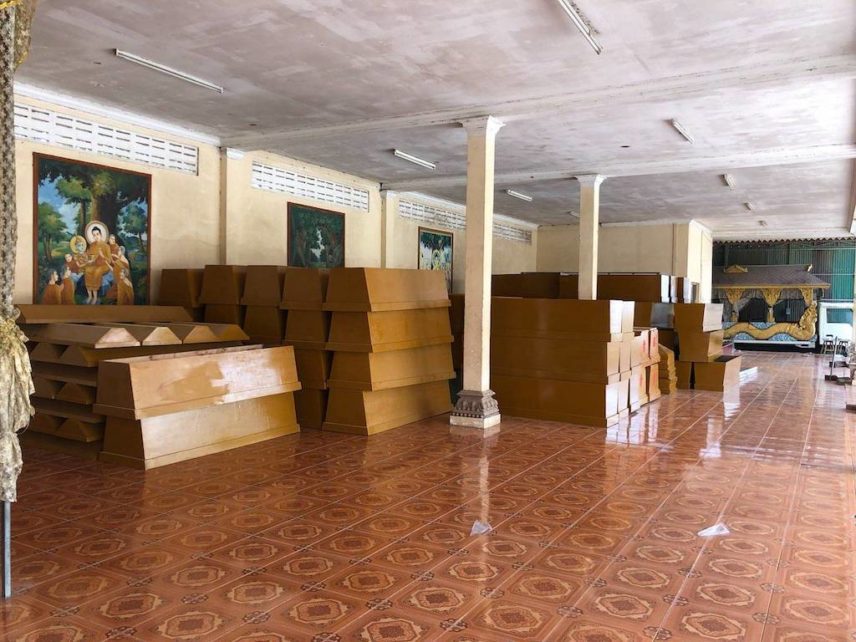 One of the achars at Dangkao district's Russei Sanh pagoda, who gave his name as Oeurn, said the strain on him and the pagoda's incinerators had reduced, claiming there were now five pagodas cremating Covid-19 patients. In previous months, he stayed up until 2 a.m. cremating bodies, but now he can go to bed around midnight.
When a reporter visited the pagoda on Wednesday, a shirtless man was fixing one of the two furnaces on site, while two doctors sat watching smoke ascend from the working incinerator.
"The machine also needs to take a break too and we allow it to take a break for two hours," Oeurn said. "It is like a human being that has to take breaks. If we continue to use them, it will cry like humans too, and it stops functioning."
At his pagoda, Oeurn said the bodies need about two hours to turn to ash, and he can cremate about 10 bodies per day. Doctors handle most of the preparation in order to prevent the virus's spread, and sometimes deliver the ashes to the deceased person's relatives. But some families have started coming to pagodas for the ceremonies, sometimes bringing donations.
Oeurn said the bodies must be burned in a wooden coffin.
"If we do not use a coffin, it is not suitable for the family," he said. "[A coffin] is the last home for the dead, they need to have a home and we cannot leave them out [during the cremation]. It is ugly without a coffin. This is important for them and their family, they are very happy we place them in a coffin."
Chhe, Phnom Penh's deputy governor, said the city is proposing other methods to handle the backlog, allowing families to pay for private ceremonies. However, families wishing to hold private ceremonies must bury the bodies, not cremate them, because an improper cremation of a Covid-19 victim could be a public health risk, he said.
"The city hall also provided the morgue freezers in pagodas to keep the bodies there, because the bodies will become smelly if we could not cremate on time," Chhe said.
The government had also previously proposed to cremate bodies on an open space in Kampong Speu province's Oral district, but this presented steep logistical challenges, Chhe explained.
"If we [send the bodies] from Phnom Penh to the province, it's 70 kilometers. Our logistics take a lot of time, and we need ambulances too," he said.
At the start of this month, Prime Minister Hun Sen told the Finance Ministry to buy 80 percent of the coffins on the market in anticipation of more Covid-19 deaths, and urged environment officials to use seized timber to build more coffins.
Additional reporting by Khan Leakhena