The gates of the Grand Twins International garment factory were crowded with security guards, drivers and other Choam Chao III residents hoping for a vaccine, even as an official spoke of how his commune's campaign was now focused on garment workers over the general population.
The queued residents of Choam Chao III commune said they had been waiting at the gates since at least 7 a.m. Tuesday morning. A guard at the entrance would occasionally open the sliding gate enough for few people to slip in.
Some of the people waiting in line had a document authorizing them to receive a vaccine. Others were trying to register for the document there.
Sin Sengnab, who works as a personal driver, sat on his parked motorbike in front of the gates, document in hand. He had received it through his landlord in Choam Chao III, and it was his first day waiting in line.
When asked whether he was ever hesitant about the vaccine, Sengnab said: "If they gave me the paper earlier, I would already have the vaccine."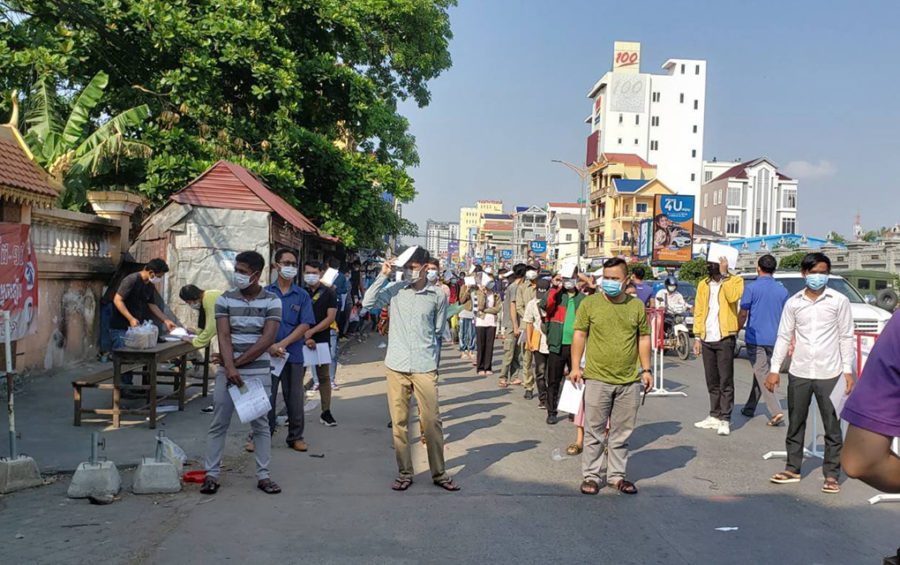 Selling waffles across from the factory's gate, Chea Pov, 49, said she has tried to get in line for a vaccine during quieter days and hours, but returns to crouching over her waffle irons outside the gates when it gets busy. She wants a vaccine, but has yet to get the necessary document, she said.
"From all over the place they're coming to get the vaccine here," she said. "I also want to get the vaccine, but when I see crowds like this I'm more scared of dying [from Covid-19]."
Choam Chao III commune chief Va Savoeun said three groups — including factory workers and general residents — were targeted in previous weeks, but now they were focusing primarily on factory workers as the city had allowed factories outside red and orange zones to reopen.
"Each factory has at least thousands. Everyone wants to be the first and [they] rush in so there are crowds and we need social distancing," he said. "So we place security guards to instruct them. Some follow, while others do not follow. It is difficult."
Some 1,000 shots had been given so far at the Grand Twins site, which is also vaccinating workers from QMI International. Vaccinations would continue for some days as there were more than 6,000 workers at those two factories, Savoeun said. Workers at other factories were supposed to get their vaccines elsewhere, he said.
"We are concerned that [the crowding] would cause infections in the location that are giving out vaccines," he added.
More widely, the commune had already inoculated 30,000 of the commune's 80,000 residents with at least a first dose, the commune chief said.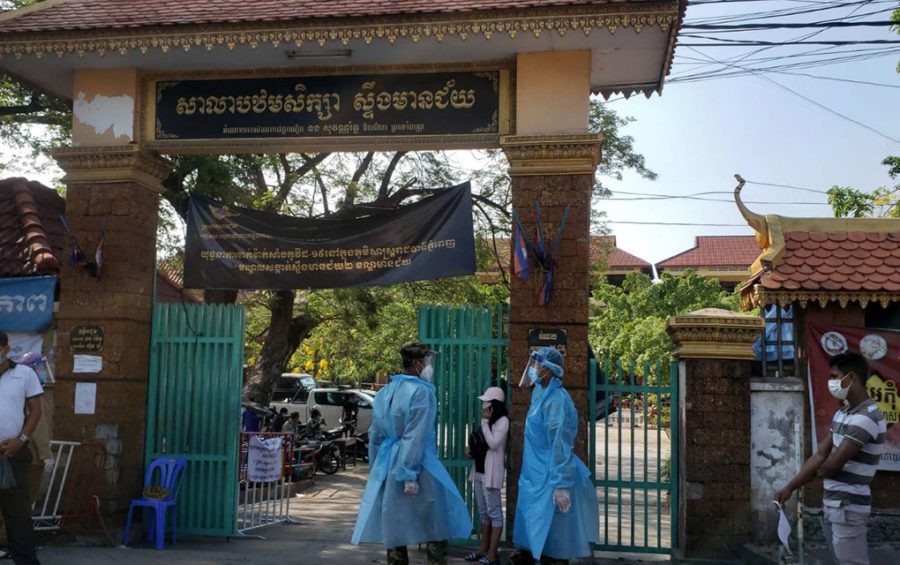 Another 500,000 doses of Sinovac arrived at Phnom Penh International Airport Tuesday morning, according to government news site AKP, with 1.5 million more doses to be shipped to Cambodia before the end of May. With Tuesday's arrival, Cambodia has received 4.5 million vaccine doses, including Sinovac, which the World Health Organization has yet to approve for emergency use, and WHO-approved Sinopharm and Oxford-AstraZeneca.
Roughly 2 million people in the country have so far received at least a first dose.
Savoeun, the commune chief, said factories could not operate until at least Wednesday, but they could "prepare the machines." Choam Chao III workers and residents, however, said many were already operating.
A worker from Nobel Apparel in nearby Prey Pring Cheung village said she was told by her factory to come to Grand Twins International for a vaccine, but upon arriving she heard she would not be able to get a vaccine unless she knew someone working in the factory.
About half of the workforce had resumed at Nobel, but she said she wasn't under much pressure to receive the vaccine: "If you don't want it, you can just continue to work."
Suong Bunteng, 32, a security guard working for Arslan SRS, said he and his two friends seated around him had been trying to get a vaccine document from their village chief for a week but hadn't succeeded. The three came to the Grand Twins factory that morning to try again.
"You have to have family inside," he said as he sat on a cement ledge in front of the factory sign. "It's very difficult to get the document, for about one week they've been wasting our time."
Bunteng said his current employer did not urge him to get the vaccine, but he worries future employers may not hire him if he isn't vaccinated.
"If we cannot get it here, we will feel hopeless," a friend seated next to him added.
Over the weekend, Prime Minister Hun Sen declared that vaccines should not be mandated by factory employers as work resumed at partial capacity, saying such discimination would be an "injustice." However, he suggested that workers would be "lonely and unemployed" if they decide against getting a vaccine altogether.
By 7:45 a.m. Monday, a police officer with a loudspeaker started urging the crowd to leave, saying that the factory would not be distributing any more vaccines that day.