UPDATED 7:55 a.m. — People visiting Phnom Penh's Chak Angre Market during the morning bustle are usually busy dealing with sellers, said Tem Sal, a 45-year-old fish vendor who guts and sells her wares from a street facing the market. But on Monday morning, a crowd of 20 or 30 people had formed a few dozen meters up the street.
She went over to see what was going on, and saw pools of blood on the street.
Sal said on Tuesday that she hadn't really known the injured man, who sold organic vegetables from a small cart a few stalls west of her fish for the last two or three years, and did not know if he had a job other than the stall. But he was always friendly to her and others, and she had seen him often enough to know he took his breakfast at the market every morning.
"He's a gentleman," she said. "We had no problems with him, and I heard nothing about any quarrels with him."
The man was Din Varin, 48. He was smashed in the head with a brick on Monday morning in Meanchey district's Chak Angre Krom commune and rushed to the hospital, according to CNRP vice president Mu Sochua as well as Varin's wife.
He was a member of the outlawed opposition party and "remained active," helping organize small activities "to demonstrate our resistance," Sochua said in a message early Tuesday morning.
The attack followed more than 10 cases of violence against opposition-related figures since 2018, a rights group said.
One day after the attack, vendors said they were still shocked, saying they knew the organic vegetable vendor as a gentle and quiet seller but knew nothing of alleged political activities.
National Police spokesperson Chhay Kim Khoeun said on Tuesday that individuals close to Varin had already given testimonies, but police had yet to identify any suspects.
"We can check the camera or find more witnesses in order to identify the suspects," he said. "Now, we have not identified the suspects yet but we have already conducted an investigation."
Two women whose shops were directly across from the site of the incident said police had come about 30 minutes after the attack to take pictures of the scene and ask for security camera footage from the shophouses across from their stands. But the officers — some in plainclothes and some in uniform — did not interview them.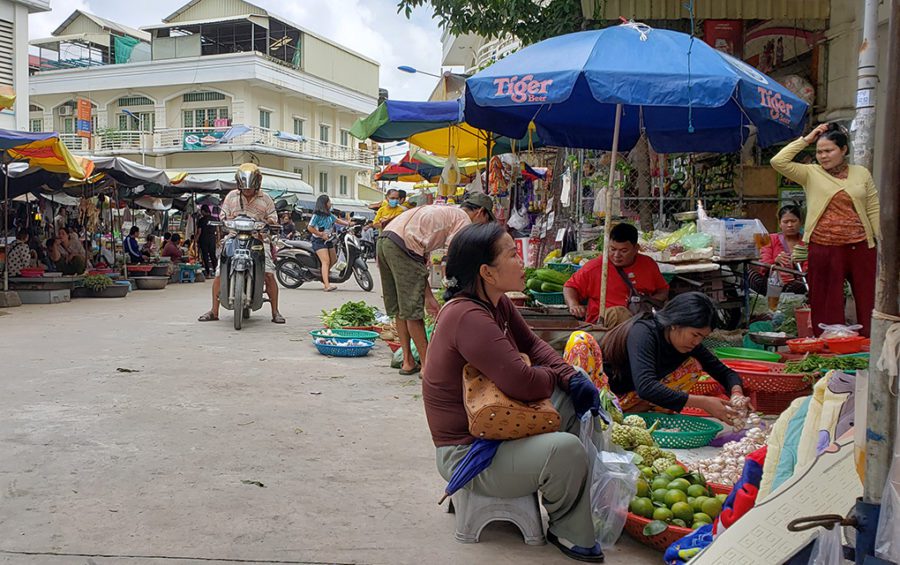 From behind her fruit and juice stand on the west side of Chak Angre Market, a 48-year-old vendor, who would not give her name, remembers hearing a motorbike rev its engine as she looked down at her stand.
When she looked up, she saw a man keeled over a few dozen meters away, bleeding profusely from his head. While on the ground, he vomited blood, said the woman.
"I felt pity for him, and I was shocked when I heard [he sells vegetables nearby]," she said, adding that she joined the crowd and gave him some Tiger Balm.
Another vendor, who sells pork, said Varin fell right in front of her stall on Monday morning, gushing blood out of his nose. She had seen a motorbike drive past and she originally thought the driver side-swiped the man with the bike, but she later saw a brick on the ground near where he fell.
Varin tried to stand up, she said, but he shook and fell back down. The pork seller, who also declined to give her name, saying it wasn't easy to keep her stall at the market, said her husband rushed over and jumped over him a few times — which some believe will wake an unconscious person and chase out bad energy — while a small crowd was gathering. The vendor said she only knew he sold vegetables around the corner, and some of the vendors called Varin's wife, who was around the corner at their vegetable stand.
"I told her not to shout for help, just bring him to the hospital immediately, because no one could help him," she said, explaining that he was bleeding too much.
Di Lapoch, a 37-year-old selling rice next to the pork vendor, said she had watched Varin fall, but she wasn't sure if he was bleeding from his nose or his ear.
"I dared not look after I saw his blood coming out," she said.
She said the pork vendor's husband had cursed at the motorbike drivers for hitting Varin, and then helped respond to the injured man.
"I feel scared — what if someone does [something] like that to me?"
Reached by phone on Tuesday, Varin's wife, Chan Sopheak, 56, said her husband had a dent on the left side of his forehead and reaching part of his eyebrow from the attack. He had undergone surgery yesterday, she said, and was now conscious but in critical condition.
Sopheak said her children had filed a complaint to police yesterday, though she did not believe that anyone would have reason to seek revenge against her husband.
"If anyone said he had a quarrel with anyone, they are wrong," Sopheak said. "He is gentle and honest and sincere. He found money [recently by chance] and he did not want to keep it, so he brought it to the bank."
Justice Ministry spokesperson Chin Malin warned civil society not to prejudge the case, saying that attacks on former opposition members were not always politically motivated.
He said it would be difficult for police to find the perpetrator because the family was not cooperating, contradicting reports from both Varin's wife and National Police spokesperson Kim Khoeun.
"It might be difficult to find the perpetrator," he said. "However, authorities are still working, but they demand participation from the victim and from all related parties. Civil society should not quickly make pre-judgement by making such accusations with its anger and revenge."
Am Sam Ath, spokesperson for the human rights group Licadho, said there had been more than 10 cases of violence against opposition-related figures since 2018, and in most cases, the perpetrator remains unknown. The human rights worker urged law enforcement to work harder to identify the cause of such attacks.
"Authorities should find the perpetrators to punish [them] according to the law, in order to get rid of the criticisms of being politically motivated and to give justice to all victims," Sam Ath said.
And if cases such as the attack on Varin remain unsolved, Sam Ath said he worried other violent attacks could follow.
"[This case] makes [us] worried and could lead to more such cases happening," he said.
Sochua told VOD late Tuesday that Varin had met for coffee with other members of the CNRP before he was attacked. He had been an "active citizen," she said.
"For members living inside Cambodia, they live with a sense of being followed and watched," she said. "We have always asked them to wear helmets when they travel on motorbikes … but it's hard to wear helmets when you're going to work or walking."
Sochua, who is currently based in the U.S., said there had been about 16 assaults on individuals who worked with the CNRP since the party dissolved. Sochua suspected that most assailants in these cases had lived near their targets because they seemed aware of their movements, and most of the assailants aimed for the head, leading her to believe the attacks were "systematic" and "ordered from the top," she said.
"What harm can Varin do, a man who has no voice, is poor, has no leadership role whatsoever, would be a target? It's because of the system," she said, referring to Prime Minister Hun Sen's promises to find those who are conducting opposition activities in the country.
"You can kill them, you can put them in jail, but the reason they don't defect is they remain in the spirit of the CNRP," she said.
Updated at 7:55 a.m. with additional comment from Mu Sochua.