Hel Sari says his recent feelings of isolation are not the result of quarantine, social distancing or other measures intended to halt the spread of Covid-19.

Instead, 50-year-old Sari says discrimination experienced by Cambodian Muslims and the closure of his local mosque, where he connects with the Muslim community and to his faith through Salah prayer rituals, have made him feel alone.

"I feel very lonely because we usually gather, and people come and talk," Sari explains as he sits outside the shuttered Prek Pra Mosque in the capital's Prek Pra commune, two hours before he plans to head home for noon prayer.

"We have no objections, and we have to respect the orders [to close the mosque]," he says. "We just hope the virus disappears so we can follow our routine as we usually do."

While some Cambodian Muslims in Phnom Penh say they are not so concerned about the spread of the disease, they are troubled by a drop in customers frequenting their businesses and recent discrimination against them following a spate of infections in the country that were linked to a religious event in Malaysia.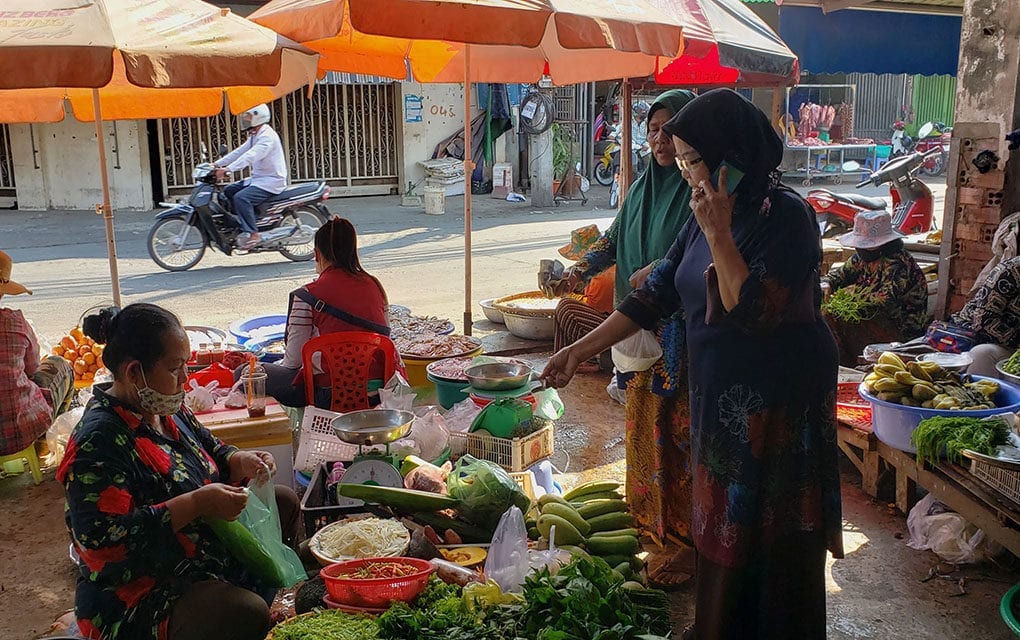 Sari returned to Phnom Penh early this month from the Islamic ceremony in Kuala Lumpur, Malaysia, only to be called in for health testing by authorities 11 days later after more than 100 Covid-19 infections in multiple countries were connected to the gathering.

From February 27 to March 1, about 16,000 people, including 1,500 foreigners, made a religious pilgrimage to a massive mosque complex on the outskirts of Kuala Lumpur, where they prayed side-by-side and shared plates, Reuters reported. Most participants washed hands regularly, some said, as washing before prayer is a key part of Muslim religious practice.

Sari says he was told that he tested negative for the novel coronavirus the day after his sample was taken. Still, his wife has experienced first-hand discrimination due to their faith being linked to the virus.

Her usual money changer, who is of the Khmer ethnic majority, refused to exchange bills for her, he says.

"Actually, only two people [in the commune] got infected, but some people are becoming panicky and scared," he adds.

Some 25 Cambodians who had attended the gathering of Muslim worshippers in Malaysia tested positive for the respiratory disease in Cambodia this week, comprising about half of the nation's total reported cases of 51 people since January.

Three Malaysians who tested positive in Cambodia are also known to have attended the gathering. Three additional Cambodians have tested positive after being in contact with attendees.

Sari had attended the event in Malaysia for four days, returning to Cambodia on March 4 along with six other members of his community. He was praying at the mosque on the evening of March 15 when authorities came and told the group to take a Covid-19 test. Two of seven Prek Pra commune men tested positive for the virus, but Sari says that on Thursday he called the infected men and they told him that they felt normal and healthy.

"I was not scared and panicked, because I did not feel sick," Sari says. However, he and other Cambodian Muslims, often members of the Cham minority group, say they have noticed people from outside their communities treating them with suspicion.

"If we would have known the places for praying [in Malaysia] carried the virus, we would not have gone there," Sari adds.

Throughout Southeast Asia, some 750 cases have been linked to the event as of late Friday, according to Reuters. The Islamic missionary movement Tablighi Jama'at, which organized the event in Malaysia, planned to host a larger gathering in Indonesia's Sulawesi island starting on Thursday, but the event was canceled at the last minute after 8,000 worshippers had already arrived in the city of Gowa.

'Not Even 10 Customers'

In Phnom Penh's Prek Pra commune, on a usual day, Ar Siyas' table full of chopped chicken pieces would be quickly sold out, but after Covid-19 cases were connected to the Islamic gathering in Malaysia, the 33-year-old Cham vendor says customers dropped within a few days. About half of the vendors and buyers wore face masks, but the shoppers, or lack of them, was more shocking to Siyas.

"Before my booth would draw about 100 people, but now not even 10 customers come," she says.

Siyas played an audio recording, which she says was spread on Facebook, in which a woman is heard saying that 40 Cham people from Prek Pra, in Chbar Ampov district, had returned from Indonesia and tested positive for Covid-19, a claim that runs contrary to Health Ministry statements. The vendor attributed the decrease in customers at Prek Pra market to the recording.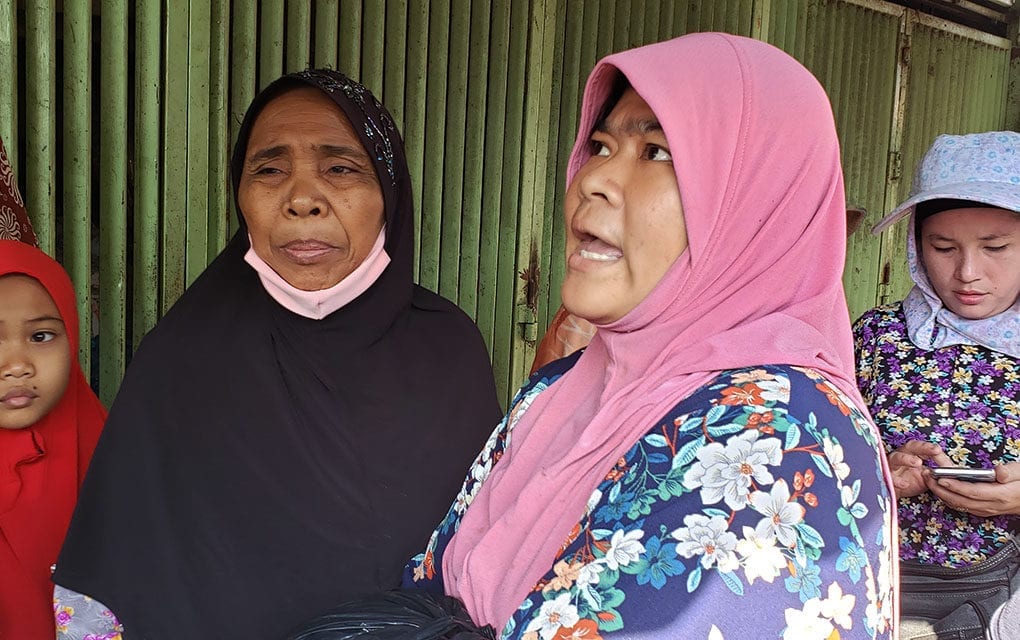 District governor Cheng Monyra says that he heard about the recording and has already asked district police to investigate, adding that posts like this "pollute" Covid-19 news coverage.

"Those who create such messages have really bad intentions, causing people to become scared," he says. "When they post disinformation, it means they have bad intentions."

In a halal restaurant outside Al-Serkal Mosque in Phnom Penh's Daun Penh district, Ry Yas, a 30-year-old Cham server, says customers have dropped by half after more Covid-19 cases were confirmed this week. She says she's particularly noticed a significant decline in Khmer patrons.

"When my boss went to the market, he was discriminated against by some Khmers, even though we have been in business for five to 10 years," she says.

When her employer spoke with Khmer people, she says they acted as if they were busy doing something else and ignored him.

"They've become less friendly," she adds.

Identified as 'Khmer Islam'

Cambodia's Health Ministry first tied infections to the gathering in Malaysia on March 15 after two Cambodian men in their 30s tested positive for Covid-19 in Preah Vihear and were quarantined in the provincial hospital.

Globally, the virus has infected some 275,000 people, with 88,000 recovered, and has been linked to more than 11,000 deaths, according to data from the U.S., E.U., China and World Health Organization (WHO) compiled by Johns Hopkins University.

After the number of confirmed cases of Covid-19 in Cambodia nearly tripled on Tuesday — with 20 of 21 new infections connected to the Malaysia event — Cambodian authorities ordered a halt to all religious gatherings, as part of a range of measures to prevent the spread of the disease.

The Health Ministry has said 79 people had entered Cambodia after attending the Malaysia gathering, but ministry spokeswoman Or Vandine said Thursday that officials were still seeking some of the 79 for testing. She did not specify how many of the group had not been tested.

Vandine did not respond to requests for comment on Friday.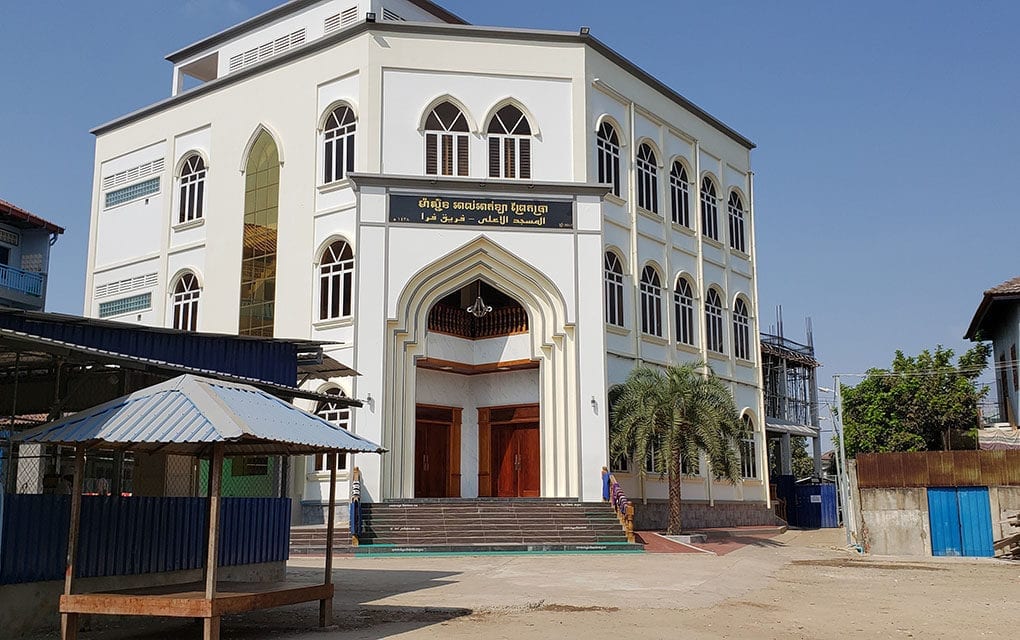 For some, beyond the havoc that the outbreak has wrought, concern is more focused on how positive cases of Covid-19 among the Muslim community have been communicated to the public by the government.

So Farina, a researcher at the Documentation Center of Cambodia who focuses on Cham Muslim history, notes that some statements from the Health Ministry have simply connected infections to the Tablighi Jama'at event in Malaysia, but others specified the infected individuals as "Khmer Islam," or Cambodian Muslims. She says this identification can be misinterpreted because readers might then associate the disease with a person's religious identity, rather than a place where the disease was likely transmitted.

"They did not write an explanation about why they were infected, or when they left the country, so it adds some confusion," Farina says. "We need more clear information and explanation so people can try to understand."

Pen Narin, a 57-year-old Prek Pra market vendor who is not Muslim, says she is upset that rumors about the virus have stopped people from visiting the market, where Cham and Khmer vendors sell vegetables, meat and dry goods alongside each other.

"If the business continues like this for a week or two weeks, it will be hard for us to survive," Narin says, gesturing to stacked cartons of unsold eggs and explaining that they would all be sold on a normal day.

San Samphos, a spokesman for the Cults and Religion Ministry, says the country does not allow discrimination, and he would not comment on specific allegations of discrimination against Muslims.

"[Cambodians] should have good communication and live in peace in society," he says. "That's all that I will say."

But since the first reports of the respiratory illness trickled out of China, where the virus was first detected in late December, researcher Farina says she has been following the discriminatory and racist comments and behavior leveled against Chinese and other Asians, which have become harmful side-effects of the pandemic.

In Cambodia, she says, the virus has sowed verbal and nonverbal discrimination against the Muslim community.

"One of the things I have seen is the comments expressed on Facebook, they still blame Cham Muslim people for the new cases, rather than the virus itself," she explains.

While it is helpful to track and identify individuals in order to stop the spread of the disease, Farina says focusing on characteristics of infected people, such as ethnicity or religion, is not productive to fighting the virus and will make it harder for targeted people to recover their businesses and their lives.

"Instead of blaming where this originates or where people were infected," she says, "[people should] unite and find the best way to protect ourselves and protect others."

This article was produced by New Naratif and VOD, who have partnered to publish long-form journalism from Cambodia that empowers our shared community with news and information.