In the morning, hundreds of striking workers from garbage collector Cintri gather inside and outside the company's garages in Phnom Penh's Dangkao district. Some sit, some stand. Most wear green Cintri vests, while others are in T-shirts and other casual clothing — all of them far cleaner than on a typical working day, they say.
They are gathered to discuss the ongoing labor dispute.
Since last Friday, more than 2,000 workers have gone on strike in an effort to secure severance payments and other benefits ahead of major restructuring of the city's waste management. They fear that as Cintri's work is set to split across three companies, benefits they've accrued over years of employment will be lost.
As of Friday, most workers remained on strike, rebuffing offers from City Hall that it will guarantee the benefits. VOD spoke to several sanitation workers about the demands of the job — and why they remain committed to the hazardous work of keeping the capital clean.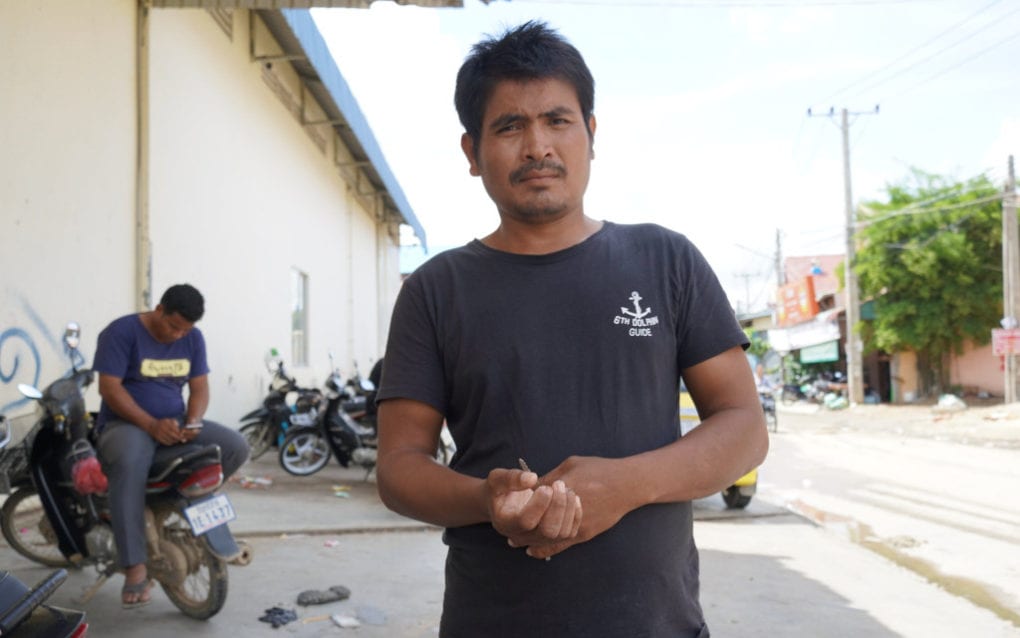 Kev Run, 40
Kev Run lost two of his fingers last month.
He was working with a truck emptying its load, helping to push up the truck bed — which dropped, slicing off the tips of his fingers.
"We can't be lucky every day," Run says. "We try to be careful all 24 hours … but we are working with machines."
Another time, he was hit by a truck during a night shift and lost consciousness, he says.
Run, originally from Svay Rieng province, says he used to sell freshwater clams and has also worked as a construction worker. But Cintri pays better, about $180 per month including overtime as a collector.
But the cost is that he is sick three or four days every month, Run says. It incurs a heavy expense, and he has spent as much as $50 on medicine, he says.
He has two daughters, aged 11 and 14, and the older child has quit school to help with the family income. Without an education, it's the best job he can find, he says.
Phay Hy, 27
Father-of-two Phay Hy says it's rare to have the morning off.
"We work, even in the rain shaking like a baby chicken," Hy says. He was a trash collector for five years before driving the truck for the past year and a half.
Including overtime, he can make more than $300 a month, he says. Originally from Kratie province, his wife recently lost her garment factory job due to the pandemic-driven economic downturn, leaving him alone to provide for his 7-year-old and 5-month-old sons.
He says the work at Cintri is the best he can find, and promises a clean city once the workers' demands are met.
"We want to say that if we get it, we will rush to clean up the city. We will go out to collect twice or three times until it's totally clean," Hy says. "[We're] going to restore [our city]. We promise."
Ey Ratana, 32
Ey Ratana says he has only worked at Cintri for half a year, but it's been gruelling.
"We get caught in the rain, we catch fevers, colds," Ratana says. The workers' eyes are always strained from trash fumes.
For colds and fevers, they just take some medicine and get back to work in a sweat, he says.
Ratana, also a father of two from Kratie, used to be a tomato farmer. He says the tomato market wasn't so good, so he came to the capital. He still has debt from his farming days.
He recently cut his hand on a piece of glass, his blood dripping onto the road. He got three days off, then went back to working using just one hand, he says.
"If we get our demands, I will work harder. I'll collect all the garbage in one day to help the city totally clean up," he says. "We won't let it smell bad."
Seak Bunny, 40
Seak Bunny says he always stinks, but his wife doesn't mind — or at least isn't disgusted.
"It's a really bad smell," he says. "Sometimes [we] pick up [a bag] and liquid pours over us."
He itches all over his body. "I scratch while I'm sleeping, even after applying powder," the father of two from Kampong Chhnang says. He washes his clothes separately from his family's to prevent the smell from spreading.
Heavy lifting also makes his body ache, he says. "But we've adapted to this job," he continues. They are happy to work, as long as demands are met.
"Working at Cintri, I can go to work and get a salary. I have no idea how to find other jobs," says Bunny, a former tuk-tuk driver. He has worked at Cintri for two years as a collector. "We don't have knowledge like others."
Update October 15: Workers have agreed to return to their jobs following a promise that seniority and other payments will be paid out in February.
Note: This report was produced with support from the Rosa Luxemburg Foundation under the financial support of the German Federal Ministry for Economic Cooperation and Development.