Taps have been completely dry for a month for some residents at a Phnom Penh borey as water shortages from earlier in the year have worsened, they said on Tuesday.
Large, blue 10,000-liter water tanks have been set up all around Pur Senchey district's Borey Piphup Thmey 2, and residents are resorting to fetching water every morning in 30-liter plastic tanks — as many as 10 to 20 containers a day for some residents.
The situation has been worsening, they said — a month ago, residents told VOD they were waking up in the middle of the night as water still trickled through the pipes for a few hours each night.
Kema Rith, a 31-year-old freelance designer, said it was a recurring problem at the borey.
"We haven't had water at all for a month, and before that, we could get water only at midnight," Rith said.
He did not much appreciate the solution of placing large tanks of water around the development, as the problem had repeated during his three years living there.
"This is called an issue. They should find a better solution than placing the tanks. It's not enough when we need to fetch water every day. We need to wake up and go to work [but] we need to go get the water first."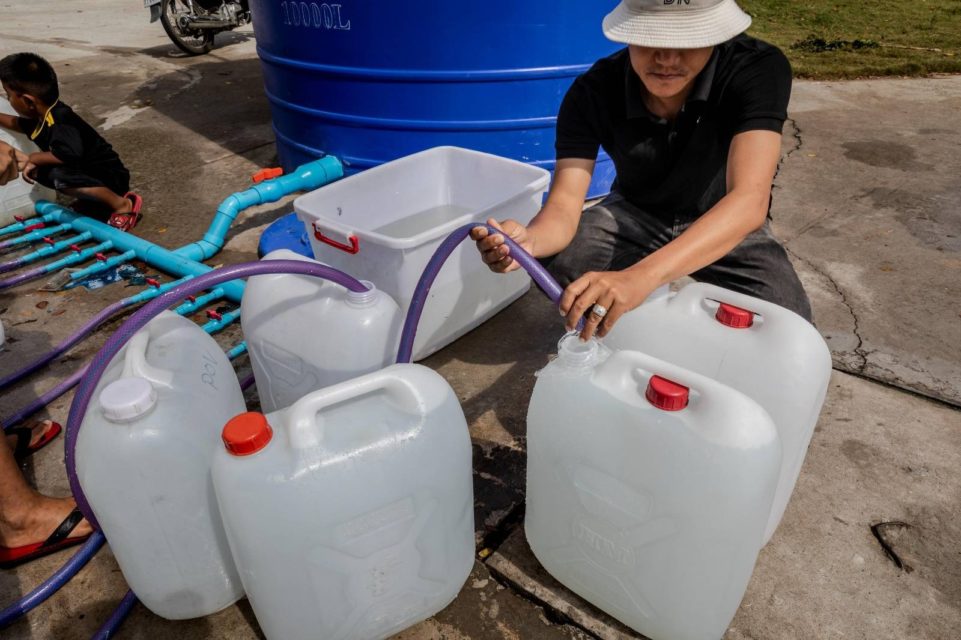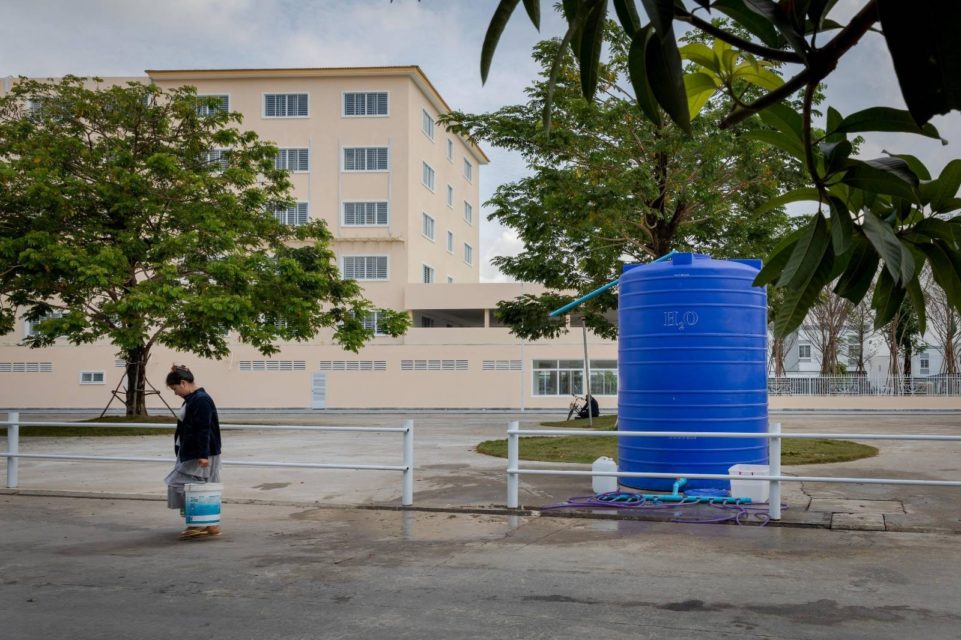 Heng Phearun, 37, said he had complained to the developers but was told it was a problem with the municipal water supply.
"I went to their offices. They said that is not related to them. But at least they should try to find a solution," he said.
Housing resident Tany, 23, who did not want to give his full name, said his family used 10 to 20 fills of 30-liter tanks every day, and sometimes he wakes up at night to try his taps.
"Sometimes I wake up three or four times. But there's nothing," Ny said, adding that he sometimes skips showers to save on the amount of water he needs to fetch. "It doesn't have any water at all."
Residents and a real estate website said there were more than 3,000 units at the development, priced around $50,000 each. In the city's northwest, past the Phnom Penh airport, the borey is among a series of housing developments that have sprouted across the outskirts.
City Hall has previously said it was aware of some water shortages due to the city's rapid expansion, and was shipping free water to affected residents and working on solutions. The Industry Ministry has said that problems would be solved by next year.
Borey Piphup Thmey could not be reached on phone numbers listed online on Tuesday.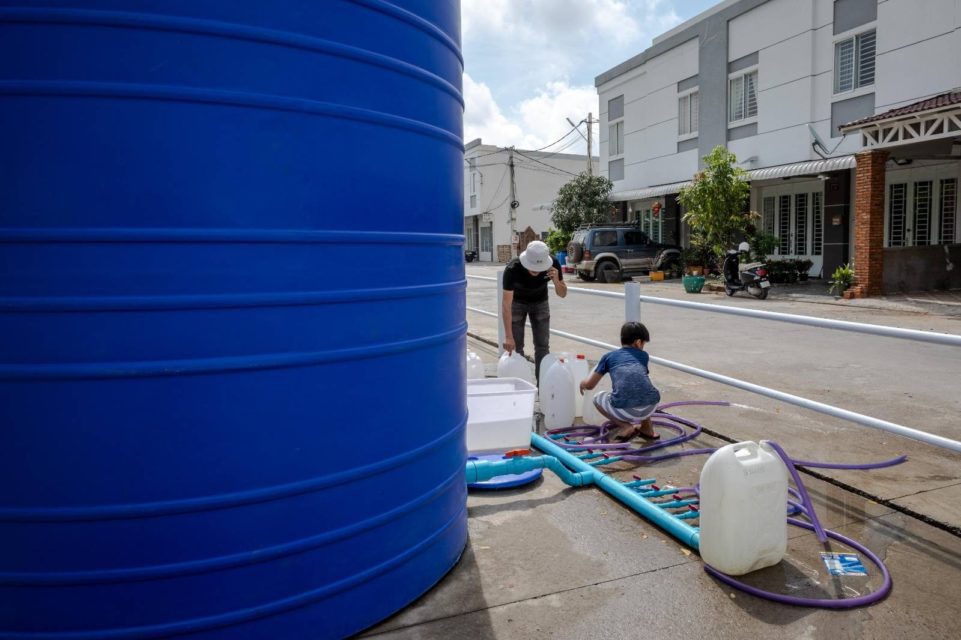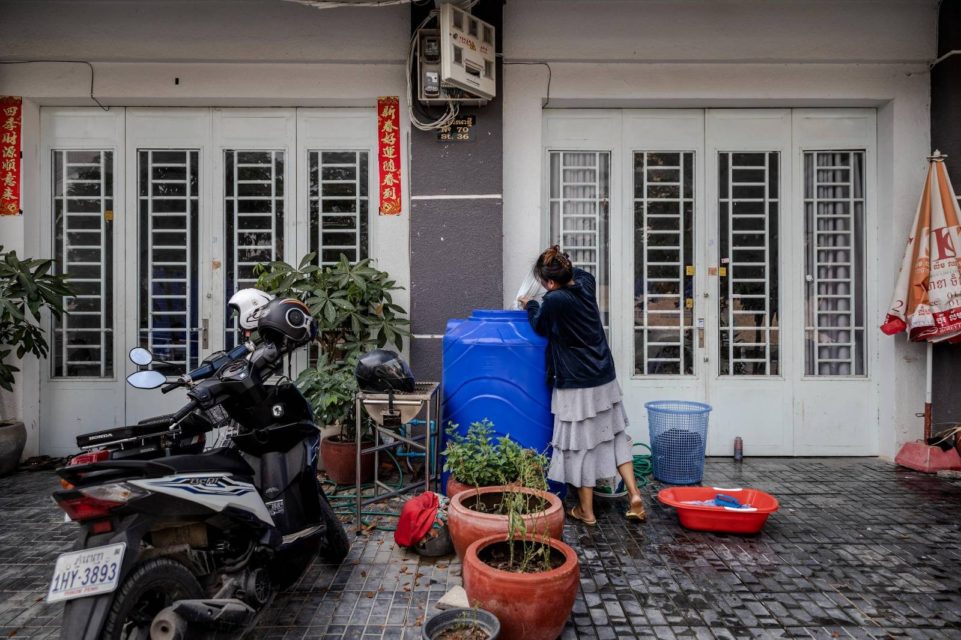 However, Phnom Penh Water Supply Authority deputy director-general Long Naro said the problems at the development had already been fixed.
"They should tell us where it is. Usually, we have our agents go everywhere. We have already solved this problem. There should be enough to use," Naro said. "Tell the specific place, in case this news is old. Give the phone number. It'll only take us 20 or 30 minutes to get there."
He added that residents should have called the authority about their problems, not spoken to reporters.
"The residents should come to the water supply authority. Why do they go to the journalist? What is the advantage for them? If they tell us, we will manage to go. But they don't tell. But they told the journalist," Naro said.
"Journalist, solve this."