In late 2019, two strangers with stun batons approached a Cambodian opposition activist on a street outside his apartment in Bangkok, says the activist, Suon Chamroeun.
The former Battambang CNRP official says the two strangers spoke to him in Khmer, telling him their "boss" had ordered them to bring him in.
"It wasn't a threat. Not a beating. They came to catch me," Chamroeun says. "They came in very quietly, secretly."
"It was like Wanchalearm Satsaksit."
Less than a year later, Wanchalearm, a Thai activist, would disappear from Phnom Penh.
But Chamroeun ran into a nearby mart. He believes he barely escaped.
"If they caught me, I might not be alive," he says.
Vean Chhun, a former CNRP official in Siem Reap province, also moved to Thailand and into Chamroeun's building. Shortly before the attempt on Chamroeun, the building's surveillance camera captured strangers looking around in the middle of the night, Chhun says. Another of their colleagues, Khin Chamreun, was also almost grabbed from outside the building, he says.
Chhun says he himself has been arrested by Thai authorities three times. The first time was in late 2019, and he was detained twice in 2020, according to the former opposition official. He believes the Thai authorities had detained him at the request of Cambodia. Lawyers from the U.N. intervened to secure his release, Chhun says.
The CNRP was outlawed by the Supreme Court in 2017, depriving nearly half the country of a party they once supported. Of its two top leaders, Kem Sokha was arrested for alleged treason, and Sam Rainsy remained outside Cambodia to evade court actions against him.
In 2019, Rainsy promised to attempt a return, and invited the CNRP's supporters to join him in Thailand to walk into Cambodia en masse. Rainsy didn't even board his flight in Paris, but a crowd of supporters had arrived in Thailand.
According to some of those supporters, around 100 activists remain stranded in Thailand. They face likely imprisonment were they to come back inside Cambodian borders, but the remaining activists say feel strained by life abroad but fear of what they'd face if they returned.
'Wait for the President'
Support for Rainsy's return attempt has been branded as "plotting" a coup, and mass trials involving more than 100 defendants are ongoing in Phnom Penh.
Government spokesperson Phay Siphan says the activists in Thailand should face up to the legal repercussions of their actions. He says their accusations against Cambodia are made only to help their asylum applications.
"If I were him, I would want to confess and ask for a favor, then it would end the matter," Siphan says. "If I were him, I would not make up a story to use as an excuse to politically defend myself like that. They say it to make an argument, only for their political exile, by destroying the government's reputation."
Catherine Stubberfield, a communications officer for the U.N. Refugee Agency, says the agency cannot comment on specific cases.
Chum Sorphorn, a former opposition city councilor in Kampong Speu province, says she thought she could return to Cambodia this year to be reunited with her family.
But she found out about the arrest of Kim Tola, a former colleague in Kampong Speu. Tola was arrested last month following her return from Thailand. "She was involved with Sam Rainsy," provincial governor Vei Samnang said upon her arrest. "Authorities need to try to maintain security and public order."
"When I think of that, my tears fall," Sorphorn says. "I really miss and pity my children."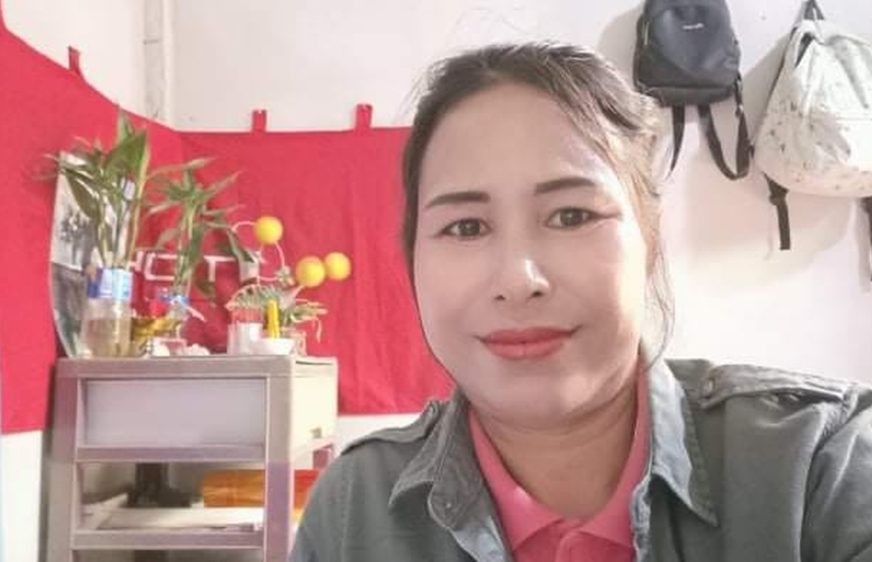 She says she lives in workers' accommodations in the outskirts of Bangkok, but has been unable to find a job as she has no work permit and can't speak Thai. Instead, she has received help from the British Red Cross, she says.
Despite being left in the lurch, she is still waiting for Rainsy, Sorphorn adds.
"No matter how difficult it is, how much I struggle, I am willing to suffer this life in Thailand, because I have been pursued for arrest and have been sent arrest warrants, so I can't return to Cambodia. I have only to continue living in Thailand to wait for the president to return and accompany him to change Hun Sen's dictatorship regime and demand our rights and freedoms back."
Ongoing Pressure
Pa Chanroeun, president of the Cambodian Institute for Democracy, says that without political negotiations between the ruling party and former opposition leaders, the former officials and activists living in exile are unlikely to be able to return safely.
"If our political situation remains dark and there is no compromise or resolution on the ongoing political disputes, the repression and persecution of some former activists and leaders of the CNRP will continue."
Neang Sokhun, a CNRP youth activist, says his passport has been revoked by Cambodian authorities, and now depends on the British Red Cross for his livelihood in Thailand. He only leaves his residence in a group with colleagues — never alone.
But he says his life in exile is also an opportunity to continue pushing the opposition message. He posts videos and raises issues online, Sokhun says.
Some are able to seek asylum in a farther country, like Chamroeun, who was able to go to New Zealand after he was approached by the stun baton-armed men. But Chhun, who was arrested three times, remains in Bangkok, joined by his wife and two children who he says were harassed by local authorities in Cambodia.
He says around 100 CNRP activists remain in Thailand, many still seeking refugee status. They are struggling, but many are still believers in the cause, he says.
"Our deepest concern is fear of losing the nation, losing the rights and freedoms of millions of people in Cambodia — which is important and, I think, more important than my personal livelihood."
(Translated and edited from the original article on VOD Khmer)