A high school in Battambang's Sampov Loun district came under social media fire after posting nearly 100 photos online of two teachers shaving boys' hair during the school day, which the school said was needed for "discipline" but critics said constituted harassment.
On January 23, the Sampov Loun High School's official Facebook page shared pictures of teachers using electric razors to shave the hair of male students between grades 10 to 12, with the caption "school discipline by teacher and youth council."
In one photo, a teacher brandishes an electric razor in the air. Male students watch, some with sad expressions, as a teacher approaches their friends; in one photo, a student covers his face with his hand while getting his own head shaved. Others show students with uneven patches cut from the back of their heads.
The post received almost 15,000 comments and over 25,000 shares within a day. Most of the Facebook comments criticized the school for cutting the boys' hair and posting about it.
"It's their hair, it doesn't affect their studies at all. As shown in the pictures, they didn't even dye it, and the length seems perfectly fine. What is the point of doing this?" one commenter wrote. "I think this is an act of harassment, you shouldn't be this proud of your action and post a whole album like this."
Politicians, scholars and even government officials soon weighed in: Yim Sinorn, a well-known supporter of the dissolved CNRP opposition party, wrote that "the teacher's hair is longer than the students.' Should the teacher be punished like this?"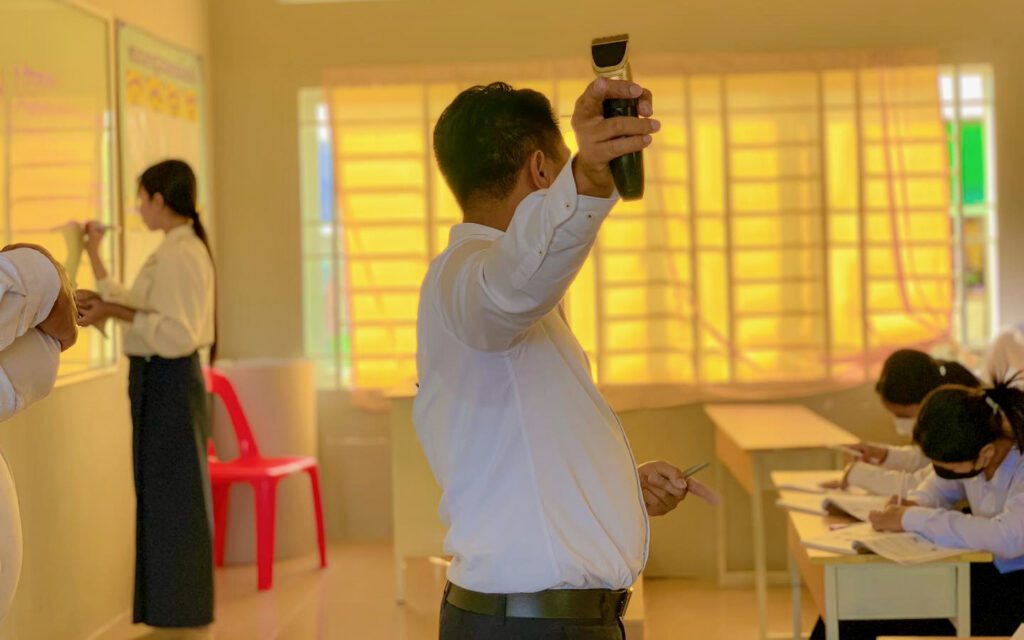 Pa Chanroeun, president of the Cambodian Institute for Democracy, called the shaving a "negative punishment" and added that "in the modern education system, they no longer behave like this because it is an immoral act."
Sihanoukville deputy governor Long Dimanche shared the post on his own page, telling his followers: "If there is this action happening in Sihanoukville, please let me know."
Ministry of Education spokesperson Ros Sovichea said the ministry is now investigating the case, but did not explain what the investigation would entail. A few weeks earlier on January 1, the school had posted sample photos of haircuts it wanted boys to follow, with their hair buzzed close to their head.
One grade 11 student who wished not to be named to protect his identity said the school is strict about requiring boys to cut their hair short, shaving students' heads — including his own — last year too. The school management team shaved the heads of all 23 students in his class, he said, except for two who had shaved their own heads.
"I'm frustrated that they shaved my hair as it was not even long. I do love my hair, but now it looks disgusting. They shaved it from the bottom to the top of my head," he said.
"A few of my friends cried while losing their hair," he added. "Now, it is hard to see people — girls laugh when they see us. Villagers jokingly ask me if I just left a correctional center. It's hard to accept now."
Another 18-year-old student who is from the same class said he was also upset.
"People are staring at me now wherever I go. It's just hard to be in this awkward situation."
Despite the flak, the school seemed to stand by its decision. School director Bot Bonna said in a statement that the management team was enforcing the school's dress code, including haircuts.
"There are some students who do not have the proper haircut. That is why the teacher decided to shave their hair. This rule has been in place since 2017," he said in the statement.
President of the Cambodia Independent Teachers' Association Ouk Chhayavy said that specific rules about haircuts are up to individual schools.
"I do not complain about the school's actions in what happened, because each school has its own rule," she said.
"As long as students follow the rule, they will be OK."