Sdao commune, Kampong Cham
In the back of Kung Raiya's two-story shophouse on the outskirts of Phnom Penh, a sign reading "Kem Ley Library" with an image of the slain political commentator hangs out of sight from neighbors.
Raiya, a former youth activist running for commune chief of his hometown of Sdao, Kampong Cham province in next month's election, says the large banner once hung more prominently outside his previous home in the capital.
In late 2017, Raiya started the library to share hundreds of copies of Kem Ley books, compilations of the popular social critic's press interviews, Facebook posts and other writing, with Cambodia's politically minded youth masses.
It was Ley's virtue, truth-telling and willingness to engage with young people that Raiya says he most admired about Ley. The government critic was shot dead in a Phnom Penh gas station shop in 2016 in what many believe was a politically motivated assassination.
"Anytime that youth asked for his thoughts, he never denied them," Raiya said. "He always took time for youth."
As Raiya prepares to challenge a 20-year incumbent as the top candidate for the opposition Candlelight Party in Sdao, the 31-year-old university student says Kem Ley remains one of his political idols. His other role models include exiled opposition icon Sam Rainsy and Raiya's late father, Kang Kung, a CNRP party activist and candidate.
Raiya says he learned everything from his father. "He was my first teacher."
In the last commune election in 2017, Kung was the fourth-ranked CNRP council candidate in Sdao. While his party won three of the commune's five council positions, the ruling CPP took the other two, meaning Kung did not win a seat on the council.
"I'm standing as a candidate for Candlelight since my father had no chance to serve the people," he said. ​​"We need to participate as citizens in order to make change."
Like Father, Like Son, Like Kem Ley
Raiya grew up in Sdao with eight siblings and parents who farmed rice. His father Kung stood as a candidate for the royalist Funcinpec party in the 1993 election, according to Raiya.
"My father liked to listen to news morning, afternoon and night," Raiya recalled. "Sometimes he turned on the radio and walked away but I stayed and listened."
Raiya looked up to his father, said Raiya's mother Horn Sophat.
"I used to ask him not to be involved in politics but he still does it. So now I just let him," she said.
But Sophat still worries that her son could be jailed again. "My other children also love politics but they are quiet. Only Raiya speaks out," she said.
In 2013 and 2014, as a university student, Raiya said he first got involved in activism, joining mass CNRP demonstrations in Phnom Penh and campaigning against a hydropower dam in the Areng Valley.
In 2015, when he was 25, Raiya was arrested over a Facebook post calling for a "color revolution" in the country. He was imprisoned for 18 months on an incitement conviction and released in 2017.
About two years later, a day before the third anniversary of Kem Ley's murder, Raiya was arrested for the second time on incitement charges, this time for selling T-shirts online with Ley's words and image.
Quoting Ley, the shirts said: "If you do nothing, you will certainly suffer; it is just not your turn yet."
Raiya said he hoped to inspire people to reconsider the effects of their political apathy. "If they continue not participating to help solve social issues, these issues will keep happening," he said. "If they participate and solve issues, their families will have happiness."
Raiya was released on bail in late 2019 and then went to Thailand for medical treatment before seeking asylum abroad. But he returned to Cambodia in late 2020. About a month later, while driving his motorbike, an unidentified man drove up to him and kicked him over, resulting in minor injuries and new fears for his safety.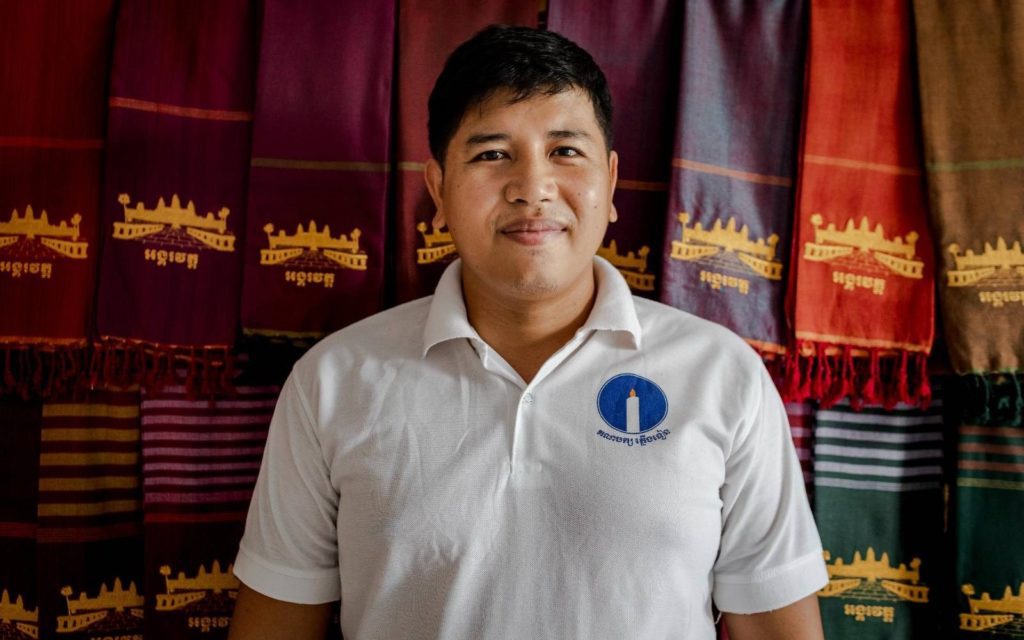 At the time, Raiya said he was done speaking publicly about social ills. But now, seeing citizens displaced by development projects recently has spurred him to action.
"I think it's the appropriate time to participate in politics," he said.
Raiya's political priorities are a lot like those of his idol, Kem Ley. He wants to address corruption, environmental crimes, the spread of drug abuse, land grabs by the rich and powerful, and the restriction of people's freedoms of expression and assembly.
But Raiya is deeply concerned by another issue, one existing outside of Sdao commune. "What I am worried about most is Cambodian sovereignty and territorial integrity," he said.
What he referred to as "the issue along the border with Vietnam" is one of the most controversial and divisive in Cambodian politics, with opposition activists long alleging Vietnamese encroachment into Cambodian territory, authorities jailing opposition-aligned activists over comments suggesting loss of Cambodian land, and some observers questioning whether the opposition is scapegoating or race-baiting ethnic Vietnamese to win political points against the ruling party.
Raiya's idol Kem Ley often railed against Vietnamese people living in Cambodia, accusing the minority group of illegal fishing, land encroachment and other alleged crimes, charges some critics of Ley have called discriminatory.
But Raiya says telling the truth about the situation at the border and on Cambodian waterways is not discriminatory.
"Kem Ley was a person who spoke the truth and had virtue. All his explanations and analysis came from his research and not his feelings. In most cases, he visited directly. I have directly seen Vietnamese people doing electric fishing, which is destroying natural resources. Even along the border, they come and live illegally and do some business. Is what he said a kind of discrimination? Why did he not talk about other nationalities? It's not a kind of discrimination. It is the truth that Vietnamese people have committed illegal fishing and other wrongs."
Old and New Parties
Last Sunday, by 8:30 a.m., about 40 Candlelight supporters wearing matching shirts and hats gathered below the house of Chorn Met, the party's deputy commune chief candidate for Sdao.
As the party faithful arrived, mostly men who appeared old enough to be Raiya's father, some removed their shirts and put on a white, long-sleeved button-down embossed with the Candlelight insignia on the back and above the chest pocket.
A short walk from Met's house, Pu Moeun, 85, lives with his 77-year-old wife and grandchildren. Of Moeun's four children, three sons work in Kampong Cham and Kandal as construction workers and his daughter lives in Phnom Penh with her husband, a tuk-tuk driver. They send money home to Sdao to support their parents and their children, but sometimes funds are tight, Moeun said.
"Here, there's no work to do. Other places have more opportunities and pay better than here," according to the retired rice farmer.
Moeun said he wasn't sure if he would vote on June 5 or who he would vote for.
"But I'm going to observe and see who is good and who is bad, who I like during the two-week campaign period, and that's when I can decide," he said.
The ruling CPP has spoken of a good plan for many years, but Moeun said "it's already the next election and it's still a plan."
Still, he said he's starting to see small positive results, like better roads. Others said they were thankful for new streetlights in Sdao.
While electing candidates from more than one party to the commune council would allow them to challenge each other, Moeun said the ruling party is always elected.
"It's going to be very difficult for Candlelight to win because the CPP still has everything under control and is an old party, and Candlelight is new. So I think the CPP will still win," he said.
"Of course, I want change, but I don't think it will be possible," he added.
"I want change because it's the same thing," Moen continued. "I want to see others come in to see if they can do better."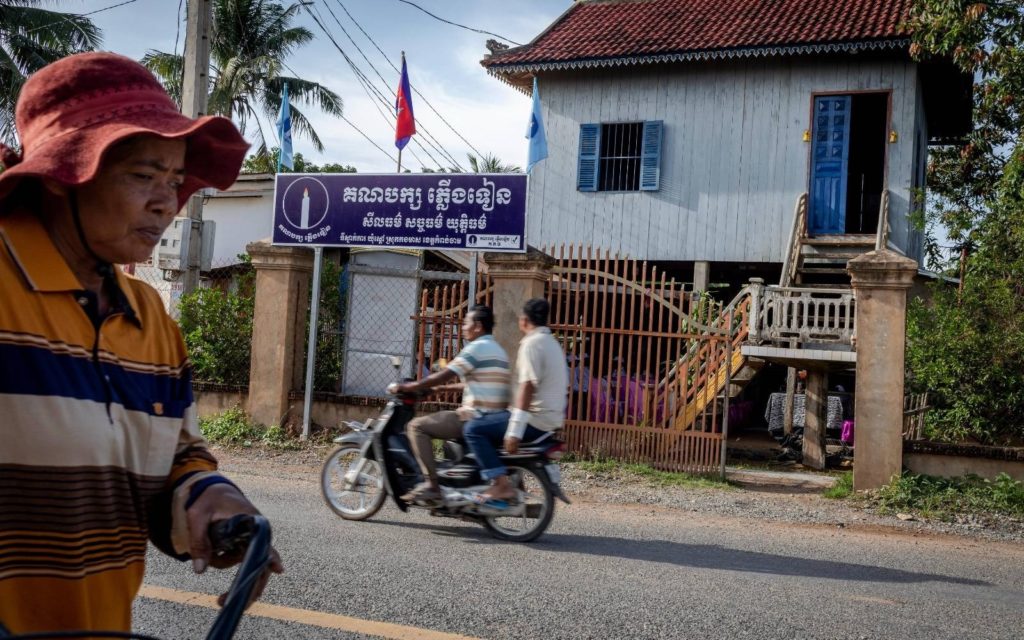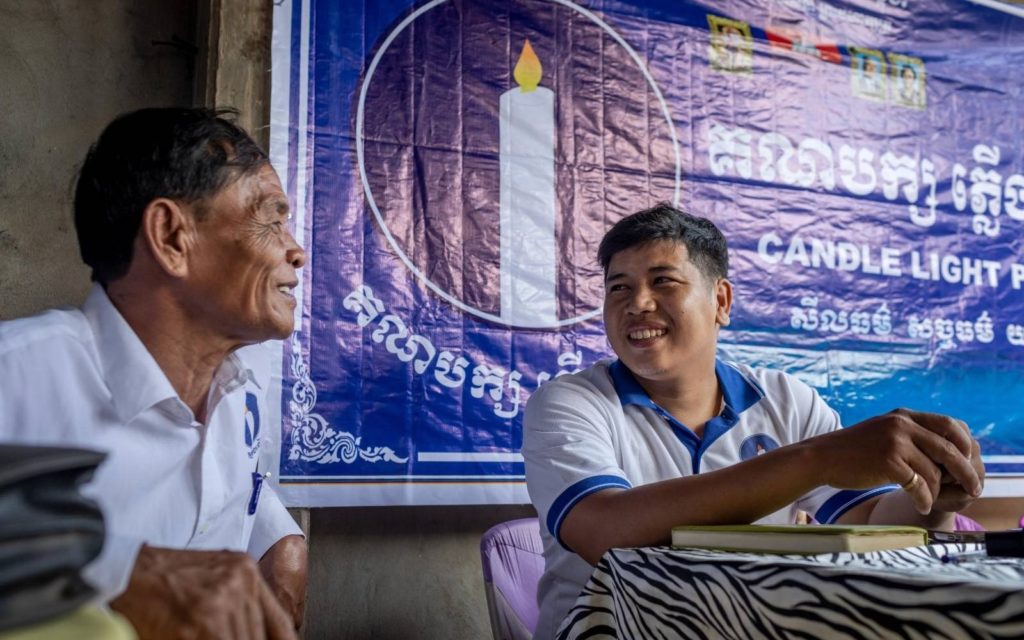 From SRP to CPP, a Long-time Chief
Raiya's main competitor is the sitting commune chief, Lay Seng Hong, who is running on the CPP's ballot for the first time after being elected Sdao's chief in 2017 as a CNRP candidate. He defected to the ruling party three days after the Supreme Court dissolved the CNRP the same year. Like Raiya, Seng Hong, 52, was born and raised in Sdao.
In 2002, Seng Hong said he joined the Sdao council as a first deputy chief and member of the Sam Rainsy Party. The SRP was renamed the Candlelight Party in 2017 after new legislation made it illegal to name a political party after an individual.
Since he's been on the council, Seng Hong said the commune's difficult dirt roads have transformed, with livelihoods, housing and local businesses also improving.
A former high school teacher, he was elected Sdao commune chief for the SRP in 2012 and re-elected as a CNRP candidate in 2017. But five months later and right after the CNRP was dissolved, Seng Hong defected to the CPP.
"I don't mind any party that is willing to serve the people," he said this week outside the CPP's headquarters in Sdao. "Whenever you honestly serve the people, people will support you."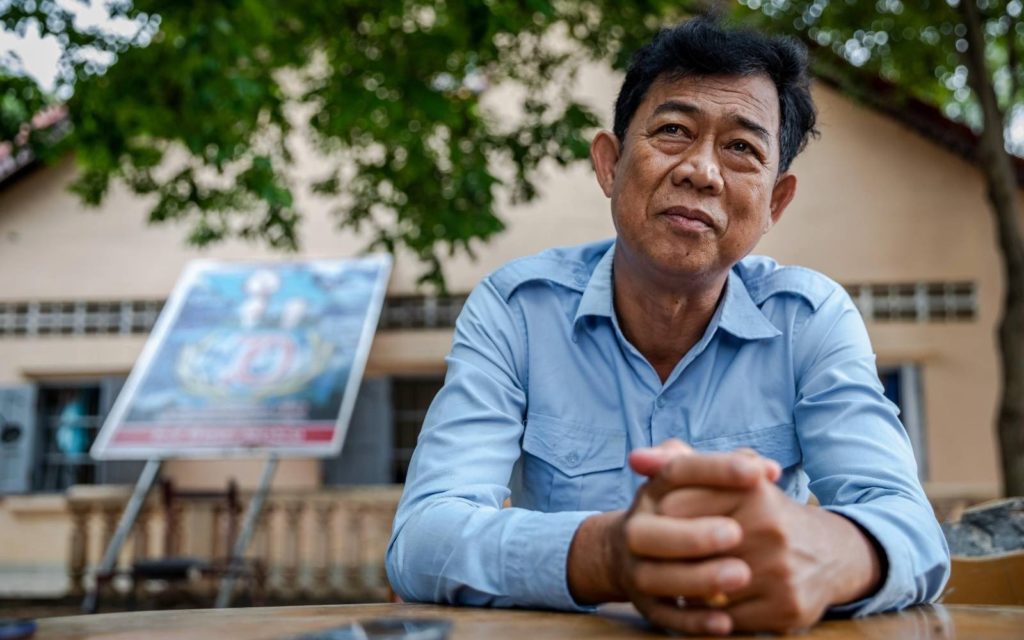 Seng Hong said he changed parties of his own will, adding that the CPP has the resources needed to develop his community.
"Even [though I'm now] in the CPP, people still support me," Seng Hong said.
But 51-year-old Sdao resident Yim Chhun Leang said her support for Seng Hong is due to the fact that he is the ruling party's commune chief candidate.
Chhun Leang, who owns a roadside store, said she never voted for the current commune chief before since she has voted for the CPP in every election since 1998.
"People don't like him very much because he still favors the opposition," Chhun Leang said of Seng Hong. "He just favors his people."
Despite this, Chhun Leang said she would support Seng Hong in June since he was running on the CPP ticket. She said she knew of Raiya but didn't think he lived in Sdao regularly.
Seng Hong, meanwhile, likes his chances, saying he knows many people and has the support of the majority in the commune.
"I'm 100 percent confident I will win," he said.
But Raiya, seated underneath his mother's house in Sdao, is equally confident of his chances of victory.
"It's impossible to say we will not win," he said. "The Candlelight Party will win the commune."
Additional reporting by Roun Ry.