After they were banned from holding a memorial in Phnom Penh and stopped by authorities four times during a march in Takeo province, youth activists on Thursday continued their journey to commemorate slain political analyst Kem Ley ahead of the fourth anniversary of his death.
Thon Ratha, a 29-year-old environmental activist who joined the procession, said a group of about 20 youth activists walked from Kem Ley's family home in Tram Kak district's Leay Bour commune to Daun Keo City in recognition of the commentator's death and legacy.
The group originally intended to march from Phnom Penh to Takeo province, following the route of the millions-strong funeral procession that made the trek in late July 2016. Kem Ley was fatally shot in the capital on July 10, 2016 as he was drinking coffee at the Caltex gas station shop at the corner of Mao Tse Toung and Monivong boulevards.
Ratha said the group on Wednesday walked from the Caltex station to Meanchey district's Chak Angre Krom commune, where they were stopped by authorities and then decided to continue to Kem Ley's Takeo home by cars and tuk-tuks.
On Thursday morning, the group set out from Kem Ley's family home to Daun Keo City, about four kilometers away, carrying photos of the analyst, his books and Cambodian flags, Ratha said. The activist said the group was stopped on four occasions by authorities, who held hands in a line and used metal barricades to block the procession.
The group nearly reached the provincial capital's Independence Monument before deciding to abandon their plans to continue walking into the city center, Ratha said.
"We still have the strength of heart to continue forward this morning, even though authorities tried to prevent us from moving forward. We clearly understand that our activities are not against the law," Ratha said. "We are [just] promoting the heroism of teacher Kem Ley, who we love."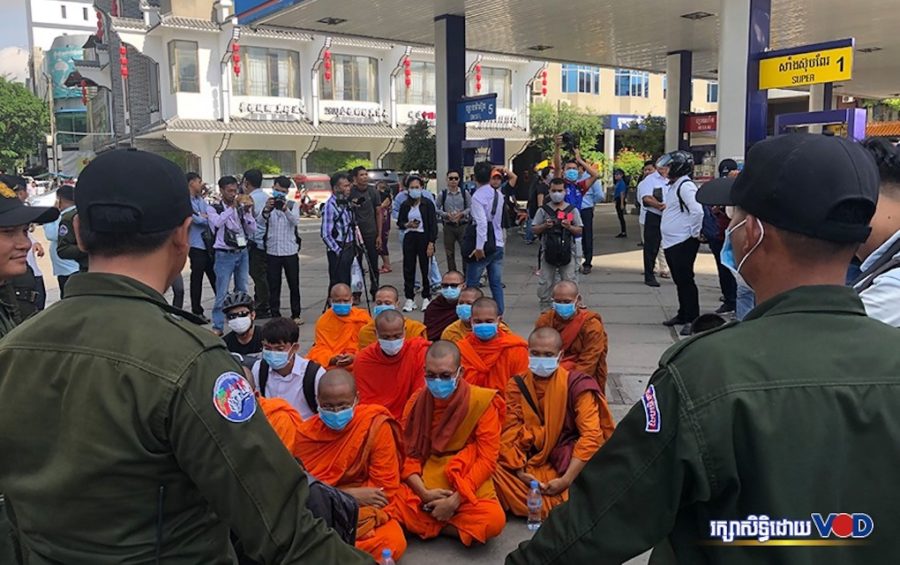 On Wednesday, about 20 young people and monks attempted to hold a Buddhist memorial ceremony at the Caltex station where Kem Ley was shot, but were interrupted and forced to move across the street from the site by about 100 mixed security officers.
During the event, Khan Chanthorn, 30, was detained and questioned for wearing a T-shirt with Kem Ley's image, Boeng Trabek commune police chief Hong Chantheng told VOD. Chanthorn was released after police questioned and "educated" him for an hour, Chantheng said.
Chanthorn's T-shirt was emblazoned with the analyst's image and his well-known quote: "Wipe your tears and continue your journey."
Human rights group Licadho said the man was released after signing a contract with local authorities.
Chamkarmorn district authorities had said in a statement on Tuesday that they would take legal action against anyone gathering at the Caltex gas station between Wednesday and Friday this week. The gas station owner had requested authorities prevent gatherings to protect his business and ensure public order and security, the statement said.
Chanthorn, a former security guard who said he is currently unemployed and living in a pagoda, told VOD after he was released that the authorities' actions were suppressing individuals' freedom of expression and threatening their rights. He urged authorities to allow such activities in the future.
Last month, activist Kung Raiya received a suspended sentence for printing similar T-shirts with Kem Ley's image and words and advertising them for sale online ahead of the third anniversary of Kem Ley's death last year.
Soeng Senkaruna, spokesperson for rights group Adhoc, said Chanthorn's arrest over his attire was unreasonable and illegal.
"[He's] just showing that he loves and supports the views or messages that Kem Ley used to say," Senkaruna said. "Nothing is illegal. On the contrary, if there is any detention for that reason, it is an illegal and unlawful implementation [of the law]."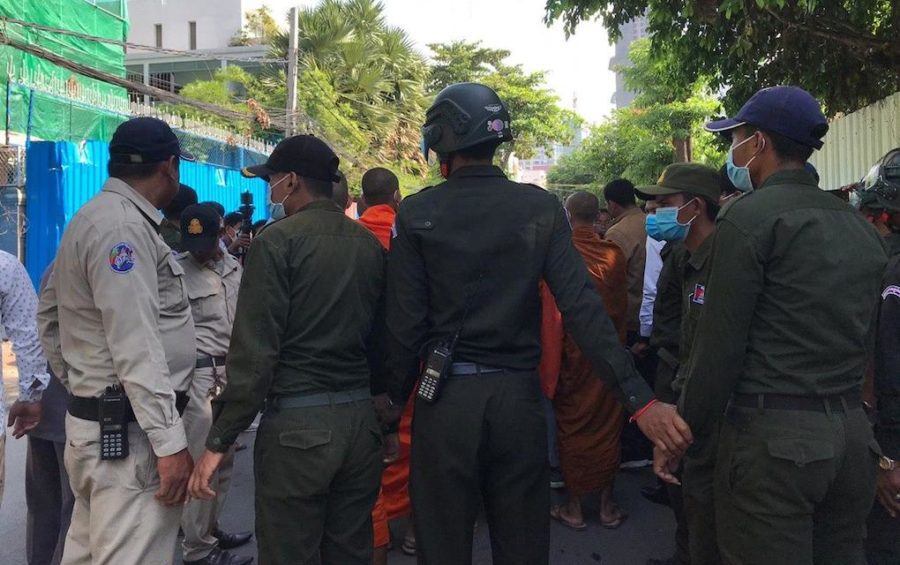 The group of youth activists and monks that gathered at the Caltex station on Wednesday moved to the PTT gas station across the street, where they were able to perform some Buddhist rituals.
Venerable Bo Bet, a monk from a Phnom Penh pagoda who led a group of 10 monks to join Wednesday's ceremony, said holding a religious memorial service did not violate the law.
"We want to pay respects at the place he was killed, and we will also hold ceremonies at other places," Bo Bet said. "We come here and want to burn incense. We want to hold funeral rites at the site. We want to remember his good deeds here because we do this only one time a year."
Hun Vannak, an activist with the youth group Khmer Thavrak, said he was chased out of the Caltex by authorities on Wednesday, though he believed the group did nothing wrong.
"We are gathering for a religious ceremony and a ceremony that Cambodian people have the right to perform," Vannak said. "If this religious ceremony was banned, it means that we, the Cambodian people, have no rights to hold [any] ceremony. So if any people died, just let them die and do not hold any funeral."
On Thursday, a group of 30 local and international organizations released a joint statement condemning the suppression of memorial events on the anniversary of Kem Ley's fatal shooting.
The statement notes that the courts charged and convicted two activists, including Raiya, who were not present for their sentencing, in relation to public expressions of support for Kem Ley last year, while another two activists were arrested and then released on the third anniversary of the analyst's death.
The groups also repeated calls for an independent investigation into Kem Ley's murder, suggesting an impartial body should be established with the support of the U.N. and composed of independent experts.
Kem Ley was killed days after giving a radio interview in which he discussed a report from corruption watchdog Global Witness that detailed the vast wealth and political and business links of Prime Minister Hun Sen's family members.
His shooter was arrested and sentenced to life in prison, but many continue to suspect the incident was a hired hit against the popular government critic.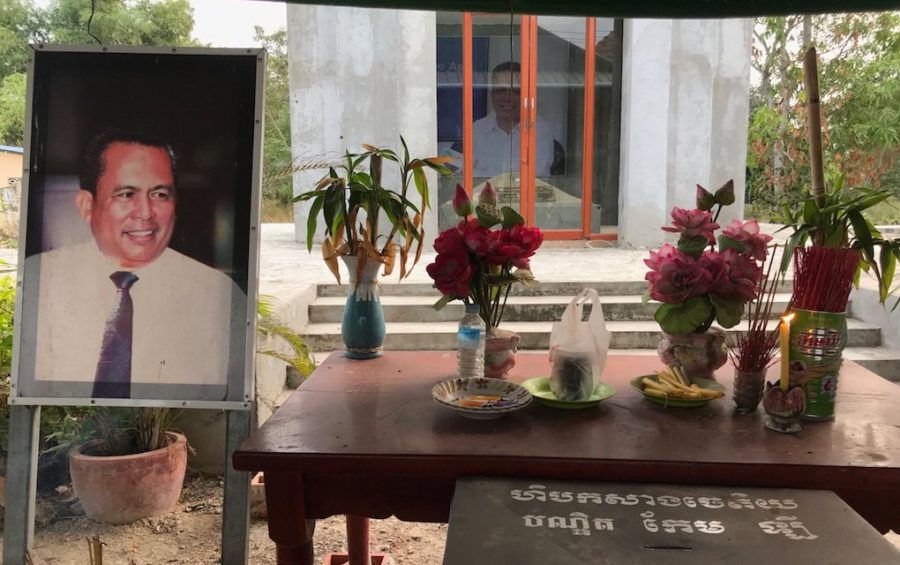 Justice Ministry spokesman Chin Malin told VOD that Kem Ley's killer was already sentenced while "those involved are under investigation and court procedures."
"This is called justice through legal means. But for justice according to the feelings of the group with opposite tendencies and who oppose the government, we cannot fulfill [their requests] because they use the matter as an agenda, for their political career," Malin said.
Though some Kem Ley supporters said this week that they would hold individual and online memorials this year, some also said they would join a ceremony held by his family in Takeo province on Friday.
In the analyst's home commune of Leay Bour, the stupa that houses Kem Ley's ashes is not yet finished.
His brother, Kem Rithisith, told VOD earlier this week that the family had already spent more than $70,000 — the majority of which was donated by Hun Sen — to construct it so far, but he estimated they needed between $30,000 and $40,000 more to decorate the structure.
Phork Se, Kem Ley's 79-year-old mother, said she has missed her son every day and night since he was killed. But she has also observed people visiting his concrete-walled stupa about every day.
"I miss my son, I don't know what to say, but I miss him," she said.
Speaking of Kem Ley's widow, Bou Rachana, and five children who were granted asylum in Australia, the grandmother added, "I miss my grandchildren, but the important thing is that they are happy."
Additional reporting by Vann Vichar
(Translated and edited from the original articles on VOD Khmer)