Changes to forestry and protected area laws are proceeding without enough public input, communities say, as drafts introduce hunting licenses and remove wording about ethnic minorities.
The country's Protected Areas Law and Forestry Law are being amended by the environment and agriculture ministries, respectively, sparking growing concerns among conservationists and indigenous groups. Drafts seen by those communities and reporters suggest a greater emphasis on managing — rather than protecting — the country's natural resources.
The Protected Areas Law is being slightly expanded from 11 chapters to 13, according to a draft. A new article furthers the government's decentralization agenda, saying subnational administrations have the role of protecting biodiversity, including by restoring degraded forests.
Controversially, however, the draft removes the words "indigenous and ethnic minority communities" in articles about public participation in the conservation of protected areas.
Phai Chim, a Chong representative from Koh Kong province, said the removal of the word "indigenous" from the draft was raising fears.
"We are scared that in the future the word indigenous will disappear, as well as the names and rights of indigenous groups. They've used the word 'local community' instead, which is completely different," Chim said.
Sixteen indigenous groups across Cambodia have issued a joint statement saying the draft law erases their identities, and asks that the draft be changed to recognize ethnic minority groups.
A Jarai representative from Ratanakiri province, Khlan Sarath, said she feared the new wording would make it harder for indigenous families to continue rotational farming, where they change their plots every few years in a semi-nomadic style. It was a practice unique to some indigenous groups, and required specific protections, Sarath said.
Hean Bunhieng, a researcher on indigenous issues, said communities had already made at least four appeals to the Environment Ministry about the Protected Areas Law draft. Consultation processes had been inadequate, he said.
The Forestry Law, meanwhile, contains provisions on indigenous rotational farming, but this is restricted to legally registered collective land. The complicated process of getting such land titles has dragged on for years, and most communities don't have titles, Bunhieng said.
Latest data shared by the Cambodia Indigenous People's Organization in 2022 showed that only 37 out of 500 communities nationwide had received titles. Previously, as of 2019, NGO Forum estimated that 24 of an estimated 455 communities had received land titles.
The Forestry Law is being enlarged from 109 articles in 18 chapters to 143 articles in 25 chapters, according to a draft seen by reporters.
Several of the new chapters focus on trade, investment and timber processing.
Notably, a chapter on "conservation" of wild animals is being reworded to "management" of wild animals, while a new chapter is introduced: "weapons management."
The weapons management section lays out the introduction of hunting licenses for the country's forests. The hunting licenses would specify an individual, location, time and type of animal, and licensees must cooperate with a specialized unit of the Forestry Administration in the area, the draft law says.
It adds that forestry officials will tally the number of animals hunted and collect fees "to contribute to the national budget."
Wildlife Alliance director Nick Marx said legalizing licensed "sport" hunting would be "extremely unwise from a conservation perspective," noting that large wild animals in the country were already extinct or under threat:
The Indochinese tiger; the kouprey, a forest ox; and Javan rhinoceros had been made extinct.
Elephants; the banteng, a wild cattle; Indochinese leopards; and Eld's deer were endangered.
Wild water buffalo; gaur, a larger bison; and sambar deer were classed as vulnerable.
Marx said smaller wild animals, such as primates and fishing cats, were also going through a "drastic decline."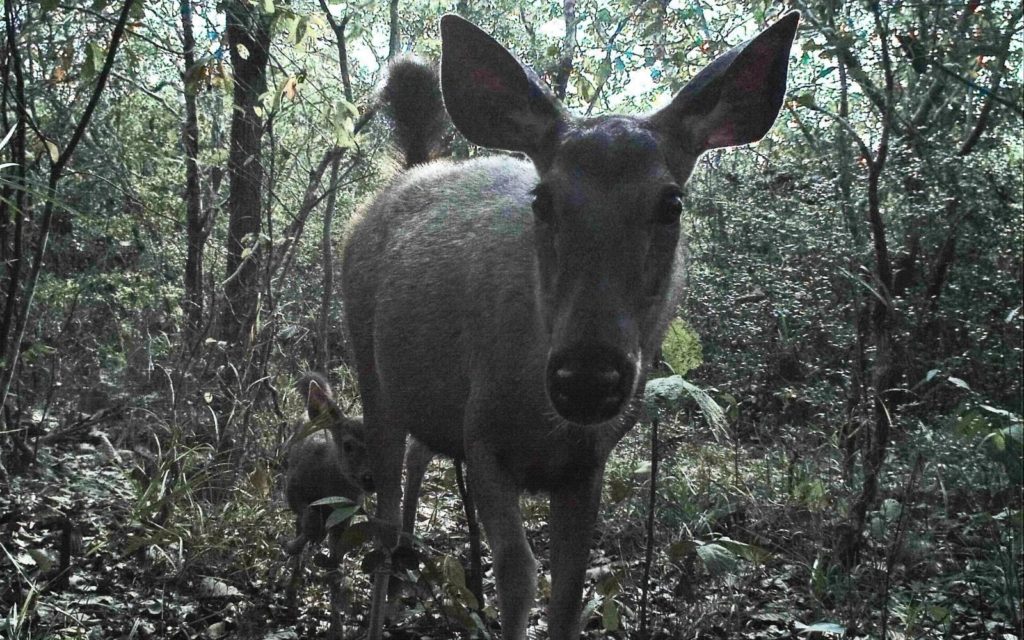 "With all this in mind it is imperative over the short to medium term to prohibit all forms of hunting in an attempt to conserve Cambodia's remaining wildlife," he said. "Licensed hunting is an unsustainable way to make money out of wildlife, it would be difficult to regulate effectively and would be of no benefit to less wealthy local people."
He said ecotourism developments that contribute to conservation would be a better way to raise state revenue.
Agriculture Ministry spokesperson Im Rachana and Environment Ministry spokesman Neth Pheaktra did not respond to questions.