Floating fish farms floated 5 km north temporarily, those without fish worked to dismantle their homes, and some moved onto a wooden platform on shore, as the deadline for Phnom Penh floating communities' evictions passed this weekend.
Residents who had hitched floating homes against Prek Pnov district's riverside were told early this month they would have to leave by Saturday. However, authorities did not immediately demolish homes on Saturday but urged the residents to hurry the process.
Som Noam, chief of Prek Pnov commune's Pou Mongkol village, said on Monday that authorities did not have a new space for people living in the floating houses, and that they would need to find new spaces on their own.
"They all need to move from the riverside. Now we are working on it until the floating houses are empty," she said.
Some of the floating fish farms had moved to the shore near Samraong commune's Kruos village, about 5 kilometers north in the same district, Noam said, but she did not know how long people could stay in that area nor the future plans for development in her village.
"This eviction is coming from the government," she said. "I could not refuse their policy."
The Khmer Vietnamese Association posted a statement in Vietnamese on Sunday, warning displaced fishers who live in floating houses not to go to Vietnam but instead dock at Kruos village. Its president, Sim Chy, did not answer his phone on Monday.
On the river banks of Prek Pnov commune, a woman in a sun hat, who says she doesn't speak much Khmer, spent Saturday morning weighing the scrap metal that used to be her house in front of a man with an invoice tearsheet. He will be buying her house up: sturdy corrugated roofing panels from her floating house for 600 riel each, though weather-worn pieces will sell for only 300 riel.
A few dozen houses along the shoreline, another woman regrets that she had to sell her fish early due to the city's floating house eviction campaign. The 57-year-old woman, who would not give her name for fear of future problems, says she had to sell all 10,000 of the young fish she had purchased for sale this season.
Netted under the floorboards of her floating home, the fish were supposed to grow bigger for a few more months, but she quickly discarded that plan when police and other authorities arrived with megaphones on June 2, telling her and all of her waterborne neighbors that they had to leave.
Just last Thursday, she finished beheading and selling all of the fish that she had bought three months ago. A job that cost her $1,000 between fish eggs and feed this season only netted a few hundred dollars, as the prices were bad during the pandemic. Some of her fish also died from pollution, and she had to sell the surviving young fish as a lower quality mix for only 3,000 riel per kg.
"We won't raise fish again, because the source is the water," she said. "If we live [on land] we have no place to work. So we'll try to find another job."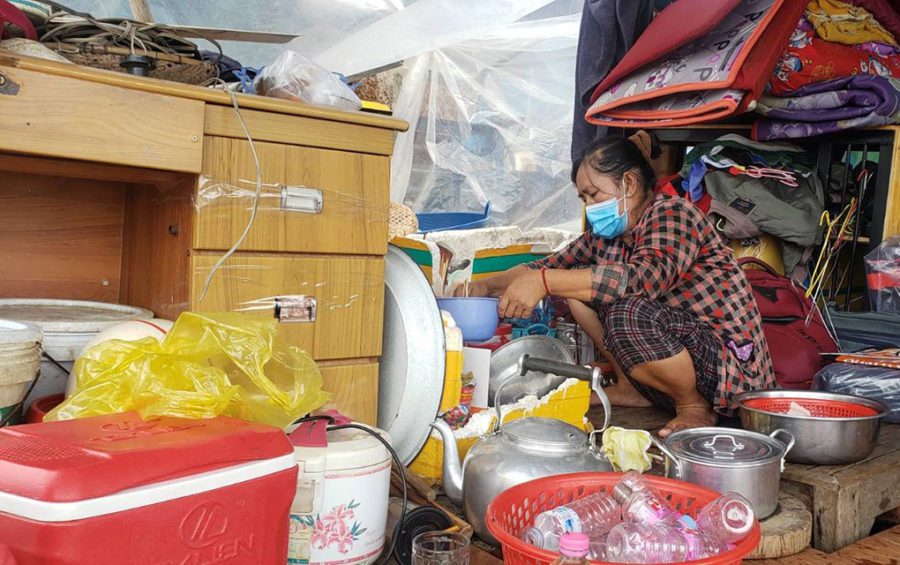 The woman is ethnically Vietnamese, and she does not have any identification as a Cambodian citizen. She says she was born in Phnom Penh, around Chroy Changva district, and she applied for a national ID card at the Prek Ta Roat village office years ago, but they never called her back to pick up the document, and she was too busy to really ever inquire about it.
The family shuffled all their important possessions — an old chest filled with papers and electronics, a fabric wardrobe with hangers peeking out — onto a platform on the shoreline shielded by corrugated tin and clear plastic tarp. While the rain poured and then ebbed on Friday night, they sat huddled under the platform, checking to make sure none of their belongings were soaked.
"Our bodies can get wet, but the possessions are important," she said.
The woman said authorities were not forcing them to move within the day, and the family was allowed to stay on the landed platform on the shore for a month or two, as she, her husband and two children were preparing to move to land across the river in Prek Ta Roat village, in Chroy Changva district's Prek Tasek commune.
"I have no words to say. If I want to cry I cannot cry because this is the place that I've lived my whole life, and now they just suddenly asked us to leave," she said.