Ra, a tuk-tuk driver, said he lived inside a red zone in Meanchey district, but on Thursday he was outside the boundaries, trying to earn some money for his family.
"Before, we couldn't walk out, and they had completely closed the barrier, but now we can get in and out," said Ra, who would not give his full name.
In Stung Meanchey III commune, about 300 people gathered at a red-zone barricade on Thursday morning to protest and call to be allowed out to get vaccines or withdraw wages from the bank, according to residents.
By 9 a.m., the protest had dissipated, but the barriers marked "red" were open: Motorbikes and people on foot were freely passing in and out without being stopped or questioned. Around 4:20 p.m., a landlord in the area said traffic was still entering and exiting with ease, though police officers were now asking questions of motorists.
Commune police chief Em Pheary declined to comment. Deputy commune chief In Rath said she did not know about the open barriers, but said there had been a lot of pressure from residents to leave, and the situation was "very difficult."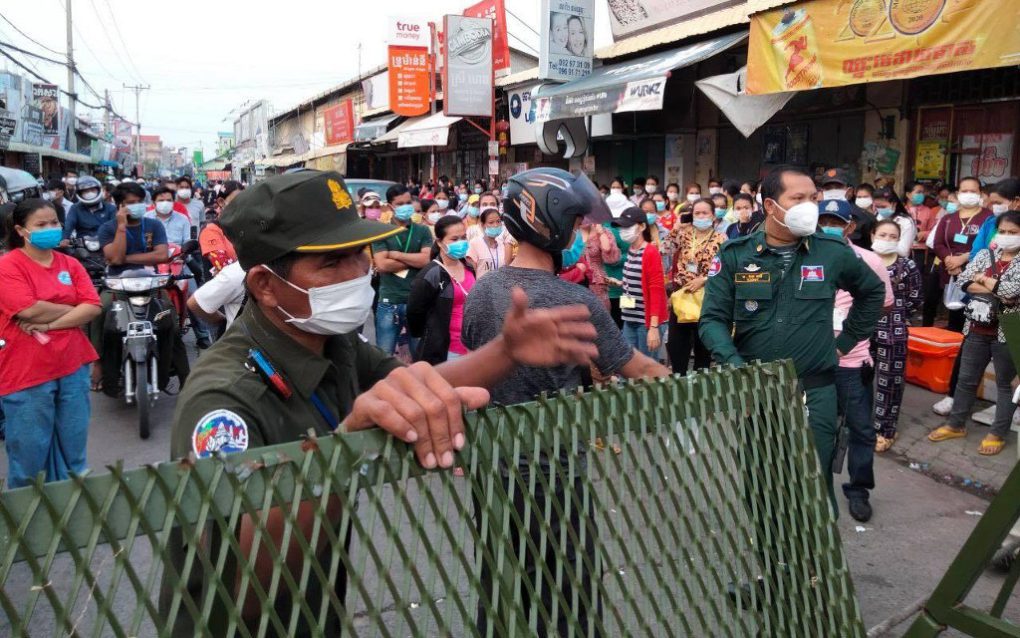 Kimly, a factory worker, who also declined to give her full name, said she reached the barricade around 5 a.m. to beg officers to let her out. She had received her reduced April wages and had about $100 to withdraw from the bank, she said.
"Workers crowded to go outside because they had to withdraw their wages," she said.
Sovan, an ice vendor, said about 300 residents had gathered by around 7 a.m. Authorities asked them to go home, but some jumped the barrier, he said.
"They wanted to get vaccines and their pay and work," they had told authorities as the gathering turned into a protest, according to Sovan.
Deputy commune chief Rath said police and military police had arrived to intervene. Many residents were making excuses to leave with no intention of returning, she said.
"Do you know why there have been many people going to the provinces?" she asked. "When they ask to get medicine or get their wages, they return to their provinces. Now you can see they have caused infections across the provinces — they use excuses like getting their wage, and they're gone."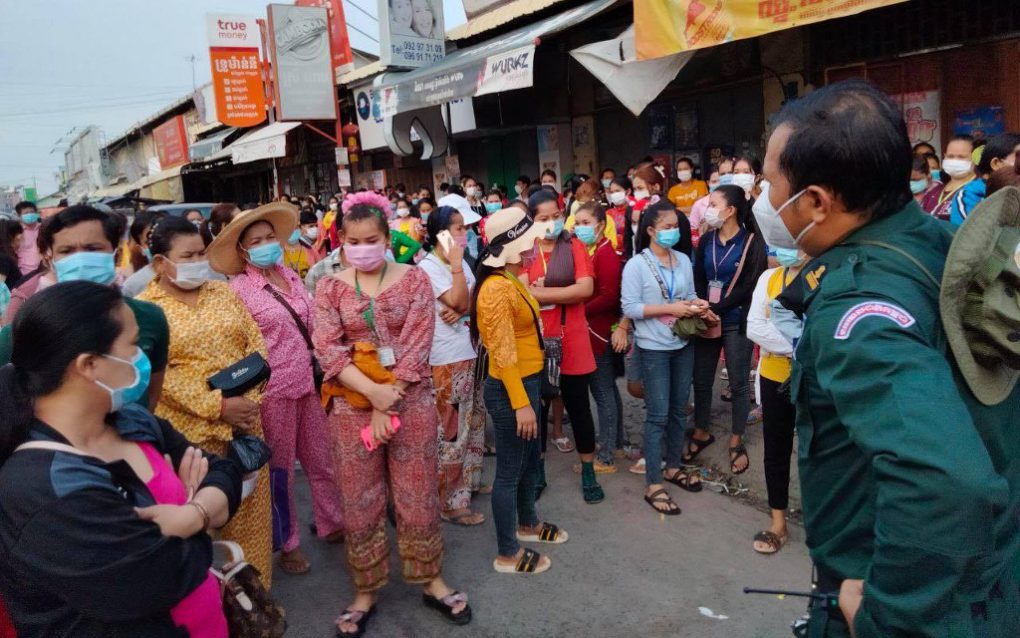 Authorities were struggling to control the red-zone boundaries, she said.
"They sneak out through the road where we have not placed officers," Rath said. "Even though we have banned and restricted, they still can get out. When we completely ban them during the day, they go during the night. … This is very difficult."
On Facebook, the Stung Meanchey III commune police posted a message that red-zone residents "cannot go in or out."
"If it is not necessary, please do not leave the house," the post said.
Phnom Penh City Hall has gradually eased restrictions since declaring a lockdown in mid-April. On Thursday, it issued a list of 154 new Covid-19 cases, the lowest total since April 14.
For the whole country, the Health Ministry announced 446 cases, 980 recoveries and six deaths.