PREY CHHOR DISTRICT, Kampong Cham – In Kor commune, about 10 km from Prey Torting market, Kong Bunchhoeun once led political rallies, organized political discussions and criticized Prime Minister Hun Sen's government.
But the former Human Rights Party commune chief is no longer willing to raise his voice.
"I'm watched," he says. "Someone watches if I'm outside my home."
Kor was one of 18 communes that the party won the last time it contested elections in 2012, garnering over 2,000 votes from Kor residents. But in 2017, the party's founder, Kem Sokha, was charged with treason, banned from politics for five years and now faces an uncertain trial that began exactly a year ago but has been postponed since last March.
In one of Sokha's former strongholds, silence prevails over political discussions, though some ex-supporters quietly betray continuing hope for the opposition's promise of change.
Bunchhoeun, 73, now spends most of his time farming vegetables in a garden next to his house, and helps his wife make num banh chok, a cold Khmer noodle dish. He says he doesn't want to talk politics anymore.
The HRP merged with the Sam Rainsy Party in 2012, the same year Bunchhoeun was elected commune chief. The merged CNRP made major gains in the national election in 2013, and in 2017 won 489 communes around the country. In Kor, the opposition won five commune council seats, up from four in 2012.
But the party was dissolved later that year, in a move criticized by human rights groups as a dismantling of Cambodia's fledgling democracy. The ruling CPP won every National Assembly seat in 2018.
One of Bunchhoeun's HRP associates, Kang Yang, 58, also says he keeps silent now. The same was true of other residents in the commune, with a hush prevailing over civic discussion, he says.
"Now villagers don't dare talk about politics," Yang says.
Unlike his CNRP co-founder Rainsy, who has urged supporters to rise up and has attacked Hun Sen vociferously from exile in France, Sokha has urged restraint.
"[We] maintain strong unity only by reducing personal ambitions, not taking revenge, turning to tolerance, [having] conversations, abandoning insults, stopping [the pursuit of] conflicts that don't fade," Sokha said in a statement on Independence Day in November.
Sokha spent this week donating $2,500 and 5,000 masks each to the provincial administrations of Pailin, Banteay Meanchey and Oddar Meanchey to help deal with workers returning from Thailand amid a Covid-19 outbreak.
The strategy of cooperation echoes the restraint of the CNRP, with Sokha as president, in 2017 when independent media was shuttered and civil society groups came under government pressure. A party lawmaker told the Cambodia Daily at the time that "to keep the party alive until the election is the main objective for the party right now," and largely held their tongue. The party was dissolved within three months.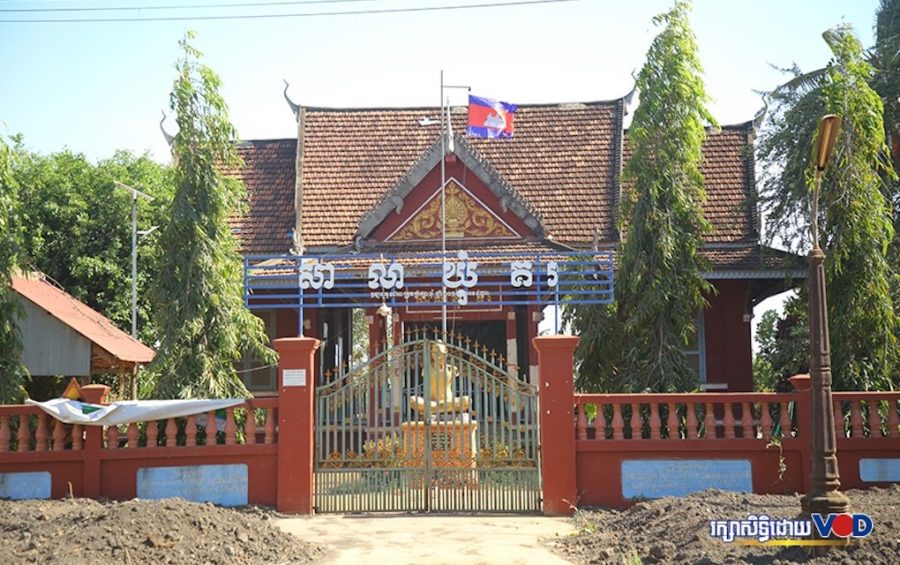 During the three years since the party's dissolution, Rainsy's supporters have periodically mobilized, including when the long-time politician promised to return to Cambodia in November 2019. Many gathered in Thailand to join him across the border, while dozens were arrested for showing their support. Rainsy did not return.
The two factions have always been in tension, with disagreements periodically spilling out. On Wednesday, Sokha's assistant Muth Chantha criticized activist monk But Buntenh, a Rainsy proponent, over a post that took a swipe at Sokha over an old mistress scandal. Chantha questioned whether the monk was acting like a "gang" member.
In Kor this week, Hang Chhay, another former HRP councilor in the commune, dodges a question of whether he is following Sokha's message and example of restraint.
"Once I was sure that I would no longer be in politics, I have completely left it. Though I want to see the nation become more progressive for our next generation," Chhay, 73, says at his house.
A year ago, the Phnom Penh Municipal Court finally commenced its treason trial against Sokha, questioning him over alleged ties to the U.S. But the trial was suspended in March amid coronavirus concerns.
Justice Ministry spokesperson Chin Malin says the courts are working through a backlog of cases to relieve the pressure on the country's overcrowded prisons.
"Kem Sokha is out of prison. He walks free, can communicate with relatives, friends and supporters. So this is not prioritized over other criminal cases of jailed persons," Malin says.
As Sokha's case remains in limbo, questions arise over the next commune elections in 2022.
Bunchhoeun, the former HRP commune chief, brushes off any talk of forming a new party.
"It would be impossible to win because it is new. That's just my thought," he says, and quietly adds: "If the CNRP can be restored, winning is possible."
(Translated and edited from the original article on VOD Khmer)