SIHANOUKVILLE — Chorn Bork says the grilled-squid business isn't what it used to be on Sihanoukville's O'Chheuteal Beach.
The makeup of beachgoers has been changing, with fewer local tourists visiting the area following a couple years of frenzied, gambling-led Chinese tourist development, Bork says.
"It was fairly lucrative in the past, but it's very low now," she says. Her income from selling grilled squid on skewers has dropped from about 100,000 riel ($25) a day to 40,000 riel ($10).
The price of squid in the city is rising, she adds, because of early-morning competition to buy the seafood.
"If we get up late, the Chinese have taken it all," according to Bork.
The beach town seems to have developed a mostly self-contained Chinese economy, she says: The squids go to Chinese restaurants, which cater to Chinese tourists, who mostly stick to Chinese businesses.
Based on interviews with 30 workers and vendors on Sihanoukville beaches, VOD found that Bork's experience is shared by many: The city's transformation has left some locals struggling to adapt.
Cheng Kheang, a rice vendor, says Chinese visitors' different tastes have kept Cambodians on the outside of the burgeoning food business.
"They don't cook food with sugar or MSG, but only salt and flour in small amounts," Kheang says. "And they run the restaurants to only serve their countrymen. Cambodians cannot afford the food they sell. Most of the food costs $20 to $30."
He says it is getting hard to survive even on an income of about $300 a month.
"With the presence of the Chinese, the prices of all kinds of goods in Kampong Som … are very high," he says, using another name for Preah Sihanouk province.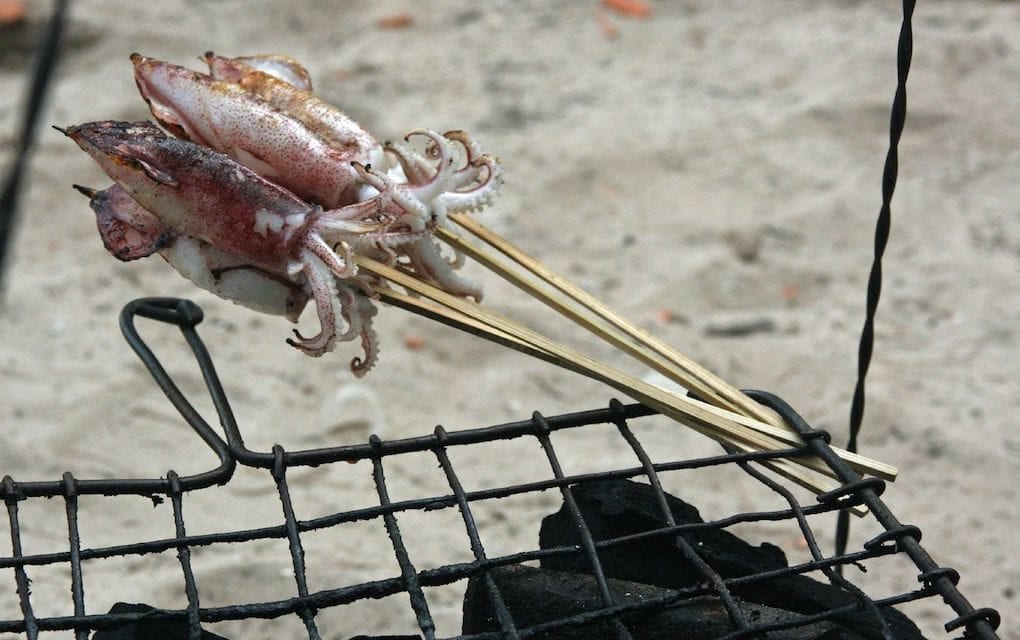 An administrative officer at the Cambodian-Chinese Business Association in Sihanoukville, who declined to provide his name, acknowledged that some Chinese people living in the province only did business with their countrymen.

"Chinese people buy from Chinese businesses and don't buy from or sell to Cambodians. But not for all," the officer tells VOD.

In addition, Chinese investment has created more jobs for Cambodians, especially in hotels, restaurants and casinos, he says.

"Some places are for Chinese, but they hire Cambodian staff, so Cambodians benefit too," he adds.
Some interviewees, particularly those involved in construction, also say they are benefiting from the changing economy.
"Businesspeople are extravagant, so they lease a lot of buildings and spend a lot of money," says Siev Kuong, who owns a construction business.
He has earned a significant income since the influx of Chinese visitors and investors, he says, though he would not disclose how much.
But rising rents remain a common complaint for others.
Ry Rouen, who drives customers in his taxi to and from Sihanoukville International Airport, says many people around him have now left the province to find work elsewhere, a situation also reported by Sreng Vanly, provincial coordinator for human rights group Licadho.
"Cambodian people cannot afford the property," Vanly says. "Now more people have left."
Chieb Sotheary, provincial coordinator for rights group Adhoc, says rising property prices benefit wealthy landlords, but make living harder for many others.
Kheang Phearum, spokesman for the provincial government, agrees there have been major changes to the economic and demographic makeup of Sihanoukville.
"There are many nationalities in Preah Sihanouk. There are various nationalities of foreign investors, but the Chinese account for the vast majority," Phearum says.
In February, the provincial administration reported 40,770 foreigners of 57 nationalities residing in Preah Sihanouk. Provisional census results from June say the province has a total population of 302,887, suggesting that foreigners comprise about 13 percent of residents.
Tourist and investor numbers, meanwhile, are increasingly dominated by Chinese nationals.
In the first six months of this year, nearly 1.3 million out of more than 3.3 million total international tourists to the country were Chinese — a 39 percent share, according to Tourism Ministry statistics. By comparison, European and American visitors combined made up less than 17 percent of the total.
A year earlier, from January to June 2018, Chinese tourists accounted for 31 percent of foreign tourists.
And according to the provincial administration, there have been 52 investment projects in the province since April, valued at $8.5 billion, in sectors such as tourism, property, infrastructure and industry. Ninety percent of them are funded by Chinese companies.
During the first six months of this year, international arrivals to Sihanoukville "skyrocketed," with the city receiving about 300,000 visitors, or a more than 350 percent year-on-year increase, according to the World Bank's latest Economic Update for Cambodia, which was released in November.
In the same six-month period, 42 percent of arrivals from China came to the country for business purposes, up from a quarter in 2018, the World Bank says.
Ngeth Chou, senior consultant at Emerging Markets Consulting, cautions that further changes could be coming to Sihanoukville.
For now, those in construction are benefiting, but once the structures are complete the economy will shift to operating — rather than building — the casinos, he says.
"We should be aware that casino construction will not continue endlessly. When the goal is reached or the construction ends, the contribution to the casino sector will replace it," he says.
"Our people and their children can work in the casino sector. So, they need other experiences and skills."
A U.N. Office on Drugs and Crime report released earlier this year highlights other problems associated with rapid casino construction, including allegations of financial crimes and corruption.

According to the report, "Extensive casino complexes in Cambodia's border areas and in Phnom Penh have also been identified as locations for bulk cash smuggling and the laundering of organized crime revenues."

Cambodia saw a 263 percent increase in casino licenses from 2014 to this year, the U.N. says.

At a government press conference in Phnom Penh in November, Commerce Ministry spokesman Pen Sovicheat says authorities need time to manage new Chinese businesses in Sihanoukville so that they benefit more Cambodians.

The official says he's optimistic that small and medium-sized businesses will profit from the flow of Chinese money. After all, Chinese businesspeople tell Cambodian authorities that they will abide by local laws and are willing to cooperate, he says.

Sovicheat suggests Chinese investors adapt and learn how to do business in Cambodia, while Cambodians should learn how to work with and benefit from Chinese investors.

"Overall, for the business environment in any place, in the beginning, we often have these problems," he says. "We hope that the small Cambodian fishermen will be rewarded with this Chinese partnership."

Additional reporting by Tran Techseng

(Translated and edited from the original article on VOD Khmer)
Note: This report was produced with support from the Rosa Luxemburg Foundation under the financial support of the German Federal Ministry for Economic Cooperation and Development.