Methamphetamine, long one of the nation's most abused drugs, has become more affordable, pure and available in Cambodia as organized crime groups move precursor chemicals across borders and flood the region with cheap synthetic drugs, according to a new U.N. report.
In recent years, while the government has continued an anti-drug campaign aimed at cutting drug use and trafficking, the prices of crystal methamphetamine and meth tablets have dropped to their "lowest level on record," while the drugs' average purity and amounts seized by authorities have risen, the U.N. Office on Drugs and Crime (UNODC) said in a report on synthetic drug trends in East and Southeast Asia released on Friday.
"In short, organized crime groups are in a position to provide better quality methamphetamine at much cheaper prices compared to a decade ago, increasing affordability and harm at the same time," Inshik Sim, UNODC illicit drugs analyst, said in a statement.
Cambodia and neighbors Laos, Myanmar and Thailand — whose borders meet in the Golden Triangle region, one of the world's best-known drug trade hubs — account for most of the meth tablet seizures in Southeast Asia each year, UNODC said. Over the last 10 years, the countries have reported sharp decreases in average retail prices of the drug.
UNODC suggests organized crime groups are consolidating meth manufacturing in the lower Mekong region, within and around the Golden Triangle, including nations like Cambodia and Vietnam.
Human rights watchdog Amnesty International this week said in a report that the government's anti-drug campaign since 2017 has resulted in arbitrary arrests and detentions of drug users, denial of fair trial rights, severely overcrowded prisons and drug detention centers where detainees face violent abuse, and various other rights violations, rather than achieving its goal of reducing drug use in the country.
The campaign was announced in late 2016 after public opinion polling commissioned by the ruling CPP showed that Cambodians considered "drugs and crime" the most important issue facing the nation, and also the issue on which the CPP was weakest.
Officials, meanwhile, said this week that the government's war on drugs has been successful in controlling and decreasing the number of users. But UNODC reports that the number of users who were in contact with Cambodian authorities from 2016 to last year has stayed relatively consistent within a range of approximately 17,000 to 20,000 people.
Seizures of meth tablets, crystal meth, ecstasy, cocaine, heroin and ketamine in Cambodia were all up last year compared to 2017, the report says. Crystal meth seizures spiked from about 80 kg in 2017 to 307 kg in 2018 and 385 kg last year.
While 483,402 meth tablets were seized in 2019 — a major jump from 77,000 in 2018 — it was still fewer than the 490,689 tablets confiscated by authorities in 2016, the year before the anti-drug crackdown began.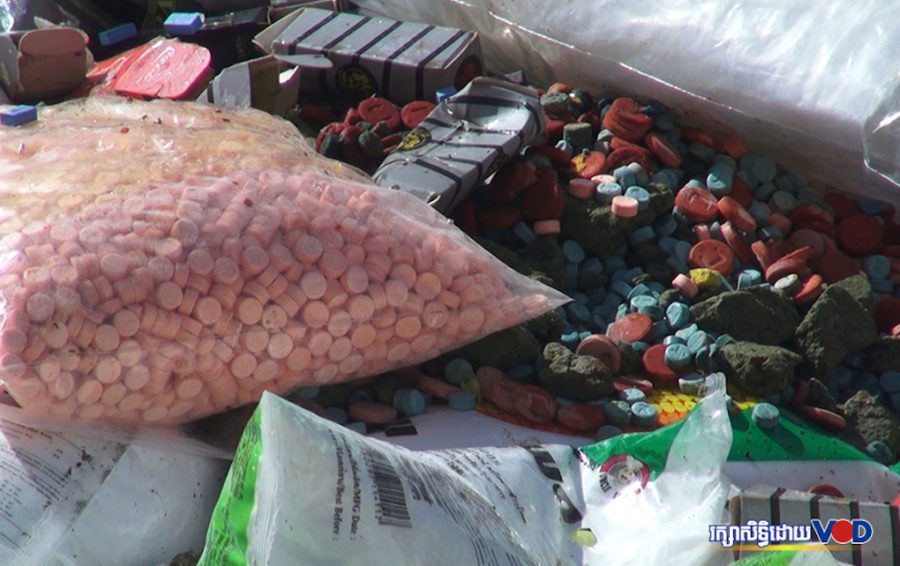 Still, in Cambodia, "Notwithstanding the significant annual seizures of methamphetamine in tablet and crystalline forms, average retail prices have dropped to their lowest level on record, indicating widespread availability," UNODC reports.
A gram of crystal meth from 2015 to 2017 cost about $20 in Cambodia, but in 2018 the price lowered to $10 to $15. Meanwhile, meth tablets remained at about $3 each from 2015 to 2017, but rose up to $5 in 2018.
By last year, however, the price of a tablet of meth was less than $2.
That price point has become increasingly affordable for Cambodians, with less than 1 percent of one's monthly minimum wage needed to purchase a meth tablet in 2019, compared to about 8 percent in 2011.
The average purity of analyzed samples of crystal meth and meth and MDMA tablets increased from 2018 to 2019, with the maximum purity of tested crystal meth last year reaching nearly 97 percent, according to data from the National Authority for Combating Drugs (NACD) cited by UNODC.
MDMA's average purity in Cambodia has also risen in recent years, with authorities noting greater use of liquid MDMA at entertainment venues.
Meas Vyrith, NACD's secretary-general, said the influx of cheap methamphetamine from the Golden Triangle was due to the synthetic drug being produced from chemicals not listed as controlled substances.
For example, sodium cyanide and benzyl cyanide are not listed under the 1988 U.N. Convention Against Illicit Traffic in Narcotic Drugs and Psychotropic Substances, but both substances can be used to synthesize P-2-P, a controlled methamphetamine precursor, according to UNODC.
While Vyrith said Cambodia had no drug-production sites, he said authorities have discovered drug-processing operations in which substances are mixed together to make illegal drugs.
In April 2019, authorities dismantled a synthetic drug laboratory in Phnom Penh and seized 80 kg of MDMA, 18 kg of methamphetamine and 52 kg of ketamine, all in powder form, the UNODC report says. In addition, 173 kg of the psychoactive stimulant pyrovalerone, which was prepared to be sold as "ecstasy" tablets, were seized at the site.
In December, another lab was discovered, with authorities seizing about 75 kg of MDMA and 10 kg of meth.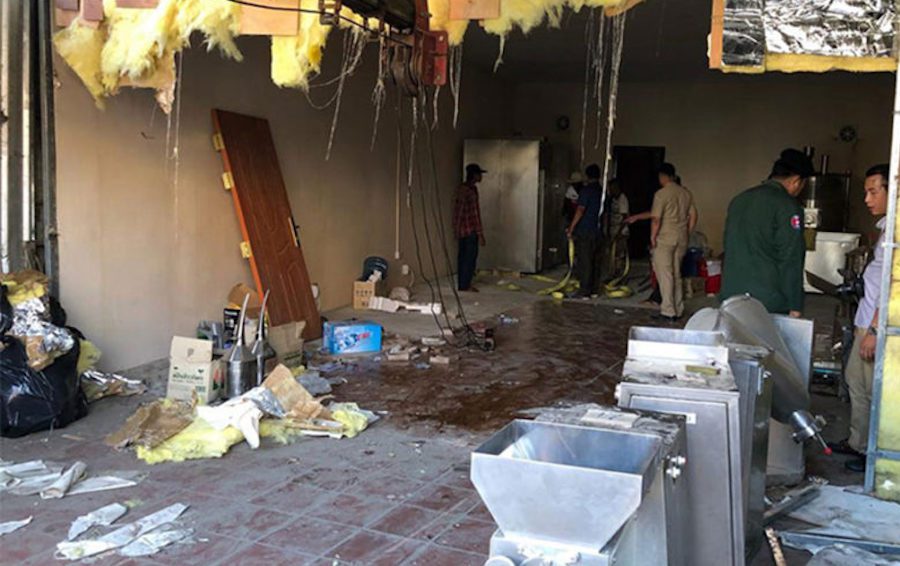 Despite ramped-up drug arrests at notorious Phnom Penh drug hotspots and nightclubs, people still find places to use drugs, according to Vyrith.
"They use wherever the police have difficulty getting into," he said. "Police are working on the road and [users] are quietly buying from dilapidated places and using where there are no police."
In 2018, more than 17,000 drug users interacted with authorities but less than 5,000 admissions to temporary drug treatment centers were recorded, with more than 4,000 admitted for methamphetamine use, UNODC said, citing NACD figures.
In the same year, 84 percent of those admitted to drug treatment centers were between the ages of 18 and 35 years old.
Authorities encouraged drug users to voluntarily seek community-based rehabilitation treatment, Vyrith said.
Today, there are more than 400 sites nationwide where drug users can receive counseling and other voluntary rehabilitation services at local health centers or clinics while living at home, up from 177 sites in 2017.
"If we let the drug addicts exist in the community, then drug trafficking will continue and the benefits will go to the dealers," Vyrith said. "The dealers cause the damage and crimes in society … and the users themselves also cause problems to society and their families."
UNODC says the ongoing expansion of the methamphetamine market in the region has been "driven by supply."
Countries in East and Southeast Asia have confirmed some 115 tons of drugs seized last year, not including in China, which confiscated about 30 tons on average over the last five years, the report says.
UNODC also said there were "growing indications that the coastal province of [Preah Sihanouk] is gaining importance as a transhipment point for regional and inter-regional methamphetamine trafficking," adding that authorities said crystal meth has been trafficked by sea from the Sihanoukville port to other countries, including the Philippines and Australia.
Vyrith said Cambodian authorities worked with Filipino counterparts in 2017 to help confiscate 146 kg of Golden Triangle methamphetamine that was shipped through the Sihanoukville port to the Philippines.
The government's three-year anti-drug campaign would be considered won when public order and security were ensured and crime had diminished, he added.
Officials were using a combination of education, administrative measures, law enforcement, treatment and rehabilitation, and cooperation with other nations to tackle the global threat of synthetic drugs, Vyrith said.
"Our activities are ongoing like the anti-Covid-19 campaign," he said.