A right group's head has been questioned by cybercrime police over the NGO's involvement in releasing a rap video commemorating the ninth anniversary of bloody clashes between security personnel and garment workers.
Am Sam Ath, operations director at Licadho, was questioned by the cybercrime unit of the Phnom Penh Municipal Police on Monday. Sam Ath said he was asked where the NGO got the images and videos for the music video, and that police officials asked the NGO to take down the video.
He said the video was not meant to incite and that the NGO does not want violence like what was seen in 2014 to be repeated.
"We don't support violent events. That is why we ask for it to be prevented from happening anymore, meaning we don't support violence no matter which party does it," he said.
Sam Ath added that only Licadho's management committee as a whole could decide to take down the video.
Licadho and labor rights NGO Central released the video, sung by rapper Kea Sokun, on January 3, marking nine years since violence erupted on Phnom Penh's Veng Sreng Boulevard, when workers were on general strike demanding an increase to the minimum wage.
The video is titled "Workers Blood" and uses visuals of the violence, including images of workers being beaten by security personnel. The video also uses clips from media outlets like Radio Free Asia, showing military police in riot gear marching into factory and housing premises on Veng Sreng Boulevard while bleeding workers are carried away by their peers.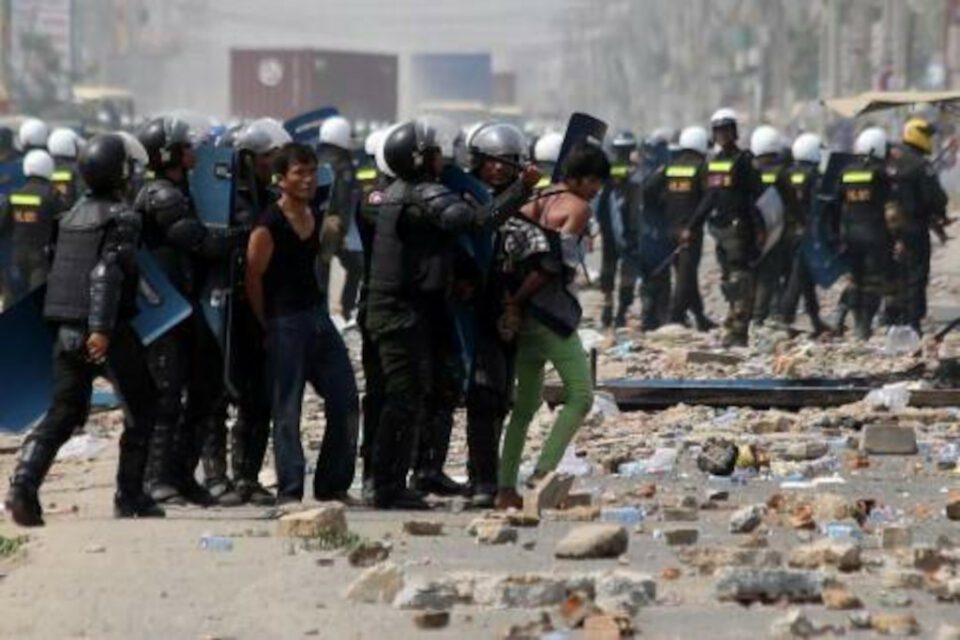 "For the past nine years they have been left with pain and sorrow and sadness by gestures full of blood," Sokun says in the song.
"There is no information and they do not know where they have drifted away. There is no one who knows, and they have been waiting for justice for the past nine years, waiting so long but there is no one held responsible."
At least four civilians were killed, another 38 were injured, and one 15-year-old boy went missing and is believed to be dead.
Sokun previously was arrested and convicted in 2020 for another rap song with nationalist lyrics like "stand up," "I'm opposed to the dictator," and "the other race is encroaching."
Apart from Sam Ath, VOD has seen summon letters for three other civil society leaders: Moeun Tola, who heads Central; Vorn Pov, president of informal worker association IDEA; and Theng Savoeun, leader of the Coalition of Cambodian Farmer Community.
Tola and Pov are summoned on Tuesday, and Savoeun is scheduled to be questioned on Wednesday.
Tola said he would present himself on Tuesday but was unsure what questions the police would have for him.
"It is remembering nine years since the violence happened. … I will wait and see what the police want to know about it," he said in brief comments.
San Sokseyha, a Phnom Penh Municipal Police spokesperson, said the Culture Ministry had asked the police to look into the video because of its incendiary lyrics. He confirmed four people had been summoned.
"We just summoned, questioned and advised him about this issue to avoid [problems] as stated by the ministry that [the video] can provoke and incite, which could affect security and public order," he said.
Last week, the Culture Ministry asked the National Police to restrict access to the video.