Twenty activists surveyed the Prey Lang forest for four days last week despite a recent wave of suppression against environmentalists, who have continued their work in defiance of a ban against community patrols.
In the past month, 16 Prey Lang activists patrolling elsewhere in the forest were stopped by armed rangers and questioned for an hour, while 20 environmentalists hoping to study community impacts in Prey Preah Roka were blocked from entering the forest.
Community patrols in Prey Lang were outlawed starting in 2020, with authorities saying they were not registered entities and therefore conducting illegal activities. Prominent environmentalists have been arrested for trying to continue the work.
The authorities say large-scale logging has stopped in the country, but research based on satellite imagery has shown otherwise, revealing significant tracts of tree cover lost in wildlife sanctuaries. Many activists have alleged suspicions of official complicity in allowing forest crimes to continue.
On Sunday, the Prey Lang Community Network posted an update from its latest patrol: a four-day motorbike ride through parts of the 430,000-hectare protected forest in Preah Vihear province.
Much of the ground was wet from recent rains, but the patrollers said they found minor evidence of logging, including two 1 to 4-hectare fields cleared for farming, six wildlife traps and 36 planks seemingly sawn from trees. The activists posted GPS coordinates and photos online.
Prey Lang activist Srey Thei said on Tuesday that he believed it was important to continue the patrols despite the risk of repercussions. The patrollers had not received permission to enter the forest, he said.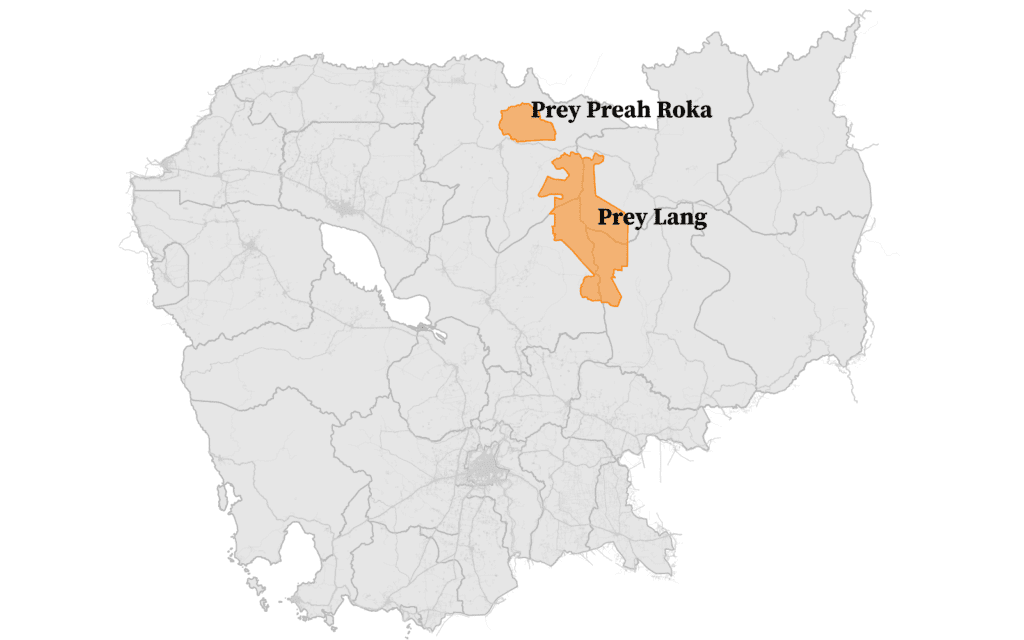 "We haven't asked them. Even if we ask, they won't let us do it. We are concerned, but we can't let the officials work on their own. The forest will be gone," Thei said.
His community used to tap resin trees in the forest to help earn a living, but this source of revenue was being lost because those trees were disappearing, he said.
"We patrol two or three times per month. Prey Lang is like a market where we can make a living. It is our traditional way. But now they won't let us do it anymore," Thei said.
Environment Ministry spokesman Neth Pheaktra could not be reached, while Preah Vihear environment department director Song Chansocheat declined to comment on Tuesday. Chansocheat said last week that authorities had invited communities to show them evidence of illegal logging but they had not done so.
The latest patrol followed two incidents in protected areas and a call for stronger action over the past month.
On the night of September 18, 16 Prey Lang community patrollers in Kampong Thom province were stopped by armed environmental officials and taken to a nearby plantation, activists said.
The 16 were questioned for an hour about their purpose, they said. The patrollers had been working with a local community to plant more trees, the activists said.
Prey Lang activist Thei was also involved in that patrol. "We were disappointed," he said. "They asked us to make an agreement to stop any activities, even though we were just planting and transplanting [trees]. This isn't illegal. Prey Lang doesn't only belong to the environment [authorities] but to the whole of Cambodia."
On October 2, around 20 youths from universities and local communities were stopped as they tried to enter Preah Vihear's Prey Preah Roka Wildlife Sanctuary.
One of the participants, monk Chrun Ounh, said the group wanted to study the impact of deforestation on local livelihoods around the forest, but was stopped by environmental officials for not asking permission first.
"I and other youths just want to study forest conservation and the impact on indigenous people, whether it is true what the news and communities say about the destruction of Prey Preah Roka," Ounh said.
Around a week earlier, on September 26, an indigenous Kuy community released a public request to the government to pay more attention to the protection of Preah Roka, saying deforestation was continuing daily.
A community member, Ngorn Him, said he saw 10 motorbike-pulled trailers carting wood out of the forest every day. "We can't patrol, but there's still cutting. We see a lot of cases."
Chansocheat, the Preah Vihear environment director, said at the time that he had not received information about the illegal logging, and the community had failed to produce evidence. "I invited them, but they didn't come two weeks ago. There are no deforestation cases."
Additional reporting by Nat Sopheap