PREY NOB DISTRICT, Preah Sihanouk — Ream Bay is an oasis, explains a family of fishers on its shores. They used to own a house within the wetlands that face the coast, where they could park a boat in front of their house and take it through Boeng Thom Angkep lake and out to fish in the Gulf of Thailand.
But after developers evicted residents and began filling sand into the wetlands, her family of 10 chose to live on the beach itself in order to keep their jobs fishing, sleeping under the open sky, Inn Sok Khay, 50, said.
"This is a very good area. It's peaceful and quiet, so when the storm comes it's OK," said Sok Khay, explaining their decision.
Construction workers in the area do not allow the family to put up a tent on the beach unless it rains, but at least storms do not scare the group.
Instead, Sok Khay worries about when they'll lose that home as a sprawl of sand spreads across Ream Bay.
A little-known tourism company with powerful shareholders is creating a new coastline in Ream commune by pouring an estimated 100 million tons of sand into the Gulf of Thailand, after the government granted the company a 400-hectare piece of sea.
Since contractors began the filling around February last year, a few dozen boats have mined and then dumped sand into Ream Bay daily, but both company and government officials say they're still in the process of assessing the potential environmental and social impacts. Residents around the project are already enduring changes to their lives and work.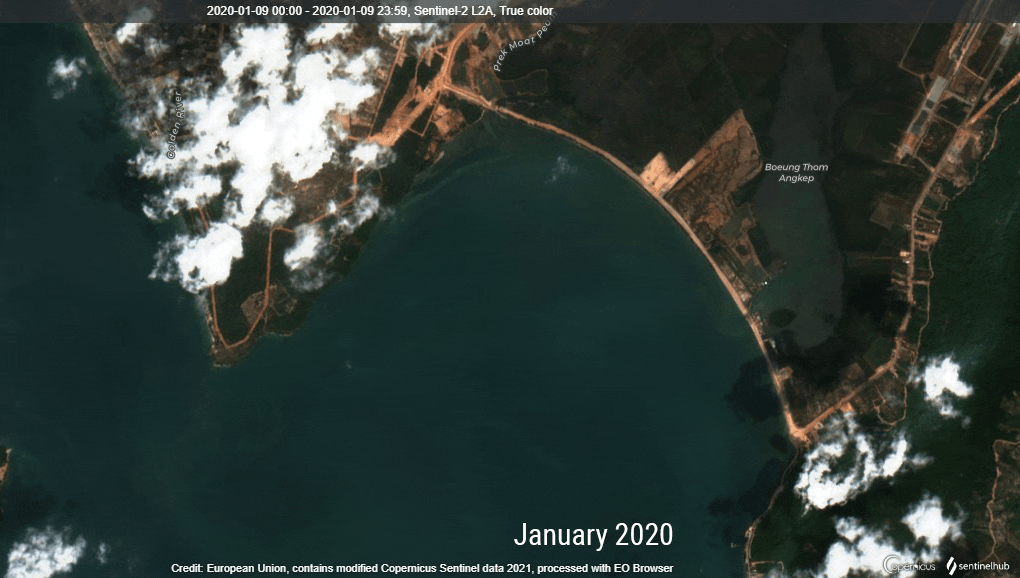 Prime Minister Hun Sen signed a sub-decree in September 2019 granting some 427 hectares of ocean to a little-known company registered just one month before, Canopy Sands Development.
The company may be newly created, but its directors are no strangers to the country: Its chair is Chen Zhi, the leader of the expansive Prince Group and a naturalized Cambodian citizen, and the two other directors also hold several companies inside and outside the group.
In March, the government turned another 407 hectares of sea — curving away from Bit Traing commune's lucrative peninsula in a wave shape — into state private land, though the sub-decree did not specify for what this area would be used.
China Harbor Engineering Company, a subsidiary of the state-owned enterprise China Communications Construction Company, had announced one month prior that it won a $308-million contract to reclaim 408 hectares in Preah Sihanouk province.
Since sand began pouring early last year, a peninsula has broken through Ream Bay, about 700 meters out into the sea and more than 600 meters wide, based on a rough estimate from Google Earth satellite images taken last month.
Amid the steady traffic of trucks hauling sand and stones, or preparing to fill their load, visitors can stop at the top of the Poy Machov mountainside and count a dozen or more boats huddled near the peninsula. Despite the very visible development, little information about Canopy Sands' project was shared publicly, and company officials were unwilling to say much or even share promotional material.
A representative for Prince Real Estate said Canopy Sands was not part of its portfolio. Instead, staff from Belt Road Capital Management, a private equity firm chaired by Canopy Sands director Guy Chhay, responded to a reporter.
No Daneth, a personal assistant to Belt Road Capital Management's managing director, said in an email that the company was in the process of making environmental and social impact assessments, but she did not explain why sand filling began before those assessments were completed.
"We are engaged in regular dialogue with the relevant authorities, and have received their approval and support for our project," she said, adding that the company would make an official announcement "in the near future," without answering any further questions.
Environment Ministry spokesperson Neth Pheaktra also would not clarify the environmental impacts of the coastal reclamation, saying an environmental and social assessment, as well as ways to mitigate the impact, were still in progress. He too would not explain why sand had been filled into the bay before these evaluations were completed.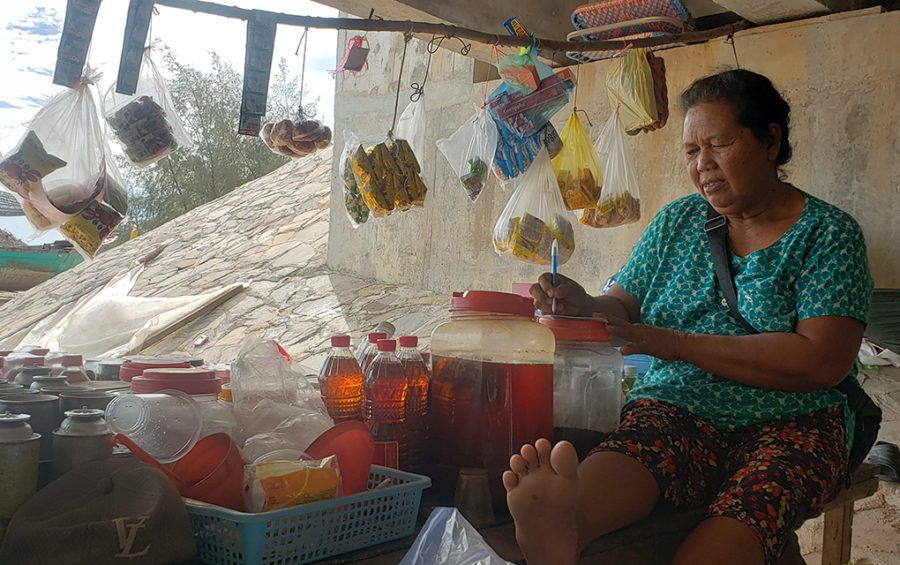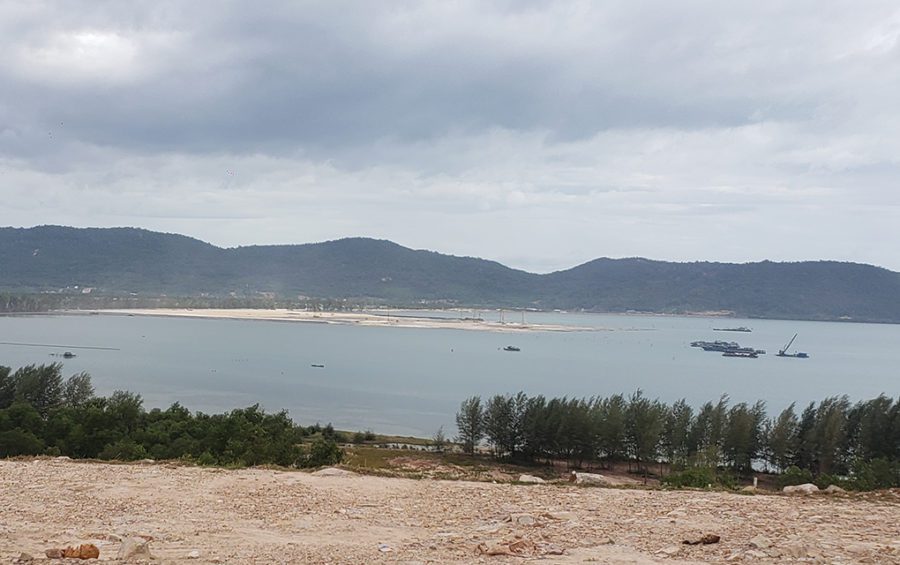 Provincial administration spokesperson Kheang Phearum would only say that an inter-ministerial working group had "thoroughly studied" the impact of the project, and referred further questions to the Environment Ministry.
Sepehr Eslami, an expert on coastal dynamics and river systems based in Singapore, has studied the environmental impacts of sand dredging in Southeast Asia, writing multiple reports on the correlation between sand dredging in the Mekong River and salt intrusion that has dramatically degraded the once-fertile delta.
He said he couldn't speak to the specific impacts of dredging and filling on Cambodia's coasts, as he wasn't as familiar with the ecosystems in Preah Sihanouk. However, he said the impact in general wouldn't be much different than those affecting the Mekong, leading to riverbank erosion and biodiversity loss at the mining site, and coastal retreat and an impact on coral reefs and mangroves where sand is filled.
"Sediment for water is like humidity for the body. When you get sediment from the system, it will have to get its sediment from somewhere else. That's why depending on the dimensions this can also lead to significant coastal erosion (coastline retreat)," he said in an email.
Looking at reporters' images and satellite captures of the sand-filling project, Eslami noticed about 10 barges surrounding the project at any time. Based on their size, the boats could carry around 2,500 tons of sand in a load, and could likely unload twice in 24 hours, he said.
Eslami estimated that the project would require between 80 and 120 million tons of sediment, based on estimates from satellite imagery of the Ream coast, and the area of the sea granted to Canopy Sands.
A reclamation project worth $300 million, like the contract China Harbor received, could involve some 60 million cubic meters of sand, or 96 million tons, he said, using an estimate of $5 per cubic meter.
For comparison, the Overseas Cambodia Investment Corporation said last year it would need some 60 million cubic meters of land to complete the 125-hectare Koh Norea reclamation project in Phnom Penh.
The Mines and Energy Ministry recently opened bidding for sand mining licenses on more than 2,000 hectares of coastal waters in Preah Sihanouk and Koh Kong provinces. Though the bidding opened without explanation other than "increasing demand," Phearum, the Preah Sihanouk spokesperson, said at the time that there was only one major land-filling development in Ream.
Though the company and provincial government would not answer specific questions about environmental impacts, studies of coastal reclamation in China's port city of Tianjin showed a correlation between reclamation and economic development, but serious impacts on water quality and marine ecosystems.
Fishers in Cambodia, meanwhile, claim they're already feeling the impact of Canopy Sands' development.
Yng Sokhai, a 62-year-old fisherman who lives with Sok Khay, said he struggles to take his boat from the family's shelter on the northwest side of the coast. The northernmost parts of the bay are too shallow to navigate, while the traffic of sand mining boats toward the south blocks their exit: "one comes, one goes, one comes, one goes," he said.
"The fishing is also very difficult," he said, adding that he believes fish have been scared away or poisoned by the sand-hauling boats' activities.
The family said that when they were first evicted from the wetlands, they had been pushed by officials to take a piece of land about 5 by 20 meters and $1,000 for the expense of removing their home. Sokhai said they declined, as the new plot was far from the sea that provides them income. They would remain until there was no other option for them, he said.
Under a newly-built bridge a few meters from the family's camp, a woman who gave her name only as Yang had set up a store selling drinks and sundries. She used to keep her shop close to the road, so that she could sell directly to the construction workers filling sand into the wetland area she used to live in. After three or four months, they kicked her out, she said, cursing the construction manager who forced her to move.
Yang said the fishers still come to buy drinks and snacks from her, but no one else can easily find her under the bridge — built to connect the coast to the province's international airport, an effort meant to open economic opportunities in the area.
She said she was not offered compensation as she was evicted from her home. As she lost both her house and her roadside shop, she had found no way to fight for her place, she said.
"If we did not leave, they would imprison us, and the ones who stayed were arrested, so we were scared."