PREY NOB DISTRICT, Preah Sihanouk — After being kicked out of their home near the main road, Moeun and Rim Loeng saved money to rent an excavator and clear a route to their new hillside settlement. But a sprawling land claim has now swallowed up that route, and is displacing neighbors.
"It was very difficult when we came to live here," she said. "There was no road. We had to walk up here."
Early this month they sat together with a deck of cards, slicing pieces of guava just before lunchtime. They said the state promised to build a new road connecting the Koki village hillside to the road leading toward the Sihanoukville airport. However, hectares of the land around them have been given to individual owners, usually powerful connected individuals, some of it in recent months.
"The land belongs to the rich, and they fenced us in to block the road," she said.
She said a plot where a fence was constructed two years ago belongs to a tycoon she knew only as a Phnom Penh entrepreneur called "Long Chim," while on several hectares to the south, the land is claimed by members of the prime minister's family.
In the past several months, some of the most powerful people in Cambodia have been granted Preah Sihanouk land that boasts stunning ocean views and proximity to key tourist developments. Much of the area sits empty, and interviews with hired guards and officials suggest there is a web of elite landholdings as many hold onto the plots while their value steadily climbs.
Plotting for Tourism
Both Ream and Bit Traing communes are part of a sweeping but largely unexplained tourism project dubbed "Neak Reach." The more than 3,000-hectare area will connect O'Chheuteal and O'Tres beaches, Ream bay and Sihanoukville airport, starting with a network of roads running along the coast and through the area, according to the Land Management Ministry.
The roads are freshly paved but thick with dust as trucks constantly roar past, brimming with sand, dirt or stone, or freshly emptied. The destination for many of the trucks is the stretch of land along Ream bay, where Canopy Sands Development is constructing an 834-hectare tourism project within Neak Reach dubbed "Ream City." On the other side of a blue fence about 3 meters high, boats dump sand into the sea as part of a massive landfilling project, a gigantic protrusion on the soft moon-like curve of the bay.
Parts of the new roads climb over a shallow mountain containing an area called Poy Machov — currently speckled with some two dozen excavators, tearing up the earth to cart away — and from the elevated view, the space between Ream bay and National Road 4 looks largely barren, save for wetlands, a few hillside houses and the massive Canopy Sands landfilling project underway.
Several of those seemingly empty hillside plots have been parceled out in sub-decrees issued from Phnom Penh to members of the country's elite.
Keut Sotheara, the tax department's director of crimes and prevention, received 76 hectares. Another 44 hectares in Ream commune were split among seven individuals, including the prime minister's daughters Hun Mana and Hun Maly.
Three entrepreneurs — Teng Hoeung, Lav Kang and Tan Tat — also received 9 hectares of land. Hoeung and Tat are directors of the Teng Lay Group, an import-export and logistics companies with an office on National Road 4 within a few kilometers of the Sihanoukville Autonomous Port, as well as locations in Phnom Penh, Bavet and Serei Saophoan cities.
Hoeung is also a shareholder alongside Mana and Maly in several Orkide borey projects. Kang is a tycoon with prominent holdings in Sihanoukville, serving as the city's former chamber of commerce president with his own import-export group.
Due east of the Canopy Sands landfilling, the family of influential tycoon and politician Ly Yong Phat also received a sizable concession that will force dozens of families out of their homes. Some 600 hectares of land and lake were bestowed to Yong Phat's daughter Ly Arporn and Seng Nhak, who is Arporn's husband and the director of Phnom Penh Sugar. Phnom Penh Sugar was targeted in the "blood sugar" campaign against child labor and abusive practices in the industry.
Though construction is ceaseless on the east side of the mountain, its western flank in Bit Traing commune remains untouched, save for fences cutting across the rolling hills. On this side, some of the nation's elite landholders have long held claims, some at least dating back a decade, to closely-guarded land that's rising in value.
Reporters received a map of the commune's tooth-shaped peninsula, marked by cuts of land and names of its owners, many of whom are part of the nation's political and business elite. By asking guards who protect their bosses land from encroachment, reporters were able to connect several names on the map to the guard's descriptions. The guards' names aren't used in order to protect their jobs.
One guard who was napping in a camouflage hammock in the afternoon heat stirred when reporters approached, and told them that his tree-covered territory on the peninsula's eastern side belonged to National Police chief Neth Savoeun. He added that some of the land farther south was owned by Telecommunications Minister Chea Vandeth, which another guard supported. Both locations matched up with names on the obtained map.
Vandeth told VOD that he had invested money that he had saved into land in Bit Traing commune, which he described as a small area without clarifying the size. He said that he had bought the land for about $2,000 to $3,000 per hectare — $0.20-0.30 per square meter — using it to grow coconut, durian and acacia. He said he had proper land titles for his property, though he did not say when it was purchased.
"[I invested] my sweat and blood, and I tried to teach from morning to evening to buy land in the past 20 to 30 years, and I have never encroached the land," he said. "Some journalists exaggerated and destroyed others' reputations."
Vandeth's wife, Sok Ly, also recently defended her landholdings, sending a letter with other Preah Sihanouk landowners to The Cambodia Daily, claiming that they were within their rights to develop the land in Sihanoukville and Bit Traing commune.
Savoeun, the police chief, could not be reached.
The guard also mentioned another piece of land on the coast opposite of his as being owned by Lo Timinh. The map connects Timinh and Lo Sokoun as joint landholders, and the two also serve as powerful forces in the tourism industry: Both are shareholders on management companies for Preah Sihanouk's O'Tres and Prek Treng beaches, and Sokoun also directs hotel companies including Shinta Mani and Hotel de la Paix, among others.
A representative for Shinta Mani, who was also listed as the contact for O'Tres and Prek Treng management companies, did not respond to questions about the directors' Bit Traing commune property.
In Ream commune to the east of the mountain, guards explained that several small villages, including long-time residents and new migrants from other provinces, had been kicked off their land in recent years.
Two guards in a tarp-covered shack sit at the peak of hills that they say they've been guarding for Hun To, the prime minister's nephew and a controversial tycoon, for about two years. They noted that others have staked claims on adjacent land, including the 44 hectares granted to the premier's daughters and five other individuals. Further down the hillside, a woman who guards another plot with her husband said the land was owned by Land Minister Chea Sophara, Vandeth and two associates.
Bit Traing commune chief Meach Chan said he did not fully remember when many of these tycoons registered their land, explaining that there existed both long-held claims as well as a new rush for Bit Traing land in recent years. It was not only elites; families from the province and Phnom Penh descended on his commune as Sihanoukville bloated with Chinese investments, he said. In 2016, there were only 60 families living in the Poy Machov mountain area, he said.
"In 2018 and 2019, hundreds, thousands of families came to claim [land] illegally and encroached on the land and sold from one to another," he said. "Some of them have been recognized by the authorities while others go without recognition — [their claims] were not authorized."
The commune chief named more than 15 elite figures who owned land in his commune, saying most had registered their land but a few received it through sub-decrees — similar to the grants given to Hun Sen's daughters and the tax department official in Ream commune.
He acknowledged that Vandeth and Savoeun had land in the commune, saying Savoeun had bought land that was former property of the Ream Naval Base. The navy sold the land to a land broker, who then sold it to the national police chief, he said.
Chan also said that Timinh and Sokimex Investment Group chair Sok Kong hold land in the area, supporting claims from guards around the area.
He also added to the list of powerful entrepreneurs who own land on the scenic peninsula: Sy Kong Triv, a ruling party-linked tycoon who is said to be one of the country's wealthiest businessmen.
In 2019, Hong Soun — Kong Triv's wife and a shareholder in Battambang Conch Cement, President Foods and other prominent companies — was linked to a violent land dispute that left one man paralyzed in a police raid.
Two other controversial tycoons were also named by Chan as landowners in Bit Traing, including Suy Sophan, known for pushing families out of the Phnom Penh housing development Borei Keila, and Lao Annie, who was caught building illegal houses on Koh Kong province's Koh Sdach island. Sophan has also received land on Boeng Tamok.
Preah Sihanouk tycoons hold land in the area, Chan added, including GTVC Import Export director Tea Vichet — the son of Admiral Tea Vinh, Ream Naval Base commander, and nephew of Defense Minister Tea Banh — as well as Tang Lyhour, director of Sihanoukville companies Tengxin Real Estate and Smart Winner.
Chan's accounts also backed other claims made by hired guards on the peninsula. One guard living on a long, thin piece of land in Bit Traing commune said he was hired by a shareholder of the Crown Beverage Can company, which manufactures cans from a factory on National Road 4. Chan clarified that the plot had since been sold to tycoon Rathanak Sambath, who holds a stake in the Sihanoukville casino and resort Queenco as well as Lionhart Group, a company developing a proposed resort and training center called Kompong Dewa.
Ross Wheble, country director for the real estate firm Knight Frank, said land in the coastal, hilly area between Ream National Park, the Sihanoukville International Airport and National Road 4 had been growing in value, boosted by road construction and other ongoing infrastructure projects.
The company is working on several projects in Ream, Wheble said, but he would not name the developers. However, he said the buyers interested in Ream primarily consist of Chinese investors who need to find Cambodian partners to co-own land.
The land value in the Ream area was around $200-800 per square meter, depending on the location, he said. Prices in Sihanoukville city were still higher, but the Canopy Sands Development — a $16-billion investment still in the sand-filling stage, promising hotels, business centers and a golf course — could push the demand up, Wheble said.
"Sihanoukville, and specifically Ream, has great long-term potential if developed in a planned and considered way, making sure to maintain the integrity of the national park and building projects that appeal to a wide range of tourists," he said.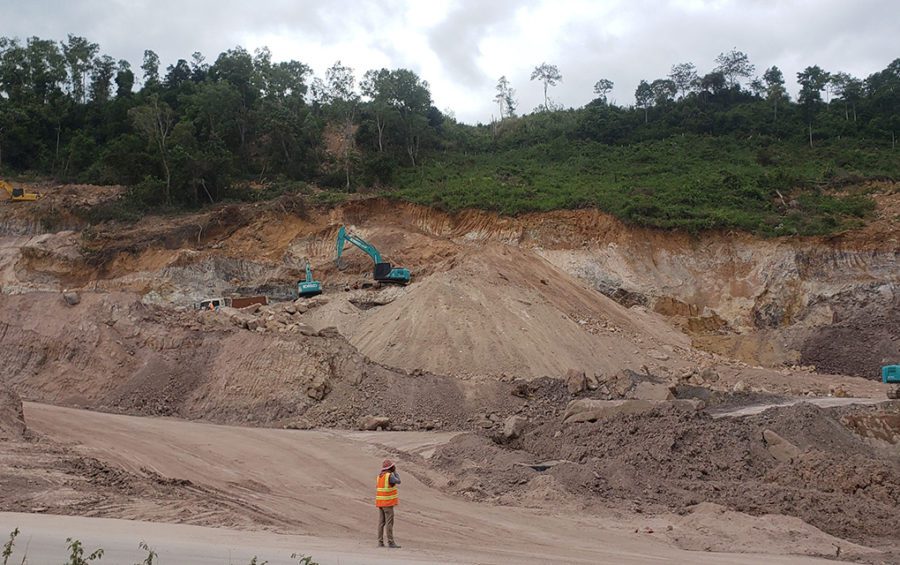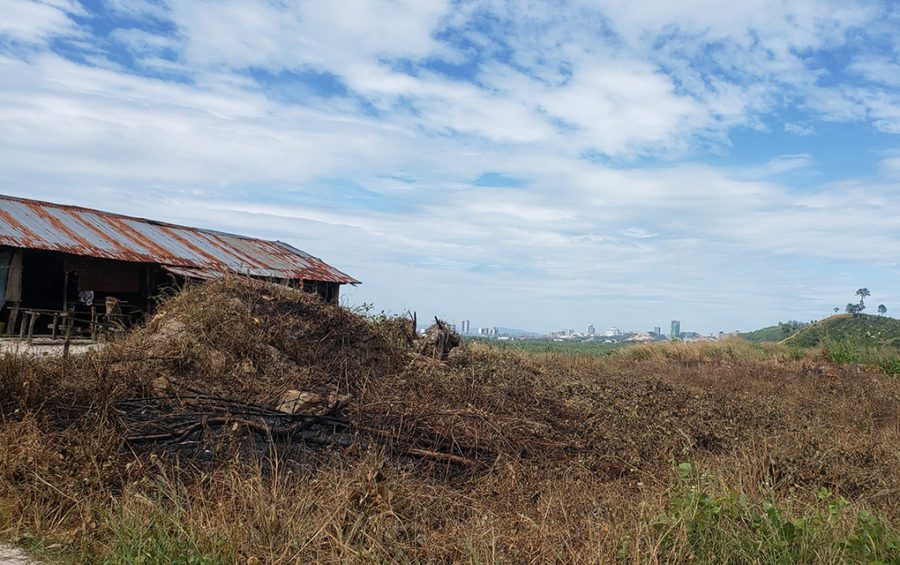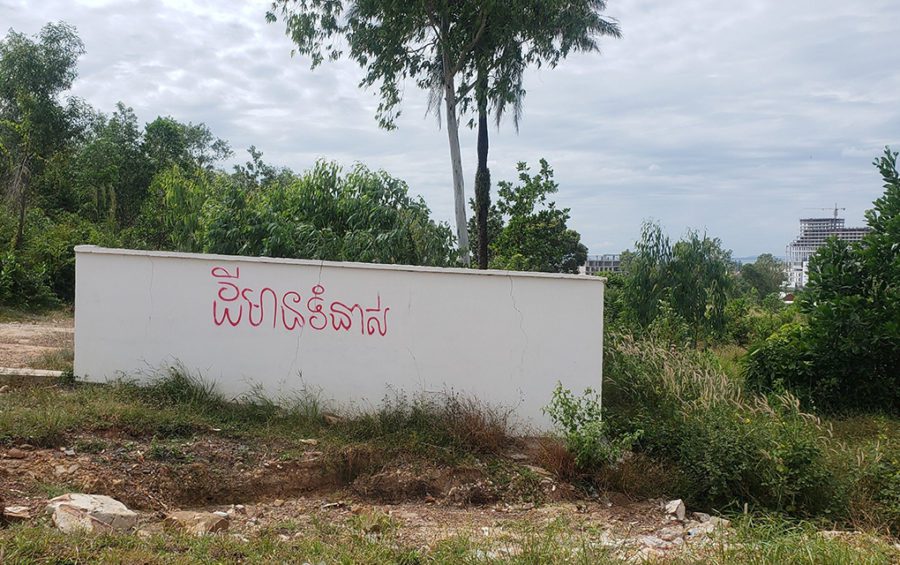 Conflicted Land
The demand for land in the district has led to heated and violent land disputes in some villages across Prey Nob district. In December, residents overturned a car over unclear land claims in the district's O'Oknha Heng commune and one man was shot and paralyzed in a major Bit Traing commune dispute in January 2019.
Cheap Sotheary, a provincial coordinator for Adhoc, said Prey Nob district had become a popular area for Cambodian buyers and Chinese investors, and conflicts were frequent. Land ownership was often unclear, and plots were often traded or granted without current residents' knowledge, she said.
"If there are any demolitions, there will be confrontations like before," she said.
She explained that generally there should be a committee to come survey the land, but in some land sales there was no community consultation, and current residents, some of whom had been living on the land for years, were surprised by the sales.
In some cases, community members are promised compensation but never receive it, and react violently when hired workers build fences or authorities deconstruct homes.
"So far we have no idea how authorities should handle this issue because [there are] people who have lived there constantly, while owners of the land still keep claiming that the land belongs to them," she said.
Sun Sophanith, a land activist in Prey Nob's Ream commune, said pieces of land that had long been occupied by residents, often outside the land titling system, had become very valuable due to the proximity to Sihanoukville and provincial tourism projects.
"It is very valuable land in [certain] locations and very expensive," he said. "This is an opportunity for the powerful and rich people to capture important [land] for development or rent to other companies or investors, so they can earn a lot and they will have more money or power."
Sophanith said that most of the forested areas that were claimed by powerful individuals were generally occupied to some decree, and longstanding residents had cleared the land and therefore started some of the work that a tycoon or company would need to do to use the land.
"[Powerful and rich people] know how the system and procedures work in order to make legal documents and to claim the land," he said, questioning their insider connections.