Small trees are growing inside the top floor of an abandoned schoolhouse on Phnom Penh's Street 144. There are fallen beams in bare concrete rooms, and water dripping down through several stories.
Sok Long, 65, arrived there with her husband in 1989, both of them teachers from Battambang. She's seen the neighborhood transformed over 32 years, most of her colleagues moving out to newly built borey houses.
Hundreds of children once filled Padewath Primary School's many classrooms. But the school shuttered in 2006. Since then, Long and her family have been caretakers of the abandoned building, living in four spacious floors of a concrete shell, watching vines creep up its facades, and walls on upper floors slowly crumble.
Across the capital, heritage buildings are in various states of loss and preservation — some appear on the verge of collapse; others are covered in metal barricades or green netting, hinting at renewal, or else potential loss; many contain restaurants, residents and bustle, largely indistinguishable from the rest of the city around them.
This week, Prime Minister Hun Sen instructed officials to halt the destruction of cultural and heritage buildings across the country to protect them for future generations, as historians stressed the value of preservation while residents variously spoke of nostalgia or indifference.
A Survey of Heritage
VOD was unable to receive an official listing of heritage buildings this week. But since at least 2009, Canby Cambodia has been publishing a list of 24 examples of historical architecture around central Phnom Penh.
On Friday, all 24 buildings on Friday appeared to still be standing in some form. A strip along Street 130 is host to a cluster of heritage sites, including at the corners of a four-way intersection with structures each from a different period. Represented there is a trip through Phnom Penh's recent architectural history, from the oldest built around 1905, to a 1940s structure in "Art Moderne" style and a 1980s block. Just down the street, a Mediterranean-style apartment building erected in the 1940s still shows signs of life from its residents even as it visibly crumbles.
At the end of the row sits what remains of the International Hotel, built in the first years of the 1900s. Today, though some signage is still visible, the old hotel building has been reclaimed by a number of shopkeepers. Its tower is considered architecturally distinct, but the hotel's look is now more characterized by a wrap-around Samsung Galaxy smartphone sign.
As many of the historically designated buildings have faded into the weather-worn fabric of the city, some are being more visibly repurposed. The Foreign Correspondents Club mansion on the riverside was an active restaurant and hotel until its recent closure for extensive renovations, scheduled for completion by the end of this year, according to the FCC website. Nearby, an old royal villa has been turned into the foyer of the newly opened Hyatt Regency.

The FCC building isn't the only piece of French colonial architecture to see consistent use, and the city's main Post Office remains one of the clearest examples of that style. But the years have been harder on other, former colonial administrative buildings in that neighborhood, most notably the former Central Police Station. Once used as the set of the 2002 film "City of Ghosts," the old station has been mostly vacant for more than a decade. Now owned by the Royal Group conglomerate, according to news reports, the compound of the former colonial police commissariat has become a local hang-out thanks to some volleyball courts set up within its walls.
Phen Keo, 41, rents the historical building and its grounds so he can run his volleyball courts. He has no use for the building itself, he said.
"No one does anything with this building. And no one lives inside, because they're scared of the old construction falling down. A few people use the place for washing clothes."
Two volleyball games are ongoing inside a metal, warehouse-like structure, full of dozens of men, many shirtless. Those courts have been around for 20 to 30 years now too, Keo said.
"But for the French building, they do not allow us to do anything with it," he said.
Residents' Ambivalence
On the ground floor of the shuttered Padewath school on Street 144, Pen Soklim, 48, has sold soft drinks from a cart for 20 years. She didn't want to say that it would be sad or that she would be opposed to the building being demolished and lost — "it's OK if it's required from the government" — but the neighborhood held many memories.
Though for her it was the apartment block opposite that seemed the most iconic in Phnom Penh. "I don't go around much, so the first building I think of is M'lop Tapang," she said. "People used it as a meeting point."
That was the advantage of preserving heritage buildings, she said — Phnom Penh would gain landmarks, things to be known by.
She added that older neighborhoods seemed to have more people passing through, and stopping to buy food and other items, than areas with modern skyscrapers.
Hour Pov, 70, has lived in a shophouse-like unit on the building's ground floor since 1990. She did not share any fondness for the dilapidated structure.
"It isn't beautiful. It's scary to look at this building. When I bought it, it was pretty. Later, as it got old, it just looks scary," Pov said. The National Museum was iconic. The schoolhouse was not, she said. "I don't care. If they come to buy, I will immediately sell."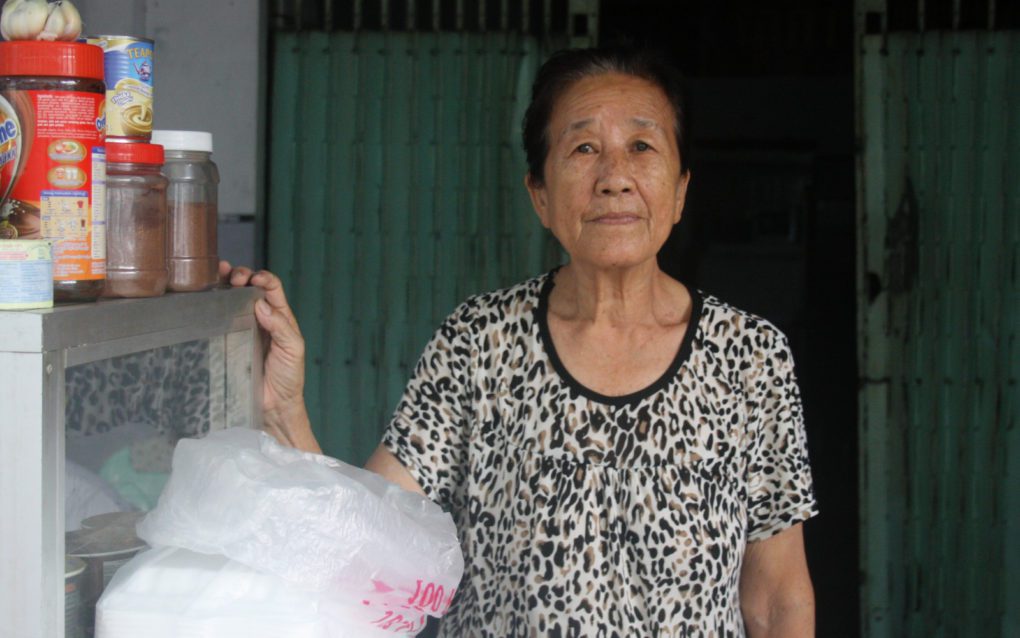 Vong Sotheara, a history professor, said many heritage buildings have been lost due to a lack of broad publicity about the value of the historic buildings. Cambodia also did not have an evaluator of the heritage buildings, Sotheara said.
The protection of heritage buildings from decades past would encourage the development of diverse tourism in the future, he said.
"People do not always want to visit the beach or see Angkor Wat temple. They might want to see, might want to know about, or hear or want to learn about, architecture that has lasted half a century."
Most developers valued luxury and progress over heritage, so it would be valuable to place more emphasis on preserving historic buildings, he said.
Thou Rithi, a history student at the Royal University of Phnom Penh, said people should be proud to preserve the heritage of their forebears.
"It shows our civilization and culture from the past, an identity that allows the world to know us," Rithi said.
Instructions From the Top
In a circular dated Tuesday, Prime Minister Hun Sen sided with preservation. Loss and destruction due to modernization had damaged heritage buildings across the country, and development must weigh the balance between change and conservation, the document said.
The government is instructing all ministries and governing institutions not to change the appearance or damage the aesthetics of heritage constructions, it said.
Plans to repair, remodel or demolish heritage buildings must first go through the Ministry of Culture and Fine Arts, it added.
Long Ponnasirivath, spokesman for the Culture Ministry, said preservation has long been part of the ministry's strategic plan, but there was tension with the path of development, and some people still didn't appreciate the value of the heritage.
The past couple of decades have seen challenges in preserving French colonial-era buildings under private ownership, he said.
"With economic and social development, we can't completely prevent it all," he said, adding that conservation required the participation of all sides.
Though it has been a long-standing challenge, Hun Sen's new directive would provide additional clarity about the need to protect buildings listed as culturally significant, Ponnasirivath said.
He said he did not have the number of buildings or the list itself on hand, but they were updated every year based on various criteria, not just age. Their uniqueness, aesthetics, historical and religious value were all considered, he said.
"Our tourism potential is strong because we have heritage and ancient temples," he said.
Long, the former teacher, said she felt pride in keeping guard over her abandoned school in the center of the city.
"I have many, many memories in this place, but one thing I'm proud of is bringing my family here, to live in central Phnom Penh," she said. It would be impossible for them to afford to live in such a place otherwise, she said. "We live here. And it's a special one."
All five of her children still live with her in the building, which was a U.S. embassy before it became the school. It has an empty elevator shaft with metal mesh doors leading to a long drop, and a gray stairwell that winds around it.
"It's one of the achievements that the old architect designed for the people. The new generation can come and look at this design and heritage," Long said.
"For me, I want to keep it like this, not touch anything or paint anything. When people come here to take pictures, it's amazing for them to see. … If they destroy this building, we wouldn't have this old design anymore."
Additional reporting by Khan Leakhena and Meng Kroypunlok