On Saturday at about 4:30 p.m., Prak Lamhong was shaken awake from an afternoon nap by his 8-year-old daughter as explosions rocked the ground floor of the family's home and gas-canister-refill shop in Daun Penh district.
The 70-year-old said he, his wife and two children were trapped in the upstairs apartment because his 27-year-old son, who held the house key, was working below. His wife, Ly Soeurng, saved him, a son and herself by busting open a wall with a piece of scrap of metal through which they were able to flee.
"I was lucky that my wife broke through the small wall and saved us," he told VOD as he sat in front of the wreckage on Monday morning. "If not, we could have been stuck inside…my other son and I did not have the strength to break through. We survived because of my wife."
But in the panic and confusion, Lamhong said he could not carry his daughter, Lam Kim Lang, out of the fire. Neighbors attempted to step in, but she died amid the fiery explosions.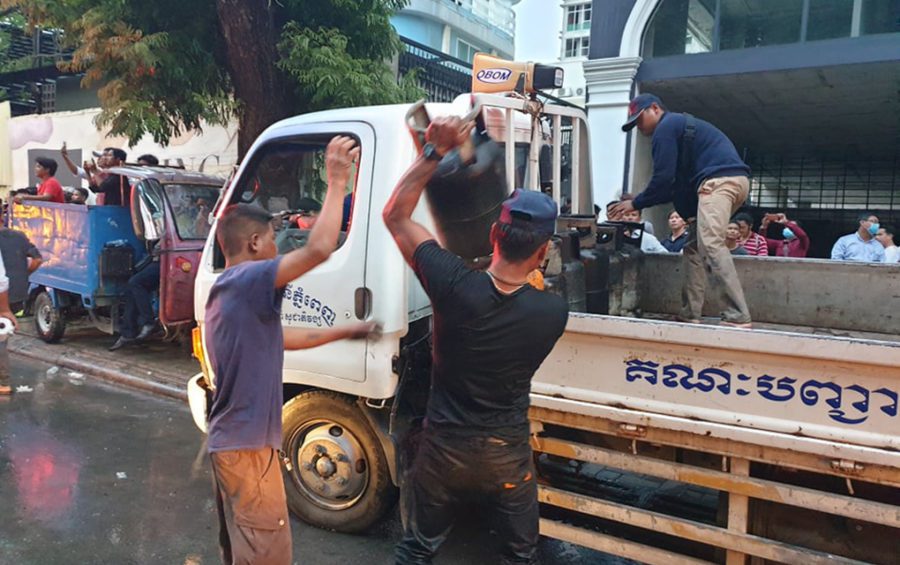 After surviving an explosion and fire seen from Phnom Penh rooftops across town that killed four people and injured five others, Lamhong and the residents living around the gas-refill shop on Street 63 are reckoning with the debris, debt and ghosts they say remain in the aftermath of Saturday's tragedy.
Four people died in the fire, according to Lamhong: his 27-year-old son, Lam Seng Hav, who ran the shop below the family home; two shop employees, Mao Sinat, 22, and Mon Makara, 18; and 8-year-old Lam Kim Lang.
Five family members were hurt in the blaze: Lamhong; Soeurng, his 49-year-old wife; Lam Seng Tay, his 19-year-old son; Lam Kimchou, his 13-year-old daughter; and Prak Sengkea, his 32-year-old brother.
Lamhong, the homeowner, said he wasn't certain about the cause of the accident on Saturday, since he had been asleep on the first floor since 3 p.m. However, he heard from his children that one of the workers in the ground-floor gas-refill shop had taken a break from welding a gas canister to eat rice porridge when the fire broke out, spreading among dozens of gas canisters inside the shop.
In a statement on Saturday, National Police said sparks from welding were believed to have ignited the gas. Dozens of gas canisters were taken away from the scene as emergency services worked for about two hours to put out the fire on Saturday.
'Scared of the Ghosts'
Lamhong's 19-year-old son, Seng Tay, had been thrown out of the building and across the street by the explosion and was being treated for severe injuries at Calmette Hospital, his father said.
One man, a 25-year-old neighbor who goes by the nickname Tak, said he tried to help pull Lam Kim Lang out of the fire, but she was stuck inside the burning house and he was struggling to breathe because of leaking gas and smoke.
"It was lucky that we broke into the house and removed all the gas containers," Tak told VOD on Monday. "If not, all the houses near his house and other people here would have been burned too."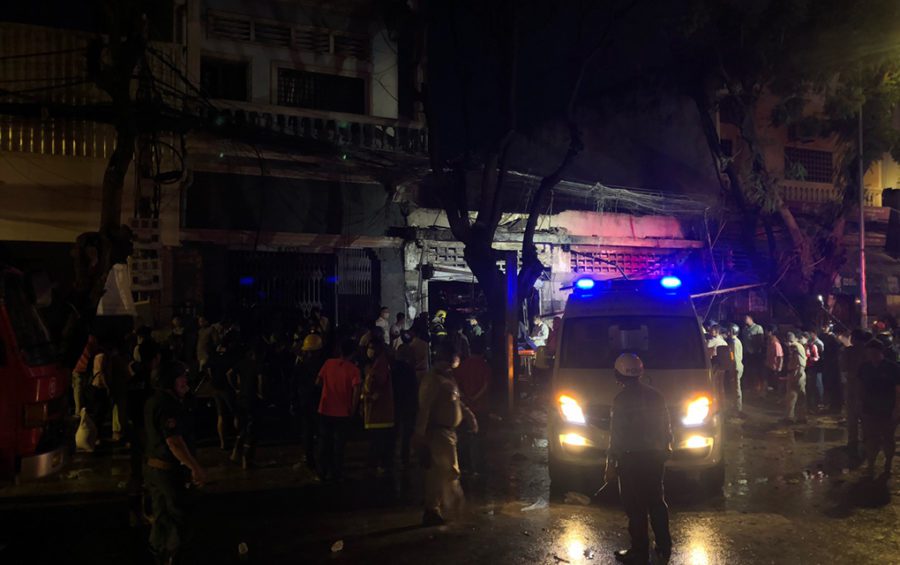 A pet shop next to the gas-refill shop was also destroyed in the fire. Neighbors said they had not seen the owners of the pet shop since the explosion, speculating that they had escaped the blaze alive. Tak said only one dog had survived because it managed to hide in the bathroom. Cages of dead birds and rabbits killed in the fire remained outside the shop on Monday morning.
A 25-year-old woman who sells building materials next to the pet shop and declined to give her name said that her shop was saved by the decorative tile and flooring displays, which created a shield from the explosion.
A 23-year-old man, who also did not want to provide his name, said the family used to visit his snack and drink shop, which was behind the housing materials store.
"I do not dare to walk past it at nighttime because I am scared of the ghosts," he told VOD. "They often used to buy our drinks here. They are very friendly people. We are very sad about losing them."
'A Total Loss'
Neth Vantha, chief of the Interior Ministry's Fire Prevention Department, said there was still a lack of public awareness about ways to prevent fires and explosions.
"Because they do not understand, they welded a leaking gas cylinder," he said on Monday. "We have noticed some [other gas] shops leaking gas on patrols, and they use fire to weld it. Some people's knowledge is limited."
Vantha said there were about 600 fires across the country so far this year, which was about 200 more than the same period last year.
The fire chief noted that local authorities needed to take more responsibility for monitoring businesses that face high risks of explosion or other damage, like a gas-refill shop.
"Local authorities also bear responsibility for it, because the local authorities approve, allow or monitor business operations," he said. "Secondly, City Hall also is responsible because there is a sub-decree related to storage [of gas canisters], requiring [businesses] keep it away from downtown [areas], schools, army bases…and this business operated downtown so it is illegal."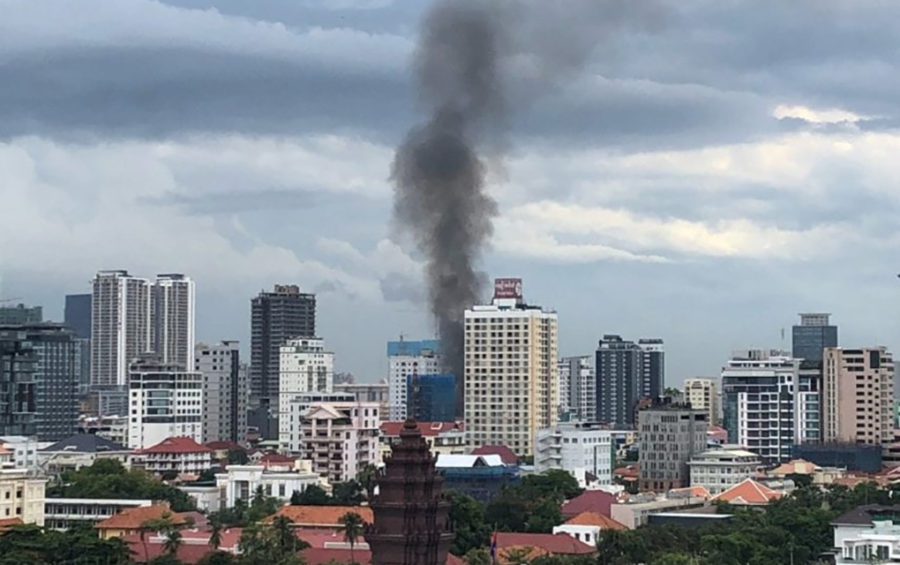 Phnom Penh City Hall spokesperson Met Measpheakdey could not be reached for comment on Tuesday.
Phnom Penh Municipal Energy Department director Ngi Bun Ly said on Tuesday that the gas-refill business was an illegal operation and that the owner did not have a license.
However, Lamhong claimed that his family had a license for the business, but did not clarify what type of licence they had.
Three neighbors claimed that Lamhong's son, Lam Seng Hav, who ran the family business and was killed in the explosion, was learning to weld gas cylinders on his own in order to save money, and they suspected this might be the cause of the fire.
Tak, who tried to save the 8-year-old from the explosion, said that Seng Hav had started to try welding in the shop about five days before the fire in order to save money that they spent to hire professional welders.
The 23-year-old man who sold snacks nearby gave a similar account, saying the shop proprietor was trying to cut costs.
"[Lamhong's] son started welding the leaking gas cylinders by himself, but he did not have skills to do it so…gas could be there, so that could have caused the explosion," he said on Monday. "He wanted to save money but it turned out to be a total loss."
A Bad Omen
After the explosion, Lamhong said he had walked through the destruction, looking for the remains of his children. The father said he kept about 5 grams of the bones he found and the rest had been cremated and released into the river.
With his deceased family members and workers cremated, Lamhong, the building's owner, said he now has to contend with the family's debts and loss of property.
He estimated that the fire destroyed $200,000 worth of property, and he was also planning to compromise with the owner of the pet shop that was damaged in the explosion.
"We did not want this to happen, and we have also lost our family members, two children, and two workers," he said.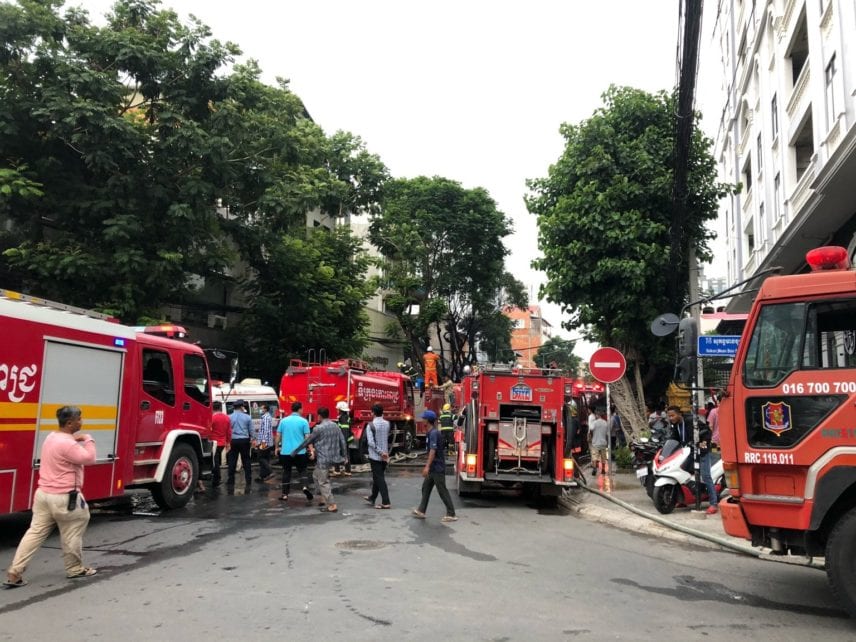 Lamhong said the family recently borrowed $40,000 in loans, which they took out to cover business operations. But now the business is halted and they have no plans of resuming.
"What we have earned in our entire lives has been destroyed by this fire," he said. "Plus, we are indebted to the banks to run this business."
One or two days before he was shaken awake by his now-deceased daughter, Lamhong said his sleep was disturbed by a troubling dream. He said he dreamed that his home since 1991 was empty and family members who usually dwelled in the building were missing.
On reflection, he said he believed the dream was a bad omen, but when he first woke up from it, he was focused on the current reality of his business and debt.
"I did not pay attention to this because I only cared about doing business," he said.