O'Char commune, Battambang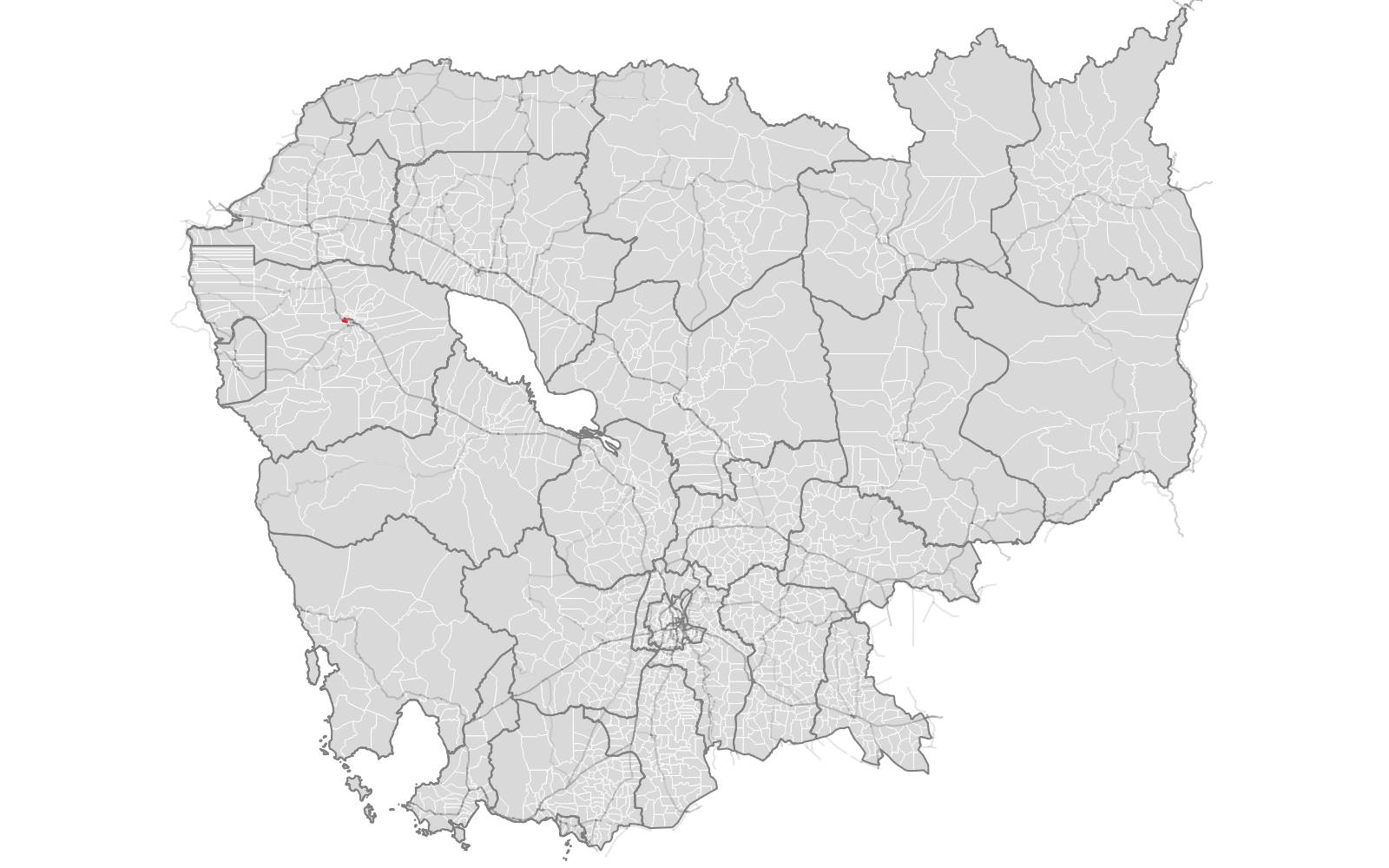 As she knelt on the floor of a Battambang home speaking to a group of 100 hopeful supporters, Sin Rozeth had three big points to make.
The Candlelight Party candidate asked the room to repeat after her, punctuating each number with a jab of her finger: Lek muoy: Commune elections are June 5th. Lek pi: Rozeth is running. Lek bey: Vote.
"If you vote for Cambodian People's Party, it's because you want to pay for your own canal," she told the room to peals of laughter. At another point, she turned serious: "Now you have a choice: The same party that stole my chair, or the Candlelight Party."
With a habit of referring to herself in third person and a slight comedic flair, 36-year-old Rozeth has given a variation of the same speech twice daily for months across the semi-rural O'Char commune of about 10,000, where she is running for commune chief after being kicked out of the same post five years ago with the dissolution of the opposition Cambodia National Rescue Party.
As part of her comeback, she has promised to pave all the roads in O'Char commune and create canals to prevent flooding, make the commune's budget process transparent, and speed up processing for birth and marriage certificates: In other words, address the problems that residents say have hardly changed since 2017.
"We cannot stand by and watch while the ruling party does whatever they want," she said. "We need to come back to compete."
The daughter of a single mother, Rozeth started supporting Sam Rainsy as a teenager and quickly ascended in the CNRP, winning a deputy commune chief seat at age 26 and chief at age 31. In her short time in office, she gained immediate popularity — and notoriety with the ruling party — for offering administrative services like birth certificates free of charge.
Days prior to the 2017 election, the provincial court wanted to question Rozeth about a local land dispute, leading to concerns she might be jailed ahead of the balloting. But the court delayed the proceedings and Rozeth marched back to O'Char, fist raised in victory, with dozens of supporters in tow. A week later she was commune chief in waiting.
After the party was dissolved, Rozeth said she declined the CPP's offer to join them and instead opened a small fried rice and noodle restaurant on the outskirts of Battambang to get by. But the ruling party targeted the shop, claiming that she was hosting meetings to overthrow the government. In 2019, she shut it down; now it stands locked up with a Candlelight sign outside and her smiling image still advertising food above the doorway.
By the time the Candlelight Party emerged as a possible unified opposition group last fall, Rozeth said, it was clear that it was time to move on from the hope of a CNRP return.
"If I want to start the action again, I need to join Candlelight," she recalled thinking.
Residents who welcomed her candidacy say the commune's list of problems runs long. A widespread lack of canals and drainage along O'Char's roads, many of which are unpaved, means that homes flood every rainy season. Receiving key paperwork can take months. And some say that the commune office has miscategorized them in Cambodia's IDPoor system, meaning that they receive less monthly benefits.
Chanda Sombun, 64, sat cross-legged in the back of the room with her daughter, nodding along to Rozeth's speech. After Rozeth lost her chair, Sombun was asked to reapply to the IDPoor system and received the "poor" designation, also called IDPoor 2, as opposed to "very poor," receiving about 72,000 riel per person monthly as compared to about 80,000 riel per person. But her income selling Khmer cakes hadn't changed.
"I didn't complain back to them," she said. "It's a decision from the top."
The Cambodian government has transferred Covid-19 payments over the last two years to families covered by the IDPoor program; again those who are "very poor," or designated IDPoor 1, receive more assistance.
Her daughter, Bun Sokunthea, 40, doesn't have a birth certificate for her 7-year-old son to attend public school. She and her partner are not officially married, which has stopped the commune office from providing her paperwork in the past, she said.
"I hope it won't happen like that if Rozeth wins the election, because she's kind and isn't judgmental like that," she said.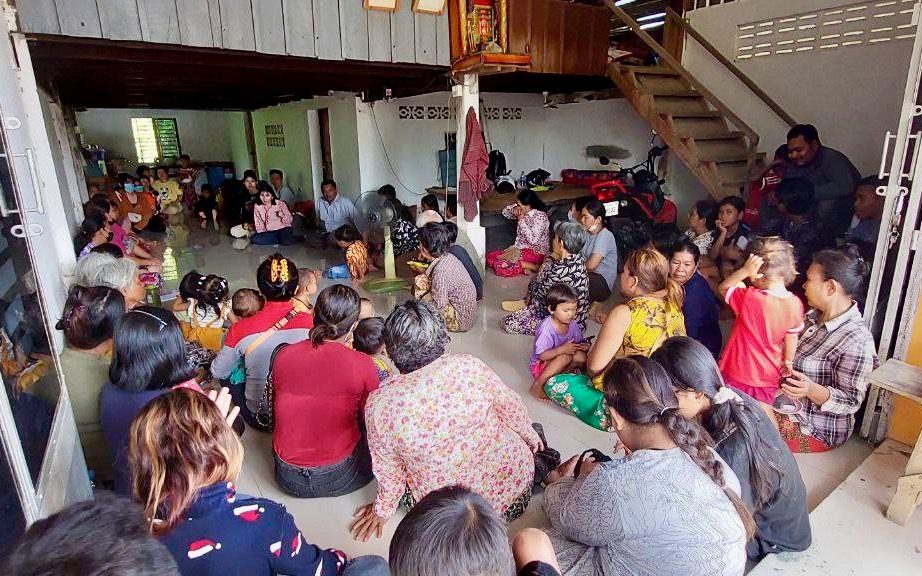 As the crowd of families, kids and teenagers trickled outside, Rozeth hopped on her motorcycle with her husband on the back and zipped around a curving road a few minutes away, parking next to an empty field of dirt. About 50 people from the homes on both sides of the field sat kneeling or waiting on plastic chairs for her arrival.
Her husband Eng Rattanak, the 30-year-old son of former CNRP vice president Eng Chhai Eang, stood off to the side taking the occasional photo as Rozeth ran through her speech for the second time. Rattanak was Candlelight's commune chief candidate in Phnom Penh until late March, when the National Election Committee slashed all 18 candidates from Tuol Svay Prey commune.
Now he jokingly refers to himself as Rozeth's assistant as they door-knock at individual homes, send letters and invite people to the daily gatherings, which has helped to stem the disappointment over his own candidacy.
"We have the same party and the same goal, which is for the party to win," he said.
Candlelight leaders asked Rozeth earlier this year to join their national leadership, which currently includes an older generation of male CNRP and Sam Rainsy Party leaders such as Son Chhay, Thach Setha, Teav Vannol and Seng Mardi. She declined.
"I didn't want to do it like that," she said. "I want to show my achievements to people before I take on another role."
In the commune race, her CPP opponent is Em Sophal, who did not respond to multiple requests for comment, and Chum Huot, a Cambodia National Love Party candidate who is also a former CNRP member. In a phone call, Hout also pledged to focus on infrastructure and open a shelter for the commune's orphans, adding that he welcomed Rozeth's competition.
"We have three parties, and two competing with the ruling party — this is the strength of O'Char commune," he said.
Huot and twin brother Chum Huor were environmental activists who left the country shortly after the 2016 murder of political commentator Kem Ley, whom the brothers had strongly supported, even receiving refugee status in Thailand. They returned to the country a few years later and joined the National Love Party last year.
The current CPP chief, 63-year-old Mouen Vibol, has been in the post for just a year after his predecessor retired. During the hour that he talked with reporters at the commune headquarters, a steady trickle of people came to collect paper IDs ahead of the election and snap a photo with the clerk as Vibol recorded their names in a ledger.
Vibol acknowledged frustrations with the roadways but said he hadn't received complaints about birth certificates or the commune's process of allocating IDPoor cards; some villagers, he said, don't understand the process and unfairly blame the commune office.
"They complain that I can't fulfill their desires, but they want it immediately," Vibol added of the roads. "But the process is slow — it takes time — and I explain that to them."
Word of Rozeth's candidacy hasn't reached everyone. Hoan Him, a 47-year-old woman selling petrol, peanuts and water bottles from a storefront near her home, said that she hadn't received any information about the election or candidates yet.
The newly paved road outside her house doesn't have any canals or plumbing to direct water during the rainy season, Him said. And while the store doesn't earn much, she was turned away from applying for the IDPoor system.
"I want a change, because when I vote, the result is the same, without any development," Him said.
Another O'Char retiree who sat outside a moto parts store, who asked not to be named, said he wasn't sure who was running in the elections come June. But he recalled Rozeth's three months as commune chief fondly: Under the previous chief, he had waited for months unsuccessfully to get his two grandchildren's birth certificates, compared to just three days after she took office.
As Rozeth's final speech of the day wrapped up and people jumped on their motorcycles to head home, the candidate stood chatting with a group of three men who had raised their hands to say they didn't have official government IDs to vote. In the morning, she promised, she'd accompany them to speak with the village chief.
She's determined that everyone in O'Char votes on June 5. But she's also not naive.
"I know that we will win because we already won," Rozeth said. "But they will not let us win easily, because it will embarrass them."