Piles of garbage are growing across the city as more than 2,000 Phnom Penh trash collectors strike to secure severance guarantees ahead of a major restructuring of waste management operations by City Hall.
In Daun Penh district's Chey Chumneah commune, a mountain of garbage about 1-meter tall has accumulated in front of the grocery store of Sok Borin, 66.
Instead of daily trash collection by waste collector Cintri, for the past three days there was only growing stench, Borin said.
"Neighbors are bringing more bags of trash here, and I don't know when they will be collected," she said, fearing that soon there would be worms everywhere.
Ten Chattra, 22, serving food at a nearby tourist restaurant, said she put plastic tarps over the pile and asked her customers to sit inside.
"It affects our business when the bad smell comes out of the trash," Chattra said.
Motodop driver Neang Samat, 55, said he usually waits for customers on that corner, but it was getting hard. "I can't sit here. The smell is too bad," Samat said.
Daun Penh district public order chief Kim Vutha said four district trucks and 150 workers were trying to pick up the garbage in lieu of the striking workers, but they could only do so much.
"Cintri has 10 trucks and we only have four. So we can't collect all the trash," Vutha said. "But if we don't do [anything], much more trash will appear."
The district produced about 300 tons of trash a day, Vutha said, and the makeshift squad was collecting about 150-200 tons of it daily.
Union representative Kao Sokwat said there had been negotiations on Monday with City Hall, district officers, Labor Ministry and company management, but they failed to break the impasse. The workers' five demands, related to compensation and final payments, were all denied, Sokwat said.
Each of the more than 2,000 workers on strike should be in line to receive at least $1,000 in final benefits under the Labor Law, including seniority bonuses, he argued.
"We keep demanding and they keep denying. So it results in nothing," Sokwat said.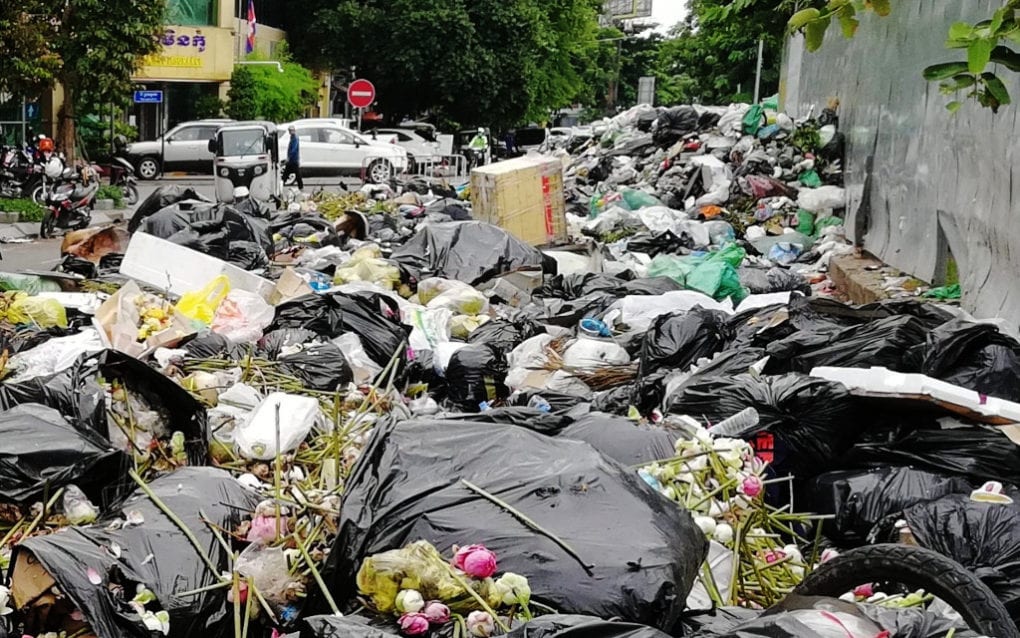 Cintri was put under state control a year ago amid recurring complaints of poor service. At the time, the government said trash collection in the capital would be split among four companies in an attempt to improve the service.
Sokwat said the bidding for trash collection operators would be finalized next week, leading to the workers' urgent demands.
Mey Phan, another unionist, said Cintri had indicated it was only prepared to pay severance if the company went bankrupt.
Workers were also concerned about losing bargaining power once the workforce was split over several companies, Phan said.
"It will mean the workforce no longer has a strong core," he said.
Rong Saray, a garbage truck repairer, said workers were prepared to keep striking till they got their demands. They were afraid that they would lose their seniority bonuses if they changed companies, Saray said.
"Our workers will stand firm," he said. "I feel regret that they don't care about the workers and employees."
City Hall spokesman Met Measpheakdey, however, said the workers' demands went against the Labor Law. The municipality began recruiting new workers on Monday afternoon in response to the strike, he added.
"As the negotiations remain unsuccessful and the workers keep up their demands, which are against the Labor Law, we are forced to recruit new ones to continue operating and guarantee collection," he said.
Measpheakdey added that three qualified companies had been shortlisted to split the city into three collection areas, though he declined to name the companies or say whether Cintri was one of the finalists. The decision would be finalized on October 16, he said.
Note: This report was produced with support from the Rosa Luxemburg Foundation under the financial support of the German Federal Ministry for Economic Cooperation and Development.