At 31 years old, Koeurn Chhoeng was the youngest among 12 candidates on the ballot in Siem Reap's Khnar Por commune. Though he had served as the first deputy commune chief for most of the previous term, he overheard his competitors casting doubts about his chances at winning.
"At that time, I almost went to talk to the commune chief to withdraw my name from the list," he told VOD. "But when I heard the other candidates gossiping about me, it made me feel like, eh, maybe I should give myself a chance to prove it."
Chhoeng is among the country's youngest commune chiefs, and like another newly-elected chief, he said he believed his new vision for his commune helped clinch his victory.
Cambodian citizens must be at least 25 years old to run for a commune council position, though the definition of "youth" in politics is often stretched. For example, the Cambodian People's Party's youth wing is chaired by the 44-year-old Hun Manet, while the president of the government-organized NGO and largest contributor of election monitors — the Union of Youth Federations of Cambodia — is chaired by Hun Many, who is 39 years old. Both officials are sons of Prime Minister Hun Sen and hold high-level military and political rankings respectively.
CPP spokesperson Sok Eysan told VOD that he didn't know how many candidates were under 35 years old, nor did he know the age and term of the youngest-elected commune chief. However, Eysan felt that young commune chiefs should have an advantage over their elders, because they're more adept with organizing digital files, rather than keeping stacks of paper files, as officials often do.
"Now we can't really rely on printing the documents as it doesn't really last long like storing in the computer," he said.
Eysan continued: "As of now older people can't keep up with all the technology like the younger ones, so that's why we encourage to build youth human resources with professionals, as well as having knowledge on how to use modern technology, so then we will work fast enough in providing public services for our people."
Lem Nat, a newly-elected 31-year-old commune chief in Siem Reap's Balaing commune, agreed with Eysan's assessment, saying she believes she can speed up the administrative processes that took so long in the past.
"We are younger, we have more energy, and we can work faster and better," she said of herself and other new young commune chiefs.
She traces her motivation to run for office back to a workshop on women and leadership in 2009, which taught her that gender doesn't inhibit a person from pursuing political positions. By 2012, she started working as a commune assistant in Balaing and in 2017 was elected second-position commune councilor.
Nat was among the 10% of elected commune chiefs who are women, while the margin of female commune councilors in the June election is slightly higher at 22%.
"I am proud of myself to be elected as the commune chief as a young woman," she said, saying it was a first for the commune.
Nat's goals include improving infrastructure in the village, such as ensuring that every resident has clean water and is connected to the electricity grid, as well as building new roads.
But she also wants to attempt new plans that she claims the commune has never pursued. One example is to promote a "one village, one product" program, encouraging residents in different villages to take different products to the market — morning glory from one village, while another produces palm sugar, for example — in order to prevent gluts in the market.
Her goal is to prevent people from migrating from Balaing commune, she said, and she hopes the product specialization and other developments can incentivize people to stay.
"I want to build more tourist places to create jobs for my community, in order to stop them from migrating to find jobs outside."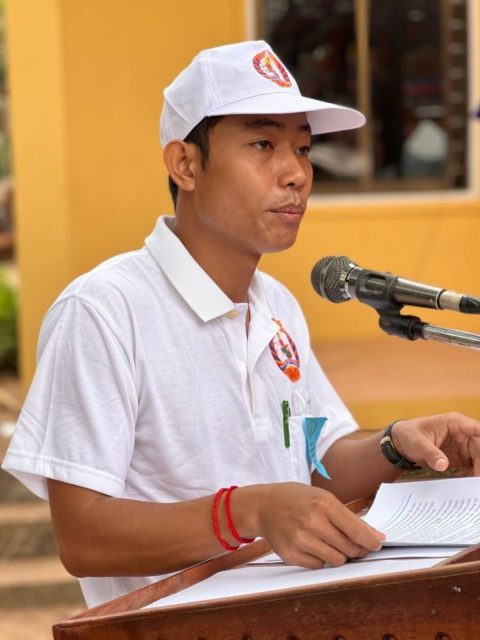 Chhoeng, the new Khnar Por commune chief, said he also has plans to make changes in his commune. He intends to speed up processing of basic services like issuing birth and marriage certificates. He also hopes to find partnerships with NGOs in order to fund new projects, such as implementing more environmentally-friendly trash disposal methods.
Though his mother at first did not want him to enter politics, Chhoeng gained a commune councilor position in 2017, at age 27, and he assumed the position of first deputy commune chief after the former opposition party was dissolved in November of that year. Chhoeng said he initially did not want to run for commune chief, and refused three times when last session's village chief asked him, but the chief eventually put his name on the ballot.
Despite criticisms from other officials, Chhoeng said he also had support from the previous commune chief, who wanted to retire at 67 years old.
"The commune chief sees my ability, the potential in me to be the next chief, and that's why he has trusted me to lead," he said.
Though he's pleased about his victory, Chhoeng is aware his competitors were skeptical of his ability, as they directly asked him twice whether he could do the job. He thinks this might translate into problems during his tenure as the chief.
"I am very proud and happy for myself but also worried at the same time because most of the subordinate officials are a lot older than me so it's difficult to direct them," he said.
Chhoeng said he is not certain if he can implement all his goals, but he has resolved to be open with the community about his work and take time to explain decisions and procedures to his constituents.
"I'm determined with all my heart and effort to help develop my community to the best of my ability."