SA KAEO province, Thailand — Cambodian authorities have confirmed at least 25 dead at a Poipet casino fire that started late Wednesday night, as family members of those missing make their way to the border town hoping for good news.
Thai and Cambodian rescuers were scrambling on Friday to locate dozens of missing people — most of them tourists — on each floor of the charred casino complex next to a Cambodian border checkpoint, while several people waited on the Thai side for news about their family.
The Grand Diamond City Casino — a sprawling Poipet hotel and entertainment complex that housed some 400 workers and an unknown number of tourists — was seen engulfed in flames on Thursday, with Cambodian authorities saying at least 25 bodies had been recovered as of Friday evening.
Cambodian authorities estimate around 400 people worked in the casino, including Cambodian, Malaysian, Thai and Vietnamese workers. Cambodian authorities have also been trying to put out the blaze and were working to find more missing people in the large casino compound that sprawls both sides of a major road leading to the border checkpoint.
Sek Sokhom, head of the Banteay Meanchey's information department, said more than 1,000 personnel from Thailand and Cambodia were part of rescue operations on Friday.
"So far we have seen 25 bodies," he said, adding that Thai authorities had already identified 21 of the deceased and were working on identifying four others. More than 100 Cambodians and 40 Thais were injured, and one Thai national died of his injuries, Sokhom said.
"The difficult thing for the authorities is that the building is so high and has many rooms…we can only pray from the outside while inside we find it difficult to put it out, and each floor has so many rooms."
Authorities are currently concerned the structure will collapse, he said.
"This is a very huge tragedy for Banteay Meanchey province and Poipet, and we have never experienced [this] for nearly 30 years … the committee will investigate and check the CCTV, but this disaster was caused by an electrical short, it is not a terrorist act or another thing."
Sokhom said the local administration will hold a press conference on Saturday with more updates. Thai officials, in a media release from Friday night, said they had confirmed at least 18 dead in the blaze.
Waiting for an Update
Makeshift tents with folding tables and plastic chairs have been set up on the Thai border with Cambodia in Aranyaprathet. The tents are not far from a massive fire that engulfed the Grand Diamond City Casino in Poipet.
Family members were congregating around large whiteboards where authorities were updating information about those who had died, or been rescued. Some have had no contact with family members since the casino fire.
"The fire spread so quickly," said a woman who was looking for her daughter. "By now, whoever is not out is probably dead."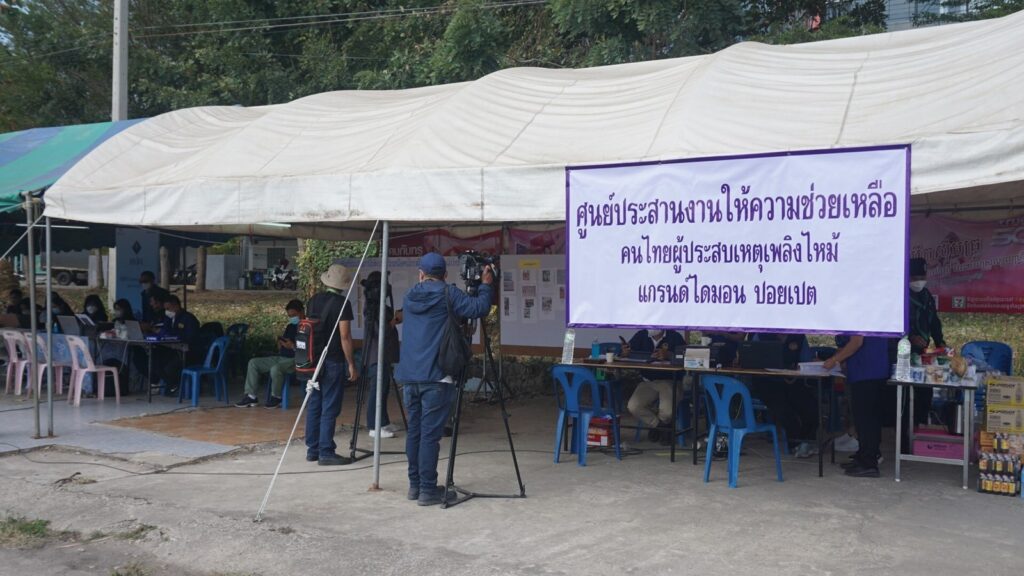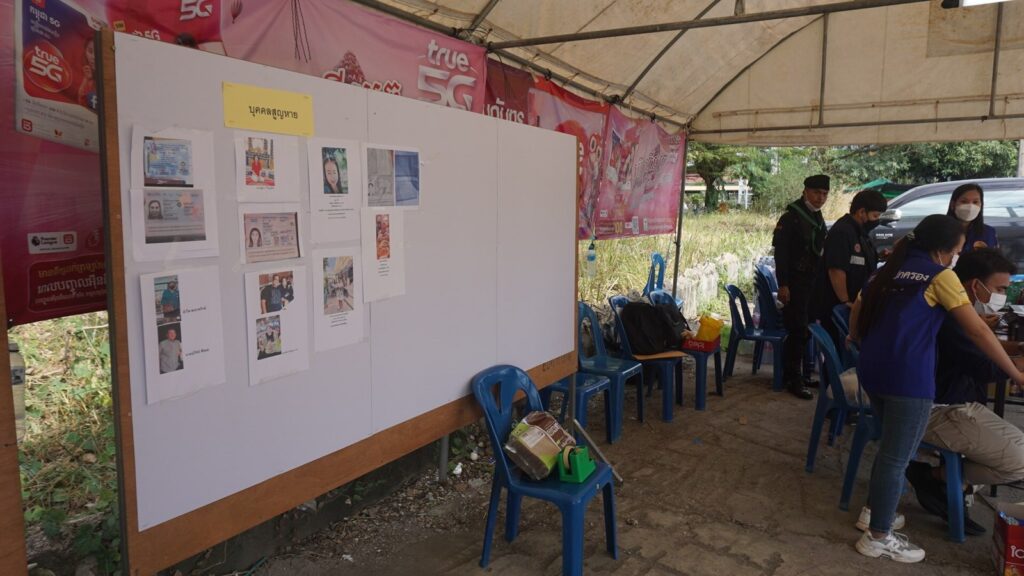 When a VOD reporter visited a makeshift response center in Aranyaprathet town Friday morning, around 10 people said they had not located their family members. They sat together, speaking in hushed voices.
Some had tears in their eyes. Some wandered in front of whiteboards displaying names of those who had been found injured, were still missing or dead. Officials tried to console them, but it was hard to alleviate the grief.
"Why do we have to be considerate to them? They are not even considerate of us," an elderly woman shouted at officials at a registration desk, seemingly talking about first responders in Cambodia. "I'm a family member. I've waited for two days… If they had allowed Thai people in quicker, there wouldn't have been so many deaths!"
While the updates on the number of casualties have been slow, Thai authorities on Friday night confirmed the identities of 18 people who died in the fire and another 108 people who were injured. Photos and some details of about a dozen missing people were put on one of the whiteboards, but there was no official estimate of the total number of people who were still missing.
A reporter asked a police officer, a rescue worker, and an Thai administration official at the site, but none would confirm how many people might have been in the complex at the time of the fire.
While a somber silence shrouded the makeshift rescue center, chaos and tension still ran high across the border, as hundreds of Thai and Cambodian rescuers tried to search the 17-floor building for any survivors.
"We are trying our best to wrap it up within today," said Kiattikun Weerapongpradit of the Ruamkatanyu Foundation, one of Thailand's largest rescue organizations. Rescuers had reached the 11th floor of the building when he spoke to VOD at around 2 p.m. on Friday
When asked if he thinks there could be survivors trapped in the building at that point, he replied, "It's unlikely."
Thai Tourists, Elderly Believed Still Missing
When the fire broke out, Phongnaroth Phasinenon, a wildlife law enforcement officer at the Aranyaprathet border town, was among the first to receive the news of the fire. This is because he volunteers to help Thai workers escape alleged forced labor in scam compounds in Poipet.
He received the first message about a fire in Poipet around 11:30 p.m. in a group chat.
"Some people had already gone up to their rooms to rest, and they couldn't get out because the fire was blocking the exit," he said. "There were so many flammable things in the casino, so the fire raged very quickly."
By the time he and other members of Thailand's rescue teams were allowed to cross the border — around 1 a.m. Thursday — the fire was blazing.
"We could get like a hundred people out. Some were still asleep when we got to their doors," he said. "By 1:30 a.m., we couldn't go in to help people. We just couldn't enter."
Phongnaroth said the Thai rescue teams had trouble accessing the site in the beginning, and he noticed that the equipment of the Cambodian teams was "outdated."
The building itself caused trouble for first responders: it lacked good ventilation, he said, and when the electricity cut out, the elevators stopped and fire escapes locked. Sokhom, the Banteay Meanchey information official, had similarly said on Thursday that people were likely trapped by "smart keys or electronic keys" that locked when the building's power went out.
Many survivors were rescued on Thursday by fleeing to the rooftop, Phongnaroth added.
"I received a message asking for help from those who were trapped on the 12th-17th floors," he said. "There were at least 50 people who I have now lost contact with. I have no idea if they will still be alive."
Phongnaroth believes the majority of the people missing to be casino tourists, mostly elderly.
Of the 18 bodies that had been identified by Thai authorities late Friday, twelve of them were above the age of 60 years.
"Staff employees know their way around the site very well. If they were not completely trapped, they had much more chance to survive than guests," Phongnaroth said.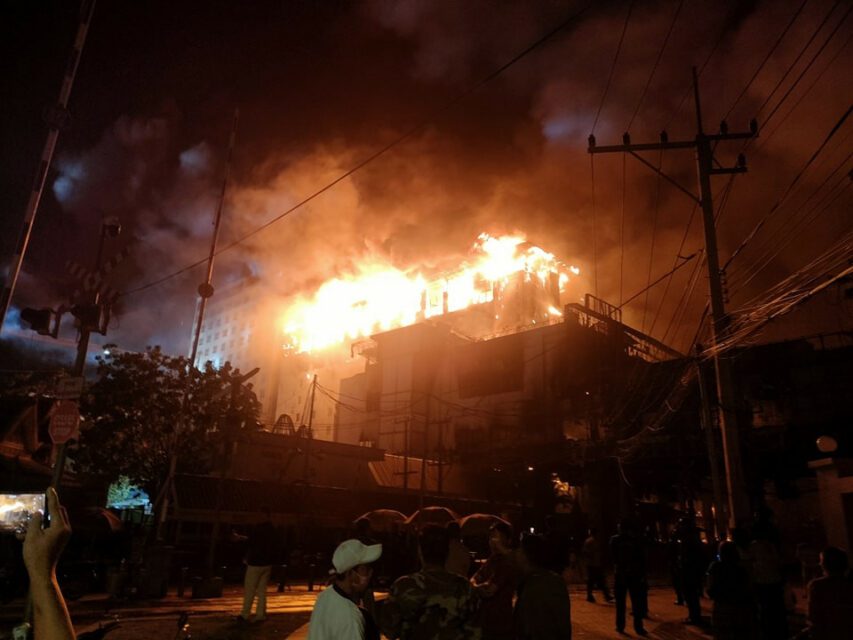 Sifting Through the Remnants
Walking through the casino grounds, Kiattikun, of the Ruamkatanyu Foundation explained to a reporter the challenges they faced during the search and rescue efforts.
He said nearly the whole building used thermal insulation foam. The material is highly flammable and can reach high temperatures, so dousing it with cooler water could weaken the metal structure near it through shock and potentially cause the building to collapse, he said.
Kiattikun said he saw two firetrucks from Cambodia responding when he arrived on the scene Thursday morning, and Thai authorities contributed two more trucks when they could cross the border.
Once the flames subsided, he said the search team divided into groups of six people to search each floor.
"I found a body that was in a crawling position," Kiattikun said. "The hands were hanging onto a piece of cloth that could be used for a rope near a window. I think he was preparing to climb out but couldn't make it in time."
Pieces of cloth dangled out of a few window frames, and thin smoke still trailed out of some parts of the building. Kiattikun said some windows were shattered by the search team to allow more air to flow in, but others were possibly broken by people inside trying to escape.
As he spoke to a reporter, rescuers rushed out of the casino with a white body bag and quickly loaded it into the back of a rescue truck. He explained that the bodies would be brought to a Poipet temple to await identification and further paperwork before sending the remains of Thai nationals to their relatives across the border.
Kiattikun said one of the buildings at the casino was already tipping to one side. He believed there were more bodies in the building, but it was not safe for rescuers to recover them.
"We cannot go in there. It's too dangerous. We might become victims ourselves. Only when the structure collapses, can we begin to search and retrieve [any remains]," he said. "If the building won't collapse on its own, we would have to tear it down."
Additional reporting by Mech Dara