BANGKOK, Thailand — Gai had her eyes out for a new job, a change from working at a convenience store in Bangkok, when she scrolled past an alluring Facebook ad for a marketing position in Cambodia that promised $600 or more each month.
About three or four days after answering voice messages from a broker on messaging app Line, Gai and her boyfriend, also on the job market, found themselves in a van heading toward the border province of Sa Kaeo, Thailand.
Gai crossed the border into Poipet under the cover of rain and darkness, and it would be the rain again that would allow her to escape a network of online scam companies that is allegedly trafficking and detaining workers in Cambodia's casino-packed bordertown.
Former employees, Thai police and a human-trafficking NGO have warned that individuals are being unknowingly recruited to scam companies, as groups of improperly documented Thai nationals are returned from Poipet, Sihanoukville, Phnom Penh and other Cambodian hubs. Based on ex-workers and advocates' accounts, these workers unknowingly find themselves ensnared in forced employment for global scam operations that have recently emerged in Cambodia.
VOD spoke with two Thai nationals, identified by pseudonyms to protect their identity, who posted on Facebook warning compatriots against these scam jobs in Cambodia and agreed to be interviewed. They had entered Cambodia after being recruited to work at online businesses — in Poipet and Sihanoukville — which they didn't realize were defrauding individuals in Thailand. Details of their stories align with accounts reported by Chinese nationals detained by companies operating scams in Sihanoukville as well as reports by authorities and volunteer organizations that have rescued small groups of individuals.
Though these companies are often associated with Chinese business owners in Cambodia, those familiar with the operations say that Cambodian nationals are also involved, and workers of other nationalities are recruited as well. Late last month, 103 Thai nationals were sent across the border after Cambodian authorities raided a Pursat province special economic zone.
Chaleerat Timbut, coordinator for Alliance Anti-Trafic Thailand, a regional nonprofit that works to protect women and children at risk of trafficking and exploitation, said she believes this phenomenon emerged only in the past couple of years due to economic hardships brought on by the Covid-19 pandemic.
Based on complaints received by the organization and its work with Thai police, Timbut said the workers caught up in these scams are often well-educated and speak multiple languages, like Chinese or English, but were likely unemployed or lacking work during the downturn.
"What's alluring is the amount of money, like more than 20,000 baht [a month]," or about $600. "When they get offers as good as these during the time when they have nothing, of course they'd go."
The Offer
Gai, the Bangkok resident, noted that after she replied to the Facebook ad, the responder didn't have all the answers she was looking for, but she didn't think much about it at the time.
"He sent me voice messages, saying it was for a lottery website," Gai said in a recent interview with VOD. "I asked about [my travel documents], but I didn't get any answer."
A meeting was set up on October 12, where she, her boyfriend and a few other passengers were driven from Bangkok straight to the border at Thailand's Sa Kaeo province. Two people in the van got nervous during the ride and asked the driver to let them out, and they were dropped off during a gas stop along the 250-km route. Night was falling as they were finally brought to an empty old wooden house, where they waited for hours.
Suddenly, they were told to move.
Gai recalls she felt disheartened as they began walking, sometimes running, through the rain for over two hours, without any food or water. Going across a canal, mud and rice paddies, and even having to use a rope to cross a river, it was a journey she described as something she had never thought she "would encounter in this lifetime."
She felt something was off, but it wasn't until they arrived in Poipet, Banteay Meanchey, that she realized she had been completely fooled.
"It was not like what they had advertised at all," she said. "The job was actually for a loan [scam]."
Champ, another Thai national who claimed to work for a Cambodia-based scam company, said he had been personally approached by a Thai broker. Champ told VOD via a series of messages that he speaks Chinese and applied for what he thought was an interpreter position in Sihanoukville in May. He was hoping for a fresh start after struggling financially during Thailand's economic downturn.
When he arrived in Sihanoukville, Champ quickly realized he would not be working a real interpreter job. He said his passport was taken from him immediately after arriving at a compound of about 20 identical buildings. The managers told him he could not leave the building because of Covid-19, he recalls.
"Ten phones were given to each of us. I was very confused why we would need that many phones," he told VOD. "Once we started, I felt something wasn't right. I didn't get to use my language skill. I only talked to my boss, and sometimes translated [Chinese] for other Thai people there. Soon, I realized … they tricked us into tricking our fellow Thai people."
Bait and Switch
Though it's unclear how many calls are coming from Cambodia, residents of Thailand have been battered by an increasing number of scam calls and fraud attempts. Caller identification app Whoscall reported up to 1.8 million scam calls identified in Thailand between January and July. Telecom operators were specifically ordered by the government in September to block phishing messages from scammers.
Last month, Thailand's Justice Ministry received a collective complaint from over 20,000 victims who said they had been defrauded by Chinese loan applications. The ministry said in a press release that the victims took the loan offers as they were struggling because of the pandemic, but instead they were tricked to transfer a transaction fee, or extorted of an extremely high interest rate. It estimated the damage to be worth over 1 billion baht, or almost $30 million.
When Gai and her boyfriend arrived at the building in Poipet, she was informed straight away by her would-be manager that she would be scamming Thai speakers into thinking they were eligible for a large loan, but then trick them into paying fraudulent fees that they framed as necessary to obtain a loan.
"This Chinese who could speak Thai asked me upfront whether I would do it, and I said I wouldn't do a job like this," Gai said.
She said a Thai woman who was one of the agents later that day tried to persuade them to take the job, but she kept saying no. Although no one forced or threatened them into doing it, they were not immediately sent out of Poipet.
Champ, however, spent two weeks in the Sihanoukville job. Though it's unclear exactly where Champ was working, his description sounds like one of the city's heavily guarded compounds where rescuers and previously detained workers told VOD they were forced to perpetuate online scams for one of the many small companies inside.
Champ shared one bedroom and bathroom with seven other workers, and reported to a first-floor space for work and the ground-floor canteen for meals. In addition to other Chinese and Thai speakers in the building, Champ said he was working alongside Indonesian and Vietnamese nationals.
He said he worked for a website that looked like an investment platform, where users were enticed to make a deposit and play a game to supposedly earn profit. To the user, it would initially look like they were earning money on the platform, and in the early stages of the game users could withdraw some money. But as the game progresses, it urges users to send more money and eventually freezes users from withdrawing. Users would start by investing a few hundred Thai baht, but after they start submitting thousands of baht, the platform absorbs their investments, he explained.
With his 10 phones, Champ was boosting social media posts about the game website and setting up fake profiles, pretending to be successful investors milking money just by playing these games.
The thought of scamming Thai nationals, as well as the demanding work schedule from 6 a.m. to 10 p.m. left Champ in a miserable state, he said.
"I was in very bad shape back then, both physically and mentally," he said. "I went to bed very late and woke up very early every day. I also could not go anywhere."
'Beware. You Might Get Killed'
Thai police have started publicizing a number of worker repatriations from Cambodia and other countries where scam employment is perpetuated, like Laos and Myanmar. The sporadic reports mostly focus on workers returning from forced labor, but one Thai woman was arrested in Sa Kaeo province and charged with trafficking 21 workers to work in an investment scam in Phnom Penh, according to a police press release on December 8.
As of December 16, Thai police reported that 15 people have been arrested in the past year for trafficking workers to Cambodia, while a total of 361 Thais have been repatriated.
Roy Ingkapairoj, commander of Thai police's anti-human trafficking task force, described dire conditions among the 103 Thai nationals rescued and returned from a Pursat province SEZ on November 24, though a Cambodian official just characterized them as "illegally" entering the country.
"[The victims] were physically abused, financially extorted, held in confinement or starved," he said in a media release. "The police commissioner has ordered coordinated efforts with all related agencies to urgently help the Thai victims, and crack down on networks of these transnational crime organizations."
In their reports of worker repatriations and fraudulent labor trafficking, Thai police put the onus on workers not to fall for these scams. However, Chaleerat, of the Anti-Trafic Alliance, told VOD that the agents for these scams "are everywhere," saying probably hundreds, if not more, have found themselves caught in these webs.
Both Champ and Gai described life-threatening experiences during their time in Cambodia.
Gai, her boyfriend and two others refused to work for the loan scam in the end, and were brought the next day to another building, which they would later describe as the "yellow building." They were kept in a windowless, empty room with only two thin mattresses, three blankets and one pillow to share among the four of them. Gai said they were barred from leaving by guards who sometimes forgot to bring them meals.
A woman who Gai believes was a manager at the new site told them they would now be working for a football gambling website, but they would need to wait for Chinese workers to arrive and translate the rules. Gai said she wasn't completely satisfied with the offer, so she started looking for a job in Poipet via social media to try to find a better option, only to learn she was tricked again.
"Someone sent me a message asking where I was," she said, saying the unknown messenger seemed like someone who had experience in similar jobs in Poipet. "I was told, 'Be careful that they will sell you to other Chinese. Why would you need to wait for Chinese people just to work for a football gambling website? If you get sold to another place, it would be difficult for you to leave. They will keep selling you to different places.'"
Being sold from one place to another was common among the victims that Anti-Trafic Alliance's Chaleerat had met during her advocacy. If they could not continue work for any reason, their agencies would keep selling them to make up for the cost of their travel, food and accommodation.
"This would make them become even deeper in debt [to the company], and make it more difficult for them to quit," she said.
Another victim who spoke to VOD said he was sold to four websites, including a "sic bo" chance game and a cryptocurrency trading website, in the span of a month before he found a way to escape from Poipet in November.
Champ said he wasn't sold, but he learned from others that recruiters were paid by the company around $500 to $600 per each worker they found, with the company using that debt as a means of coercing the workers to stay.
"All the expenses they spent on us, we would have to work to pay it off. Our salary would be deducted," he said. "But if we wanted to quit, they would force us to pay them back for about 100,000 baht," or almost $3,000.
After three days inside the compound, Champ was strategizing how to leave.
"My friends and I tried to plan it together, but it seemed like [the management] figured it out," he said. "They sent HR people to threaten us, saying it's ruthless here. It's near the sea. Beware of what you do here, or you might get killed and thrown into the sea, and no one would even know."
While no one laid a finger on him, Champ saw one of his colleagues handcuffed, beaten and thrown in isolation after supervisors wrongly accused him of embezzling money from the company.
The assault of their colleague was a breaking point for Champ and other Thai workers in the compound, he said, and 30 or 40 Thai people grouped together and found a way to call the Thai embassy to report their situation.
They were eventually let out of the compound, but Champ was not sure who brought them out and how their escape was negotiated.
"I didn't see any authorities. I just heard that if the company refused to let us go, they would face a raid. They took us to the front gate, returned our IDs and passports, and we were just left to our own devices," he recalled.
"The day we left, those people still tried to trick us, telling one of our friends to gather some people to come with them, because they would find a hotel for us," he said. But he believes this was another trap. "Actually, they wanted to hold us hostage and sell us off to other places."
Escape Under the Rain
That anonymous message was enough to convince Gai to escape, and she and her three companions spent the next day staking out the four-story building for a way out.
Gai tried to chat up with a vendor on the ground floor to keep her eyes on the guard. Another girl pretended to flirt with the guard to distract him, while another guy took several smoke breaks to look around. The only exit was a guarded folding metal door. Their room was on the first floor, and Gai thought about making a rope to climb down from their front balcony, but a mess of cables and a guard at the front entrance ruled out that option.
They all took turns packing their "most necessary" possessions into one backpack each, and while looking out for each other, they hid them on the ground floor near the exit.
Suddenly, luck came their way.
"It was like the weather took our side. We could pull the gate open and no one heard it because it was raining so loud," she said. "Then we just ran. We grabbed our bags and ran without thinking through the rain and the dark."
They hailed a ride and then stayed at a hotel near the border, waiting together for three or four days before their return applications were approved by the Thai embassy.
"I was very relieved, thinking I got lucky to be able to escape," she said. "I think the day we left, no one knew about it. They must have realized a few days later, because they sent me voice messages saying we had to go back," she said, explaining the managers claimed the escapees all needed to be quarantined for Covid-19.
"I was a bit afraid they might have someone outside looking for us and taking us back there again."
Though the Thai government has already started to assist in returns from Cambodia and other countries, Anti-Trafic Alliance's Chaleerat thinks that it could be complicated for them to intervene due to the transnational bureaucratic red tape. A victim's chances of escape grow slimmer once they're outside Thai borders, she added.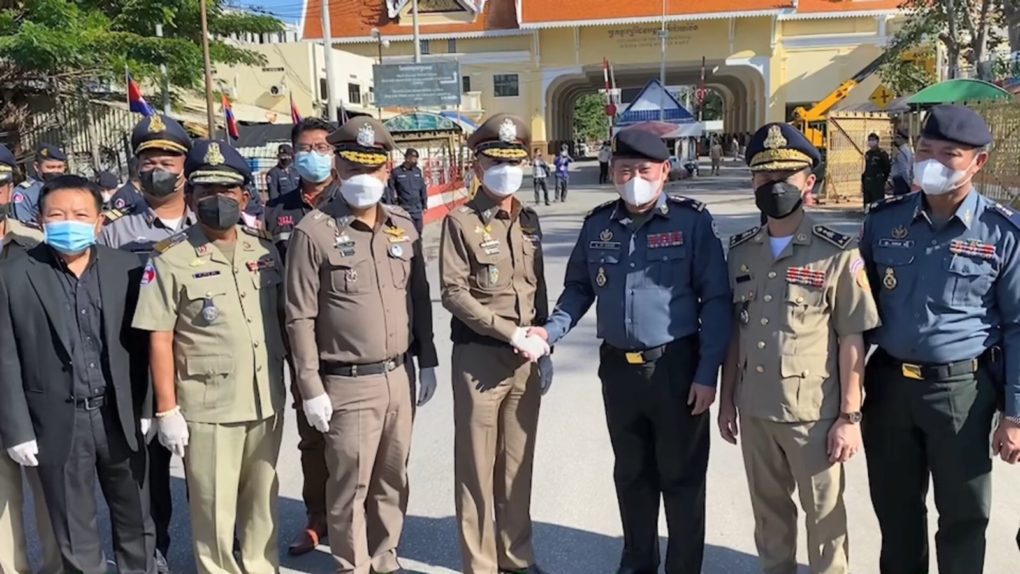 "Mostly, they would stay in a casino complex. The buildings inside accommodate many dodgy businesses," she said. "Talking about casinos or even some special economic zones [in Cambodia], they have distinct territory, surrounded by fences, walls, guards and security cameras. It's going to be quite difficult for them to escape."
Thailand's Labor Minister Suchat Chomklin last month said the ministry would work on cracking down upon unauthorized job advertising, but he also pushed the responsibility to avoid scam jobs onto Thai citizens.
"If you don't want to fall victim, don't allow yourself to be fooled easily by online job advertisements or illegal agents and brokers. Check with the Department of Employment first whether the job really exists," he said in a news release to the media.
But Chaleerat disagreed with this mindset, saying most of the victims are generally more educated but desperate for an opportunity and unaware of the true legal process for recruitment.
"With Covid-19, everything got shut down. People need a job," she said. "We need to do whatever it takes to attract the workers with jobs within the country. We must educate, raise awareness, and create more opportunities for them."
Gai said she had just been looking for a better opportunity, and didn't have experience applying for a job abroad. She didn't think twice when the agent didn't mention having a passport or a visa, as she used to cross the border into Myanmar from her hometown in Chiang Rai province with only her national ID.
"Most people who go there would hope to make a better money, because that was the incentive for me as well," she said. "I saw the ad with a better salary, so I decided to go."
Champ said he "did the homework" until he was confident about the job, and he went through a somewhat legitimate process: He might have been spooked had he been taken across the land border like others, but he was flown to Cambodia after the agents provided him with an invitation letter and a proper work visa.
"For all the people I talked to, everyone went there because of Covid-19. They lost their jobs. They were laid off. They couldn't find a new job," he said. "The website [I worked for] continues to operate, but it changed the name. And those Thai people who fooled us [into accepting jobs] still don't feel any remorse and keep working … keep fooling people to come work for them."