About 400 private schools have gradually reopened since last month out of 600 applicants for "stage two" reopenings, the Education Ministry said on Thursday.
Phnom Penh's Bamboo International School and Home of English International School were among schools that opened their doors to students for the first time on Thursday, the first day of the new month, since Covid-19 closures six months ago.
"This is what we've been waiting for," said Bamboo's administration manager, Sok Ngeem. "The school has waited a long time to reopen."
The country's schools were shut nationwide on March 16 amid the coronavirus pandemic. A small group of 20 private schools were reopened on August 1 as a pilot, followed by selective reopenings in September.
Education Ministry spokesperson Ros Soveacha told VOD on Thursday that the second stage of reopenings began on September 8 and would go until the beginning of November.
So far 600 schools had applied to reopen, and 400 were approved following an inspection, he said.
"If those institutions meet the safety standard principles as stated [by] the Ministry of Education Youth and Sports … [they] will be allowed to reopen," Soveacha said.
The ministry's requirements include keeping classrooms warmer than 24 degrees C, wearing face masks and gloves, disinfecting classrooms and dividing up students to ensure physical distancing.
In its policy document, the ministry warns that if schools' management fails to meet the requirements — and allow the spread of Covid-19 — they will face legal and administrative actions.
"The Ministry of Education, Youth and Sport will continue to pay strict attention to the development of the Covid-19," Soveacha said.
The ministry is hoping to start a third phase of reopenings in November, he added.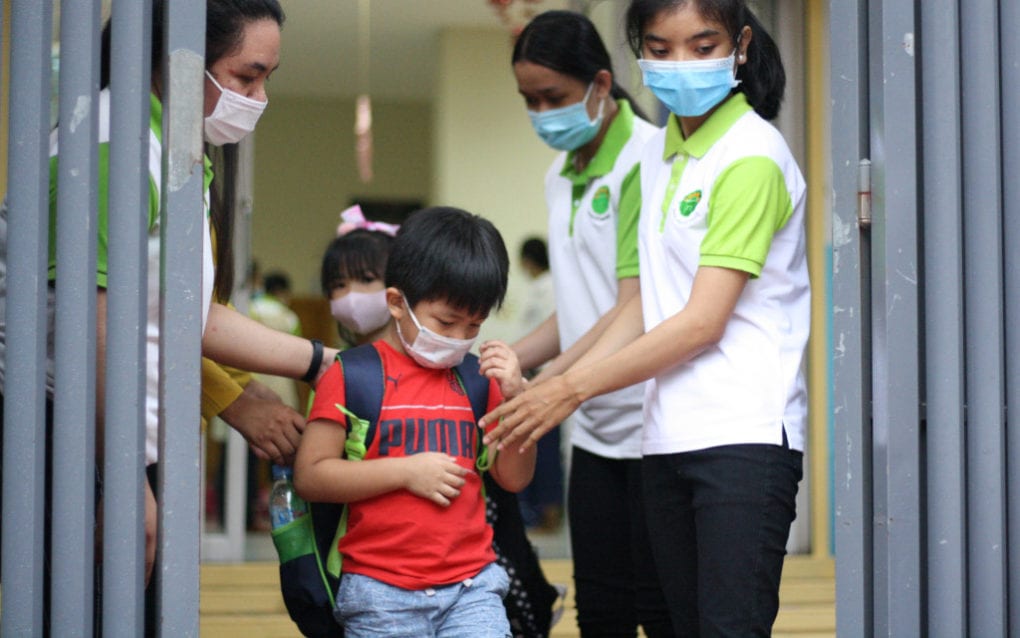 Cambodia has confirmed 277 cases of Covid-19 in the country, with 275 recoveries — leaving just two active cases. One of them, a 70-year-old Hungarian man, tested positive on his 13th day of quarantine after returning to the country on September 13. More than 80 people were being tested this week for possible contact with the man, but on Thursday, Health Ministry spokesperson Or Vandine did not respond to questions about the tests' results.
Worldwide, more than 1 million people have died from the virus from 33.7 million confirmed infections.
Ngeem, from Bamboo International School, said the school had received its approval to reopen on Tuesday. It prepared hand-washing stations as well as alcohol and hand-sanitizer gels, heightened its cleaning regime and reduced the number of students who will sit in each classroom.
The closure had been taxing, affecting the school, parents and children, she said. If the school had stayed closed while others reopened, it would have risked losing clients, she added.
"There was a high risk within this period of time. So we tried whatever it takes to have a quick reopening," Ngeem said.
Than Srey Mom, 33, the mother of a 6-year-old boy at Beltei International School, said her son's campus reopened last week.
She was relieved to have her son return to the classroom, she said.
"Studying online is a bit difficult and not as good as studying at school," Srey Mom said. "Sometimes the child feels lazy. … Sometimes when the parents are busy and do not guide them, they do not read by themselves."
Regarding Covid-19 safety, she said she was not worried because private schools had fewer students compared to public schools, and she was confident they would follow the ministry's guidelines.
Public schools have reopened for grades 9 and 12, whose students need to prepare for year-end exams. Some other schools have reopened for other grades but with students attending only part-time to limit classroom sizes, while schools in towns in Kratie, Mondulkiri, Ratanakiri and Stung Treng provinces, which are remote and have less access to digital learning opportunities, have been allowed to reopen.
Srey Mom said her boy was excited to be back in school. "He's happy," she said. "In the mornings, he gets himself ready and gets to school before the others. He wants to go."