Authorities on Friday continued to restrict events memorializing the fourth anniversary of the murder of political analyst Kem Ley, while the Phnom Penh gas station where he was shot dead was occupied by police rather than visible supporters.
In Takeo province's Tram Kak district, where Kem Ley's unfinished stupa was the site of a memorial ceremony hosted by his family, Vorn Pov, president of the Independent Democracy of Informal Economy Association (IDEA), apologized to Kem Ley for arriving late.
He and a group from the informal economy workers' union traveling in a caravan of tuk-tuks and cars were stopped by Tram Kak authorities en route to the memorial event.
Before asking his group for a minute of silence in front of Kem Ley's stupa, Pov said, "We always remember. Our heart is Kem Ley's heart, isn't it, brothers?"
"We keep remembering all the past experiences when Dr. [Kem Ley] is still alive, and we are here to commemorate the good deeds and please the soul of Dr. Kem Ley to be Khmer forever to help other Khmers."
Kem Ley was fatally shot in Phnom Penh on July 10, 2016, days after giving a radio interview in which he spoke about a report from corruption watchdog Global Witness that detailed the vast wealth and political and business ties of Prime Minister Hun Sen's family members.
The gunman who killed Kem Ley is serving a life sentence in prison, but many continue to suspect the shooting was a hired hit against the popular government critic.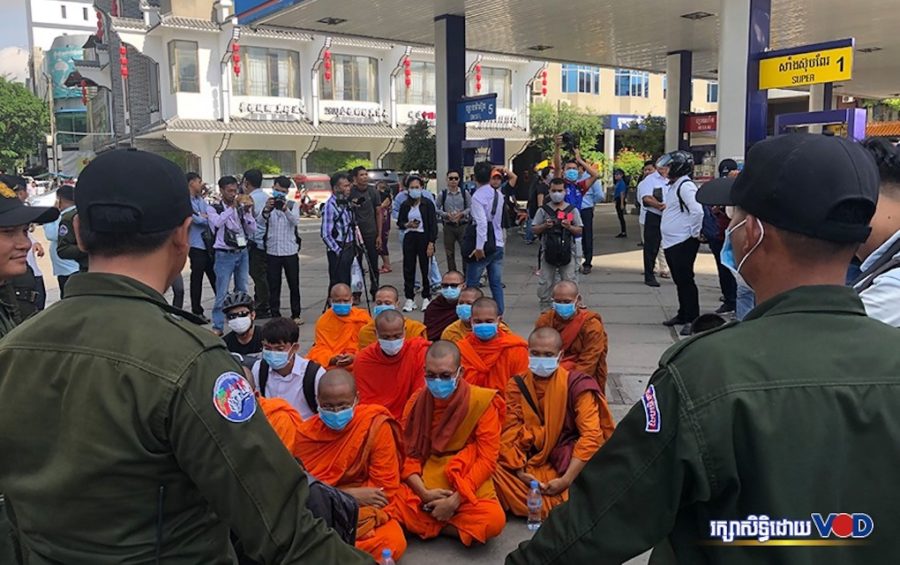 On Friday, Chheang Sinath, a tuk-tuk driver and IDEA member, said he had to abandon his vehicle at Ang Tasom commune after authorities stopped his group on the way to the stupa. He said they had been traveling in more than 10 tuk-tuks as well as cars, but then walked about 10 kilometers to reach the memorial.
"We just came to participate and show respect," he said. "Just participating and remembering [Kem Ley's] sacrifice for society is seen as a wrongdoing [by authorities]. This is not appropriate unless we hold a demonstration or protest something. This is just for a ceremony to pay our gratitude to him, but authorities tried to stop us."
During the memorial, officials also took control of loudspeakers used in the event and told journalists they were not allowed to broadcast live from the scene.
On Wednesday, some 20 youth activists and monks who attempted to gather at the Caltex gas station where Kem Ley was killed were met by about 100 mixed security officers and forced to move across the street. The following day activists' procession from Kem Ley's family home to the provincial capital Daun Keo City was stopped multiple times by authorities.
The restrictions on this year's memorial events follow a similar clampdown on the third anniversary of Kem Ley's death. While last year activists were allowed to drink coffee at the site where Kem Ley was killed, the Caltex gas station shop was closed on Friday morning.
Across town, a youth organizer said his group was restricted from distributing books authored by Kem Ley.
Sar Mory, a research and advocacy program manager with Cambodian Youth Network (CYN), said the organization printed 2,000 books by Kem Ley to distribute on Thursday and Friday, but he said they had only given out 500 copies due to monitoring of the book distribution by authorities.
Mory said police in civilian clothing had introduced themselves to the CYN members who were distributing books on Thursday and took photos of them. The next morning, Meanchey district police told the group they needed permission to distribute the books, Mory said.
"I see that our rights do not exist because the authorities have banned people from getting books from us," he said.
Additional reporting by Sam Oudom