City Hall says protesters should have nothing to fear from its drones recently being deployed to monitor them, as long as they do nothing wrong.
Spokesperson Met Measpheakdey said that the drones — first noticed by protesters on Tuesday — were no different from authorities taking demonstrators' photos with any other camera.
However, a rights group said the drones only added to the intimidation of protesters, and would create more resentment.
About 150 people demonstrated outside the German Embassy in Phnom Penh on Tuesday while submitting a petition seeking its help to secure the release of prominent unionist Rong Chhun. Chhun was jailed last month over comments he made about the Vietnamese border in a radio interview, sparking repeated demonstrations.
The group on Tuesday — which numbered about twice as many as recent protests — also submitted a similar petition to the Japanese Embassy in the morning, after having been stopped by authorities from delivering one there last week.
Measpheakdey confirmed that a City Hall drone was deployed outside the German Embassy on Tuesday, but said it was nothing remarkable.
"It is a way to capture images. The drone is for taking photos," he said. "There's no need to worry if we do nothing wrong."
"If we have such worries," he added, "there must be some wrongdoing."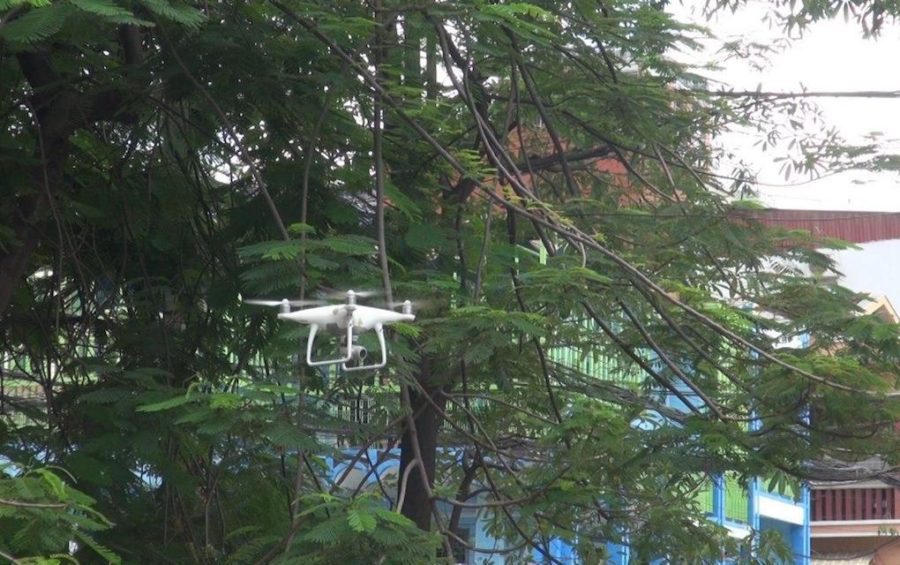 Regarding the drone, a German Embassy spokesperson told VOD that the embassy did not know who owned it and what its purpose was.
The spokesperson added in an email that the embassy had accepted the protesters' petition, and that human rights were the basis of Germany's foreign policy.
"Human rights are always on Germany's agenda when engaging with its partner countries. Germany supports civil society promoting human rights in many countries, including in Cambodia," the spokesperson said.
Am Sam Ath, monitoring manager at rights group Licadho, said authorities had already been photographing peaceful protesters whenever they demonstrate, spreading fear among them.
Using drones to monitor them added to the intimidation, he said.
"It is another form of intimidation against peaceful protesters," Sam Ath said. "I think it is not really beneficial for City Hall."
Using drones to monitor nonviolent protests will cause anger and encourage criticism against authorities, he added.
Sok Sreynich, 25, one of Tuesday's protesters, agreed that City Hall deploying drones seemed to be a way to scare them.
"Usually they use a camera, [and] we already think that is a human rights violation," Sreynich said. "So I think this is a [further] restriction of freedoms."
Korng Sonsan, another protester, said he would not let a drone scare him away from future protests.
"They've already taken photos of all of us," Sonsan said.
Japanese Embassy spokesperson Tanabe Kaori confirmed that the embassy had received Tuesday's petition on the unionist's imprisonment, but declined to comment on the issue.
"We would like to refrain from making comments, but we are closely monitoring the situation," she said.
Four activists have been arrested for their support of Chhun and charged with incitement since the protests began last month.
Additional Reporting by Ouch Sony and Michael Dickison