One woman said she left before she could be tested after seeing the packed crowd waiting in line for Covid-19 testing at the Interior Ministry on Monday.
"I went back home," the woman said on Tuesday by phone. "It was too crowded. … I was afraid of other people who might be infected."
Tuesday saw a similar situation outside the Olympic Stadium.
"It was anarchy," one man said. "We were very close to each other, and I was scared because there were people on my right, left, front and back and it was very crowded."
The problem was outside the testing premises — things were much more orderly once inside, he said.
Officials on loudspeakers asked people to maintain enough distance between one another, but it was not working, the man said.
"If there were any infected people, it's over," he said, and like the woman, he declined to be named because he was afraid of reprisals from authorities.
Since last week, 34 people have tested positive for Covid-19 in a local cluster tied to the country's prisons director. Health authorities called on people to return for their second tests on Monday and Tuesday, but crowded testing centers had some worrying about the risk of contagion.
Interior Ministry spokesperson Khieu Sopheak said people really should have listened and stayed farther apart, but it was only for a short while.
"There was no cooperation from the participants," he said. "There were many brothers and sisters who came and crowded [each other], but it was only for a moment."
The morning was OK at the Interior Ministry on Monday, but between 3 and 4 p.m. more and more people arrived, Sopheak said.
Health Ministry spokesperson Or Vandine said Olympic Stadium was large enough — there should be no need to pack into a crowd.
"The most important thing is that individuals must understand and not crowd each other," Vandine said.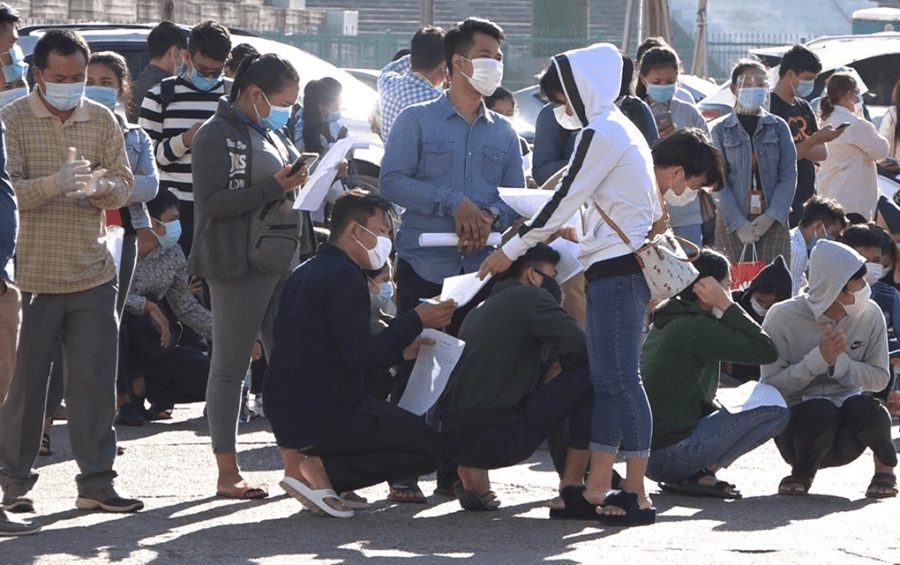 Several photos were shared around social media showing the testing centers' packed crowds. Some commenters said they wanted to be tested, but wouldn't want to risk getting Covid-19 by going.
On Tuesday morning, the Health Ministry said 3,860 samples were collected on Monday. The latest two positive cases are customers at fashion stores Zando and Pedro, where prior cases either visited or worked. Authorities say the source of the original contagion is still unclear.