KAMRIENG, Battambang — Like many rural Cambodians, Sun Vith hoped to grow corn and cassava in Kamrieng district, not far from the border with Thailand. The 29-year-old borrowed a $2,700 microloan and his brother, Sun Vath, borrowed a further $630 to start the farm.
The harvest failed miserably in 2017 on account of a drought and insect infestation, leaving the brothers with only one option to pay back their hefty debt: migrate to Thailand.
For the last three years, the Sun brothers and their wives have been doing laborious work at Thai fruit farms, using weekly worker permits to travel across the Ban Laem International Border Crossing.
When Thailand closed the border in March to curb the spread of the novel coronavirus, the four Kamrieng residents had little option but to return to Cambodia. And they were immediately faced with the prospect of no job opportunities in the district and a government leaning on rural Cambodians to embrace agriculture.
"We have already gone bankrupt doing farming. We have already experienced this kind of work," said Vith, shaking his head.
The Cambodian government estimates that at least 100,000 migrant workers have returned from Thailand since March. With factories and tourism also shedding hundreds of thousands of jobs, government officials, including Prime Minister Hun Sen, have urged returning migrant workers and out-of-work factory workers to go to their provinces and practice farming.
Agriculture has been the cornerstone of the government's planned post-pandemic revival, with Hun Sen traveling the provinces to pitch farmers on increasing production of agricultural products.
"[Covid-19] is not only not hurting [Cambodia] but it also allows us to dominate in the agricultural sector," said the prime minister at an agriculture facility in mid-July. "That is why the government has quickly changed direction to push for [financial support in] the agricultural sector at large."
In May, Interior Minister Sar Kheng expressed concern over returning migrant workers slipping back into poverty, citing few job opportunities in the current economic slowdown.
The government's attempts to bolster the agricultural sector was also evident in the recent free trade agreement between China and Cambodia. Though it has yet to be signed, the government revealed that agricultural products dominated the list of tariff- and quota-free products.
However, the migrant workers VOD spoke to in Battambang said they had no capital to start a farm from scratch, were heavily indebted, and lacked the land, agricultural tools and know-how to successfully transition to a new career. And with a glut of workers returning to the countryside, farm labor jobs were scarce and barely paid enough to live, they said.
"Farming is for the ones who have land and materials. It is OK for them," Vith said. "I have to rent everything so it is not good."
"If the state had some money to give people, then we could still try to raise some animals," he said, adding that farmers can sell cows for up to 2 million riel, or around $500.
The hard work of harvesting and processing longan fruit in Thailand earned Vith and his relatives around $9 a day each, at best $15. With some of their savings they were able to pay all of the $630 loan but a large chunk of the $2,700 debt remains unpaid.
Hesitant and financially unable to invest in agriculture, Vith and his sister-in-law, Loeun Any, have relied on harvesting corn. The work is few and far between and earns the two families a little more than $10 for around nine sacks of corn, which can take the group a whole day to collect. Vith said it was barely enough to sustain their households, let alone pay back their loan.
The International Organization for Migration released a report in 2019 that showed a third of Cambodian migrant workers already had no job before leaving Cambodia and half had no steady income, making their prospects upon return seem unlikely.
In May 2020, the World Bank released its annual Cambodia Economic Update, saying that the country's agriculture sector was unlikely to be able to absorb laid-off workers from other sectors, and that returning migrant workers were at risk of slipping into poverty because of sharp drops in incomes.
This has been true for Som Nup, who returned from Thailand in May with her husband and daughter. The couple also worked across the border in fruit farms earning around $6 a day each.
After returning to Kamrieng, where the family has only a small house and no farmland, they struggled to find any work. Nup, 30, said the large number of returned migrant workers meant there was an oversupply of labor for the corn harvest.
She and her husband have had to resort to doing odd jobs, like clearing grass from people's land, spraying pesticides on crops and picking herbs.
"It will be good if we can have stable employment or [wage] jobs," Nup said, as she picked the young leaves on a tamarind tree. She later sold those leaves, which are used in Cambodian soups, in the market.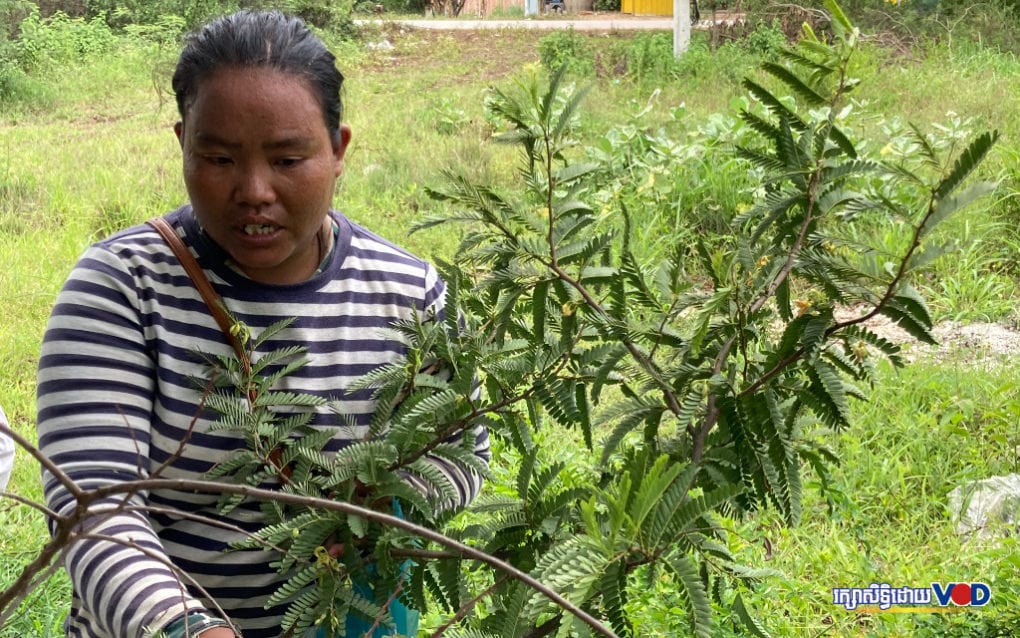 She said that not a single government official had inquired about their financial situation or provided any assistance, and even if they did she would be hesitant to grow crops.
"We do not want to do farming, we would rather rear chickens and ducks," she said, explaining that farming on their own would require taking out a loan for the necessary land and equipment, and there was the likelihood of a failed crop.
Kao Son, Svay Chrum village chief, said around 30 families in the village of about 200 had at least one member return from Thailand, many of whom were doing short-term work like harvesting corn or clearing fields.
He said only some families had farmland and that it was likely those who had migrated to Thailand did not have land for agriculture.
"Most of the migrant workers do not have farmland and they only have land for their homes," Son said. "If they had a lot of farmland they would not have migrated."
He said local authorities had intervened when migrant workers complained of not having enough food to eat, and that some of the migrant workers' families had been given IDPoor status.
"But our help only solves the problem in the [short term], so they have to keep looking for work themselves for daily sustenance," he said.
Chhim Vichara, director of the Battambang provincial department of agriculture, disagreed with the village chief and said the parents of the returning migrant workers had farmland and that they could partake in agriculture if they wished to.
And anyone without agricultural land had chosen to sell their land, he said.
"There is no [lack of farmland]. If the workers went to Thailand or abroad, it means that they sold all their land because they were indebted."
He said the department had helped people in the past by providing them chickens and agricultural equipment but did not comment on how much assistance had been provided during the Covid-19 pandemic. "For materials, we can provide vegetable seeds but not a lot."
With little assistance from the government, some families are taking the risky move of adding to their existing debt.
Long Vuth, a 59-year-old mother of a migrant worker, said the government needed to do more to help villagers, who were unable to raise capital to start new ventures.
Her son, Theav Sothun, worked in Thailand at a wood workshop and came back to Cambodia for a three-month break earlier this year but was unable to return after the border was closed.
With the loss of his $230 monthly salary, Vuth struggles to repay the three loans the family has, one from a bank and two from microfinance institutions.
Despite their family's heavy debt burden, Vuth is considering taking out another loan to fund the family's attempt at chicken and duck rearing.
"The government should provide the funds to help people," she said. "They are encouraging people to do agriculture but people don't have the money."