Lawyers for the government and opposition leader Kem Sokha on Thursday sparred in court over the veracity, origins and context of various pieces of evidence, requesting that some items be corrected or excluded from the trial.

Sokha, president of the dissolved opposition CNRP, is accused of conspiring with the U.S. to overthrow the Cambodian government. He faces up to 30 years in prison if convicted.

Phnom Penh Municipal Court Presiding Judge Koy Sao began the eighth day of trial proceedings by asking lawyers to review evidence submitted by the defense team last month and on Tuesday.

Attorneys continued an argument from the previous day's hearing over the merits of some evidence, including a photo posted on a Facebook page known for releasing information critical of the CNRP.

Sokha was silent in the courtroom as lawyers debated over missing dates, full signatures and some words in video recordings that were absent from transcripts.

New evidence introduced by defense lawyers this week included videos showing Sokha's past political activities, including 2017 commune election campaign speeches, as well as photos of meetings between CNRP and ruling CPP officials.

One photo featured CPP spokesman Sok Eysan with CPP and former CNRP lawmakers.

During Wednesday's hearing, government lawyers questioned Sokha about his political and NGO activities dating back nearly 20 years, focusing queries on what support he received from U.S. democracy-building organizations, the National Democratic Institute (NDI) and International Republican Institute (IRI).

Lawyers on Thursday reviewed a photo submitted as evidence by the defense of National Assembly president Heng Samrin and NDI's Cambodia country director John Cavanaugh, as well as a separate photo of Cavanaugh with Sokha.

In late August 2017, the government announced that the U.S.-funded NDI had to cease operations in Cambodia within a week, with all foreign staff ordered to leave the country, after the organization was accused of helping the CNRP plot a coup.

NDI at the time expressed its disappointment over the forced closure of its Cambodia office, saying it was "strictly nonpartisan" and had worked with all major political parties in the country, including the CPP, to "support transparent governance and inclusive political participation" through political party development, candidate debates and multi-party dialogue.

Less than two weeks later, Sokha was arrested on charges of conspiring with a foreign power. The CNRP was dissolved by the Supreme Court two months after Sokha's arrest. He spent just over a year in jail before being released to de facto house arrest in September 2018, with court restrictions relaxed further in November last year.

Sokha's arrest came months after the June 2017 commune elections, in which the CNRP made notable gains, following a close, disputed national election in 2013 that saw the CPP claim 68 parliamentary seats, to the CNRP's 55. The contested 2013 poll was followed by months of mass street protests.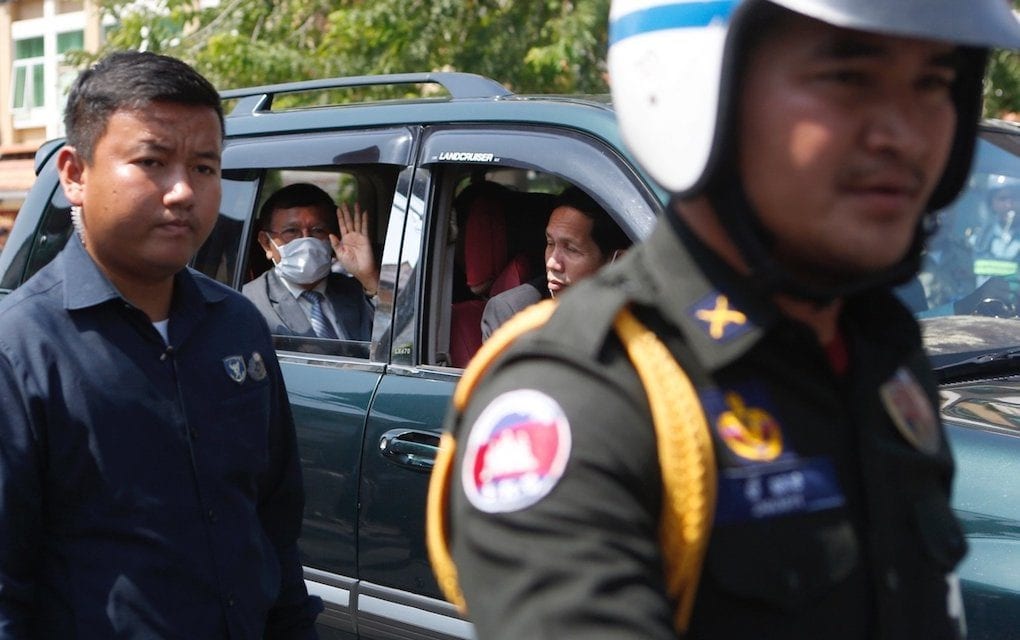 In court on Thursday, after reviewing evidence for an hour, government lawyers and prosecutors asked the defense team to provide dates of the photographs and videos, and signatures from the defense lawyers that matched official documents to certify that the evidence was indeed submitted by them. It was unclear to which photos and videos the government lawyers were referring.

Deputy prosecutor Plang Sophal also objected to the transcript of a 10-minute video of Sokha giving a speech in 2013 in Melbourne, which Sophal said was missing words.

Defense lawyer Pheng Heng responded that the transcript, taken as a whole, matched the content of the full hour-and-a-half video, which Sokha's defense team had submitted earlier, and that prosecutors could check the text against the full video.

Government lawyer Ky Tech echoed Sophal, saying that a lack of dates for photos and full signatures for other submitted evidence could indicate that the evidence was doctored.

"Photos can be photoshopped," said Tech, suggesting that the defense could even add Prime Minister Hun Sen into any of their photos.

"Please, panel of judges, look into this and decide," he said.

Judge Sao interrupted Tech to say that Sokha and his lawyers would be held responsible if the photos turned out to be falsified, and added that he had already accepted all evidence submitted by the defense.

Still, Sao said going forward, lawyers should include clear dates and locations on all submissions of photo and video evidence.

Defense lawyer Ang Udom praised the judge's decision to overlook small details like dates and full signatures, noting that the "panel of judges can order to have a correction later or suspend the hearing until a correction has been made."

Chan Chen, another defense lawyer, then asked the judge to exclude evidence pulled from the Koun Khmer Facebook page, which has posted information critical of the CNRP.

"Please, presiding judge, reconsider the use of Facebook page Koun Khmer as a reliable source to arrest and charge people. So, please nullify it," Chen said.

During Wednesday's hearings, deputy prosecutor Vong Bunvisoth asked Sokha about a photo posted on Koun Khmer of one of Sokha's daughters with former IRI country director Jackson Cox.

Sokha had questioned the source of the photo and the anonymous nature of the Facebook page, calling it "100 percent exaggerated."

"I already said that for an anonymous source, I will not answer," Sokha told the judge. "Please find a clear source and then I will answer."

Sao told the defense team on Thursday that they should have objected to the page as a source of evidence during the judicial investigation period.

"If you thought [the photo] should not be used, during the investigation stage, you should have filed a complaint immediately," Sao said, adding that the evidence from the page would not be excluded from the trial.

Chen, one of Sokha's lawyers, claimed that his team had not seen the photo during the investigation period.

Later, deputy prosecutor Sophal said the case was not based on any one piece of evidence, but several.

"Combining all this evidence has led to the presence of the accused here," said Sophal, pointing to Sokha.

Chen, however, argued that the anti-CNRP Facebook page was a key factor leading to Sokha's prosecution.

"The Koun Khmer Facebook page has an anonymous source," the lawyer said. "The evidence from this anonymous source led to the arrest of my client and his imprisonment for more than a year."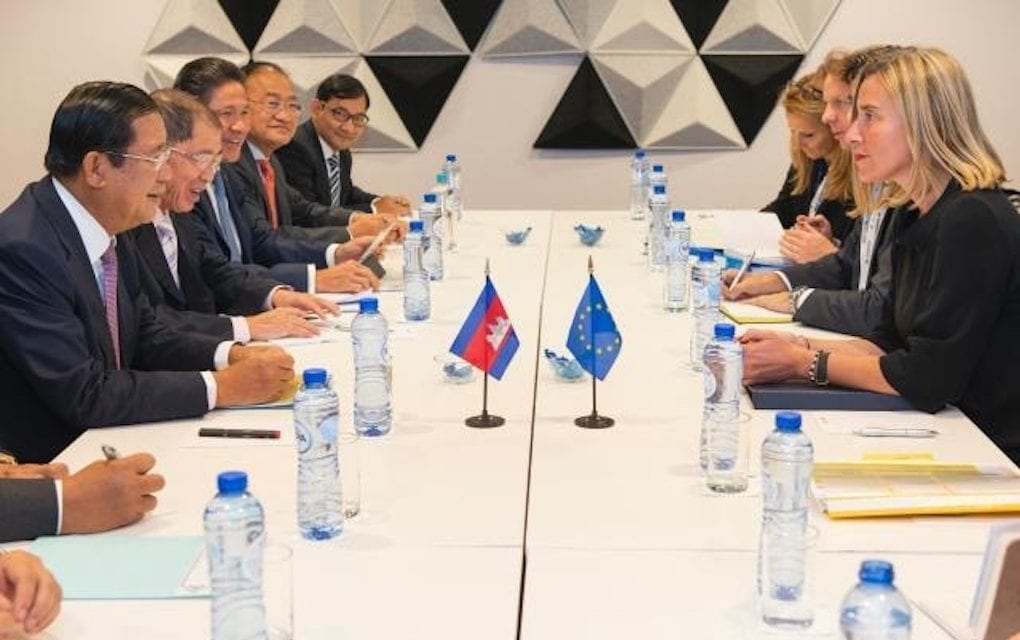 Sokha, who for the second day wore a facial mask in the courtroom, remained quiet throughout the proceedings while lawyers argued over the evidence.

Before he left his house in Tuol Kork district on Thursday morning, Sokha told reporters he remained hopeful that he would receive justice and be able to participate in the next commune and national elections.

"The current government leaders don't want to walk away from the international community," Sokha said. "We have clearly seen that [Hun Sen] attends international meetings, and he is always present and always keeps contact."

Next week, the E.U. is set to announce whether and to what extent it will suspend Cambodia's duty-free trade access to the European market, if it concludes that the government has failed to comply with international political and labor rights conventions.

Last year, the E.U. delegation in Cambodia said in a statement that the relaxing of Sokha's court restrictions was a step in the right direction.

However, "we expect Kem Sokha to be fully released and his political rights reinstated, so that he can play a full part in political life," the delegation added.

Officials have said Cambodia could survive without the E.U.'s duty-free trade scheme, with Hun Sen claiming that should the E.U. withdraw trade preferences, Europe's influence would be reduced, akin to the bloc participating in "killing the always-critical opposition group."

Sokha's trial resumes on Wednesday. Judge Sao said he will question Sokha about his activities from 2012 to September 2017, when Sokha was arrested, including the formation of the CNRP, the 2013 national election and mass protests that followed, and the alleged conspiracy to overthrow the government.