A big piece of a so far untouched area in the middle of Boeng Tamok lake has been granted to the Interior Ministry, while businesswoman Say Sorphea — understood to be the wife of a high-ranking Brigade 70 military official — has received a further two plots on the lake.
Government sub-decrees publicly released over the past week show further allocations to one of Phnom Penh's "last lakes," which has raised concerns over increased flooding. Environmentalists opposing the filling have previously been arrested.
One sub-decree, dated August 5 and signed by Prime Minister Hun Sen, grants 100 hectares in Prek Pnov district's Ponhea Poan commune to the Interior Ministry. Coordinates on the decree show it is on the eastern side of a road that has been cut right through the middle of the lake.
Another sub-decree dated August 6 allocates two plots — one around 11 hectares and the other 3 hectares — in Kok Roka and Prek Pnov communes to businesswoman Say Sorphea. Sorphea has been named in two previous Boeng Tamok grants.
One of the new plots overlaps with land on the lake that was previously allocated to the Rural Development Ministry. One of her previous plots also overlapped with the ministry's allocation.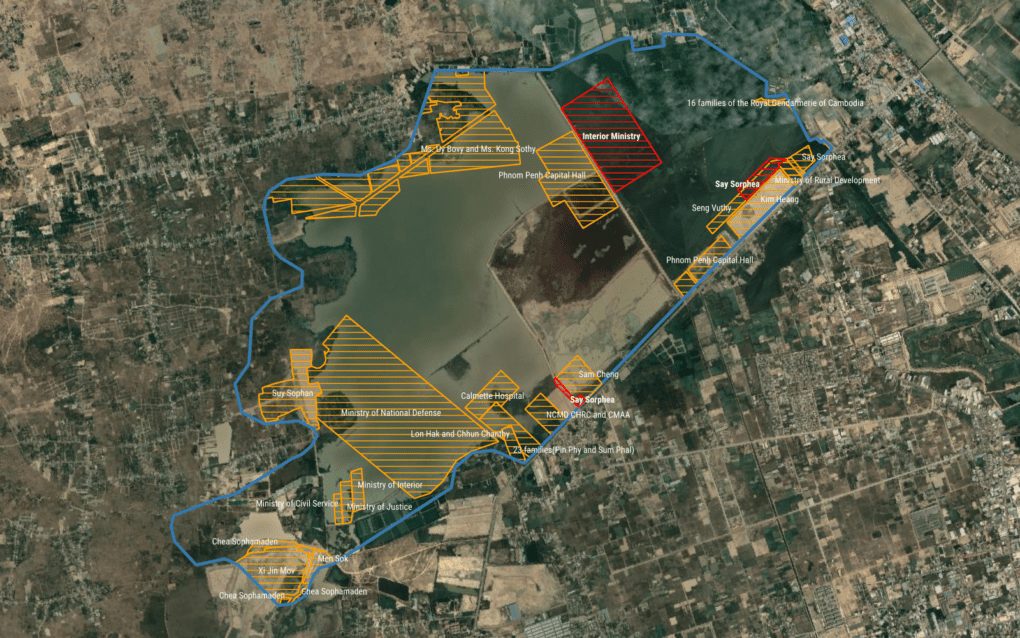 Sorphea is listed as a co-director of Phoeun Phalla Group Development, and VOD has previously reported that she is the wife of Phoeun Phalla, a two-star general who was the deputy head of Brigade 70 as well as an oknha. Phalla was placed under investigation in December over a land dispute in Preah Sihanouk. Earlier this year, he was also battling in court over another land dispute elsewhere in Prek Pnov district. Brigade 70 is an elite unit that formerly included Prime Minister Hun Sen's bodyguards.
Sorphea and Interior Ministry spokesman Phat Sophanit could not be reached for comment on Tuesday.
Government spokesman Phay Siphan said there were public-private partnerships behind the Boeng Tamok grants to private individuals.
"We have to make some sacrifices to raise funds and create work, to build roads, to do things in development," Siphan said.
Chak Sopheap, executive director of the Cambodian Center for Human Rights, expressed regret about the government continuing to cut off Tamok lake, despite the government previously saying it would preserve parts of it for the public interest.
She also pointed out the previous arrests of environmental activists who asked the government to stop cutting Boeng Tamok. The Water Resources Ministry had also noted potential challenges due to the infilling, Sopheap said, referring to a May 2020 letter from Water Resources Minister Lim Kean Hor.
"Many people's recommendations and suggestions were not taken into account," she said. "We see that the continued provision of public property, such as lakes, which lead to infilling will cause a real risk."