A group of Facebook users were questioned by police on Wednesday after streaming live from a pagoda in Takeo province, and preparing to distribute copies of the Paris Peace Agreements while urging viewers to think about which foreigners stood behind various officials.
The video, seen more than 15,000 times as of 5 p.m., featured Srun Srorn, who said his purpose was to explain the agreements, which were struck in 1991 to end more than a decade of war.
"This document is a document that can make the young generation of Cambodia clearly know friend from enemy, can make us clearly know which leader is patriotic and which leader is unpatriotic," Srorn said in the Wednesday morning broadcast from Bati district.
"Understand which official was prepared by the yuon, which official was prepared by the French, the U.S.," he added.
Yuon is a common Khmer word for Vietnamese that some consider derogatory. Co-founder of the outlawed opposition CNRP Sam Rainsy has been frequently criticized for his repeated use of the word while inflaming nationalist sentiment, but he has defended the word as commonplace, dismissed the controversy as "semantical," and argued that the pejorative connotation was the result of Vietnamese propaganda.
"Khmer people should regain full access to their traditional culture," he wrote in a 2014 op-ed in the Phnom Penh Post arguing in favor of using the word.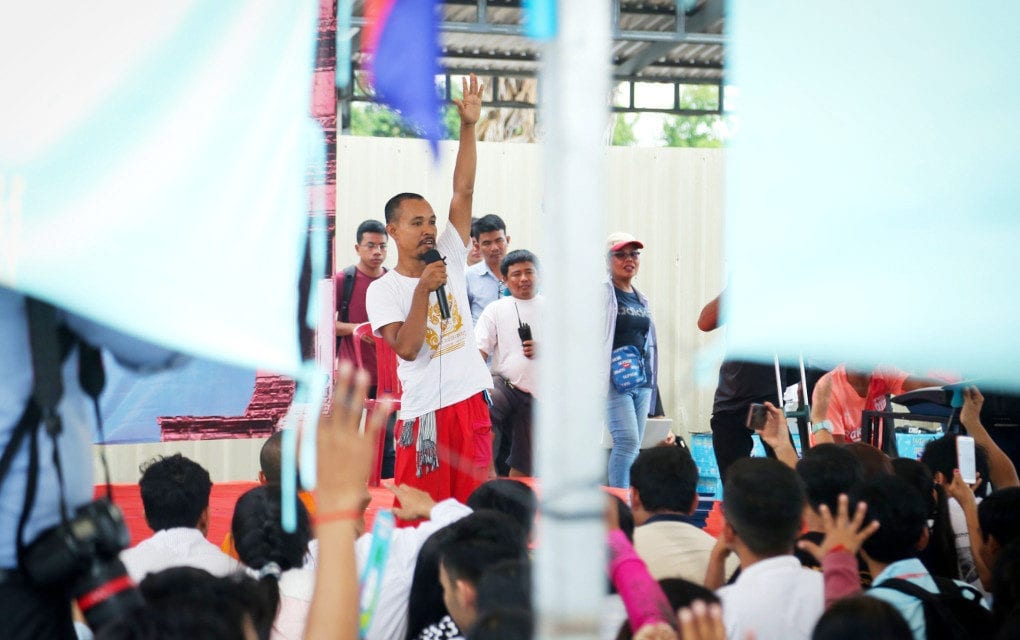 Bati district police chief Chhay Keo Mony said police had questioned the group about their intentions before releasing them around 5 p.m.
"[Officers] are talking with them, asking about the principles behind what they came to do here. I need to ask and want to know what they are doing. That's it," Keo Mony said.
After the group's release, he said they should inform authorities before they arrive next time. "We are local. We don't know what they are doing as the authority maintaining security and public order for people," the police chief added.
Srorn told VOD after his release that his group of seven people, who traveled from Phnom Penh, was held and questioned from 8 a.m. to 5 p.m. "I didn't talk about bad things," he said.
Licadho monitoring manager Am Sam Ath said Wednesday afternoon that the rights group was looking into the situation, but did not have details yet.
Anti-Vietnamese sentiment has lurked beneath several activist movements in recent months. In late July, unionist Rong Chhun was arrested for making claims about losing territory along the Vietnamese border, sparking "patriotic" protests in his support.
Paris Peace Agreements Day on October 23 was a public holiday until last year, when the government moved to reduce the number of official days off from 28 to 22.
(Translated and edited from the original article on VOD Khmer)