UPDATED 6:30 p.m. — The first hearing in a trial against two former Cambodia Daily journalists is scheduled for December 25, more than two years after they were accused of incitement over their reporting in Ratanakiri province ahead of the 2017 commune elections, their lawyer and a court clerk said on Friday.

Journalist defenders and human rights groups called the case a "frame-up" and an "absurd decision" that would intimidate reporters, promote self-censorship and limit press freedom in the country.

One of the accused journalists said the case — stemming from a court complaint from a then-commune chief who they interviewed and two others — was "completely baseless."

Ratanakiri Provincial Court clerk Im Sarath told VOD on Friday that the trial hearing for the Daily reporters on the charge of "incitement to commit a felony" was set for Christmas Day.

The court will issue the order to summon Aun Pheap, a former Daily reporter, and Zsombor Peter, a former Daily associate editor, within a week, Sarath said.

Pheap, 55, and Peter, 41, both award-winning journalists who now live outside Cambodia, face a sentence of up to two years in prison.

The independent Cambodia Daily newspaper was shuttered in 2017 under government pressure amid a wider crackdown by authorities on the political opposition, independent media and civil society.

Sek Sophorn, the journalists' attorney, said he had been informed of the December 25 trial date earlier this week at the Ratanakiri courthouse, but he had not received court documents confirming the hearing.

"If I get the order, I will attend," he said. "The court said they will issue an invitation letter."

Sophorn said his clients were innocent and he had earlier requested that the court drop the charges due to a lack of evidence.

"There was no inciting, no impact, no suffering, no anything," he told VOD.

'No Crime in That'

Peter on Friday called the case "completely baseless" and said the complaint against him and Pheap "should have been thrown out on day one for lacking a shred of evidence or credibility."

"We were journalists asking registered voters to share their thoughts on a coming election. There is no crime in that," Peter said in an email.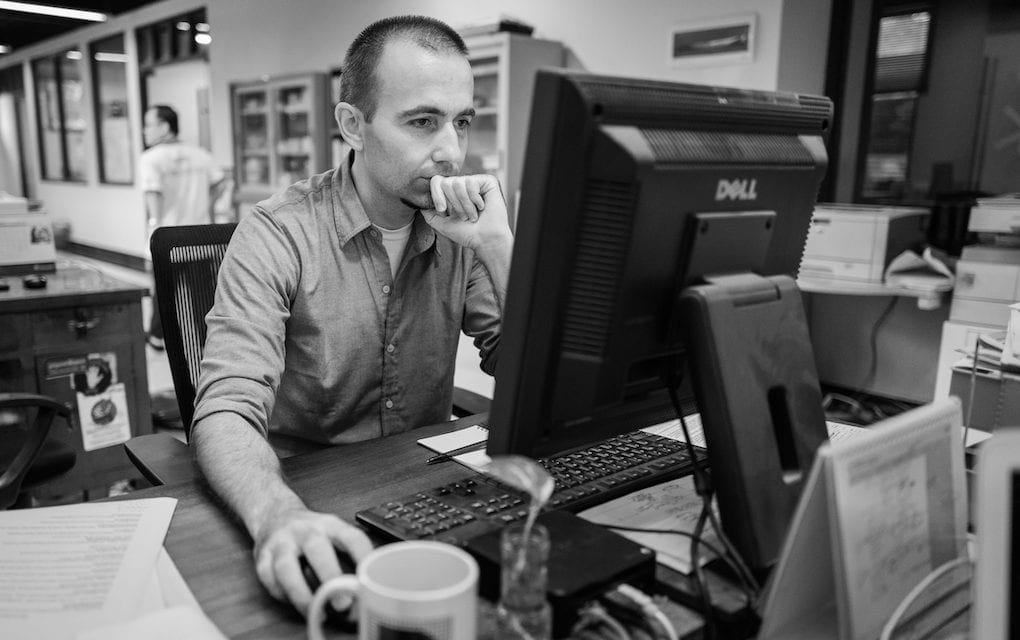 The accusations date back to May 2017, when Peter and Pheap traveled to Ratanakiri province's Pate commune, the sole commune in the province that the ruling CPP did not win in the previous commune elections of 2012.

Peter said they spent most of a day in Pate ahead of the June 2017 commune elections to "try and find some answers as to why it was the only one of 50 communes in the province to elect an [opposition Sam Rainsy Party] or [Human Rights Party] commune chief five years earlier, and how locals felt about the main parties heading into the coming polls."

They had scheduled an interview in advance with then-incumbent SRP commune chief Romam Yuot, one of the three men who filed the complaint against the reporters, and also spoke with several other local residents at random, Peter told VOD.

Another of the three complainants, Sev Born, had arrived to the interview with Yuot. The reporters had not intended to interview him, but when they asked Yuot why he thought Pate was the only commune in the province that the CPP did not win in 2012, Born declared the interview over. Peter said they asked Born why he was there and why he was interrupting their interview.

"After Sev Born insisted that our interview with Romam Yuot stop, Romam [Yuot] stopped talking, took a call, and left the commune office," Peter told VOD. "Sev [Born] also left at about the same time…. Then Pheap and I also left the office and continued on with our reporting in Pate."

Peter and Pheap also described the incident in detail in a May 29, 2017 Cambodia Daily article, which was the result of their reporting trip.

"Mr. Born said he had no official position, but was sent to accompany the commune chief by the provincial governor, Thong Savorn, the nephew of Mr. Lam, the CPP lawmaker, and son of Bou Thong, a CPP senator," the Daily reported.

"They sent me with him to listen, and if the talk involves politics I am required to stop the interview," Born was quoted as saying.

Later that day, Yuot, Born and a third person, Rocham Yi, filed a complaint with the district governor, who sent it on to the commune election committee, accusing Peter and Pheap of coming with "bad intentions" and "incited the people," the Daily reported.

The three men later withdrew their complaint with the committee. But the day after, they filed a complaint with the Ratanakiri court accusing the journalists of "incitement" and "making threats," according to the Daily.

Peter told VOD that local authorities approached him and Pheap while they were reporting in Pate on two separate occasions. The authorities asked the journalists what they were doing and left after the reporters told them. The authorities didn't raise any objections and the journalists continued working, he said.

But in July, after the commune elections, the pair were summoned to court, and appeared for questioning later that month, the Daily reported at the time.

Sophorn, their lawyer, said on Friday that he had never received official notice that the court's investigation had been completed. He learned this in September when he followed up with the judge in person at the courthouse, he said.
Sophorn serves as legal counsel for the Cambodian Center for Independent Media, the parent organization of VOD. Four former Daily staffers who were colleagues of Pheap and Peter, including the writer and editor of this article, work at VOD.

'Dare to Speak the Truth'

Pheap told New Naratif in a profile published in February that he was confident that the case against him was a political attempt to silence him due to his past reporting on illegal logging, for which he and Peter have won awards.

"It's not because of the reporting on the commune election but because of reporting on illegal logging," Pheap said. "We always mention names of the provincial authorities who are involved in the crime. It means they never stopped the crime and they also gave protection for the loggers and timber traders, that's why they were angry."

Pheap, who now lives in the U.S., could not be reached for comment on Friday.

Peter, a Canadian journalist who worked at the Daily for about eight years, said he left Cambodia in October 2017. He continues to work as a journalist covering Southeast Asia.

Their former employer, The Cambodia Daily newspaper, published its final print edition on September 4, 2017, following a disputed $6.3 million tax bill and a warning from Prime Minister Hun Sen to pay up or "pack up and go."

Two years later, however, in a letter issued on Thursday, Hun Sen said he considered news outlets to be partners in the government's fight against corruption and attempts to reform the law and courts.

"The government really needs media institutions with energy and responsibility, with honesty and professionalism," wrote the long-ruling premier. "Our reporters must listen to the voices of all related parties, dare to speak the truth, dare to criticize in a constructive way."

The Daily — whose motto was "All the News Without Fear or Favor" — was known for its critical news coverage of government corruption, rights violations and environmental destruction.

Its owners have maintained an online presence, in Khmer and English, which mostly consists of aggregated news about Cambodia from other outlets.

The final issue was released the day after opposition leader Kem Sokha was arrested on widely criticized treason charges. Sokha has denied the allegations. The Phnom Penh Municipal Court announced this week that he would face trial, although his trial date has not been announced.

'Aiming to Threaten Journalists'

Journalism advocacy and rights organizations said the charges against Peter and Pheap were "bogus, ill-defined" and "totally fabricated."

They were simply doing their jobs as journalists, advocates said, with one claiming that there was "no doubt" the government had targeted the reporting pair over their past investigative reporting that "uncovered scandals and corruption on a regular basis."

Phil Robertson, Human Rights Watch's deputy Asia director, said their investigations for the Daily exposed illegal logging and timber exports to Vietnam, and "corruption at all levels" of the Ratanakiri government.

"[L]ocal officials had a clear motive for trying to frame them with bogus, ill-defined charges," Robertson said.

"This case is a frame-up between local authorities who didn't want investigative reporters digging around in their backyard, and national government figures who didn't like any possible reporting about support for the opposition CNRP" in the province, he said.

The case would have the effect of greater self-censorship among journalists, with independent reporting in Cambodia taking "more and more courage," said Daniel Bastard, Reporters Without Borders' head of the Asia-Pacific desk.

"This whole fabricated process was clearly a way for the Hun Sen clan to notify journalists that this would be what they risk if they dare to report independently," Bastard said.

May Titthara, executive director of the Cambodian Journalists Alliance (CamboJA), said Peter and Pheap were targeted because they went to the field in the run-up to elections to "cover the real story so that their report will show the truth."

"Government officials don't want to see that," he said.

"This trial is aiming to threaten journalists who are working. They will be afraid to report a sensitive story," Titthara added. "I want to see the court working on their professionalism to find justice for the two journalists, not only make decisions without any evidence."
Additional reporting by Ouch Sony
Correction: The article originally said that lawyer Sek Sophorn learned in October that the court investigation was closed after he spoke with a clerk. However, Sophorn later told VOD that he had learned in September that the investigation was closed after he checked with a judge. The article has been updated to reflect this.