Representatives from 10 unions and labor groups encouraged NagaWorld casino protesters during a rally in Phnom Penh on Tuesday, as a union federation leader said her members — largely in the garment sector — could join the strike if there was still no solution after two weeks.
The representatives spoke to around 100 gathered strikers who resumed their protest on Tuesday. They are seeking reinstatement following mass layoffs last year that they say targeted union activists in the casino, and have been protesting since December.
Labor group Central's program manager Khun Tharo told the workers that 37 NGOs and unions were issuing a joint statement backing the peaceful strike. They were asking authorities to stop violating the protesters' rights, he said.
A drone flew over the strikers as the labor advocates made speeches on Sothearos Blvd., where barricades blocked protesters from getting close to the facilities of the well-connected NagaWorld.
"The ministry doesn't try to solve the root cause of the problem. The root cause is about accepting the union leaders back to work. This is about rights, not money. If it was about money, they wouldn't strike. This is about their rights. And the government should promote their rights. I think only the prime minister can influence a solution to this issue," Tharo said.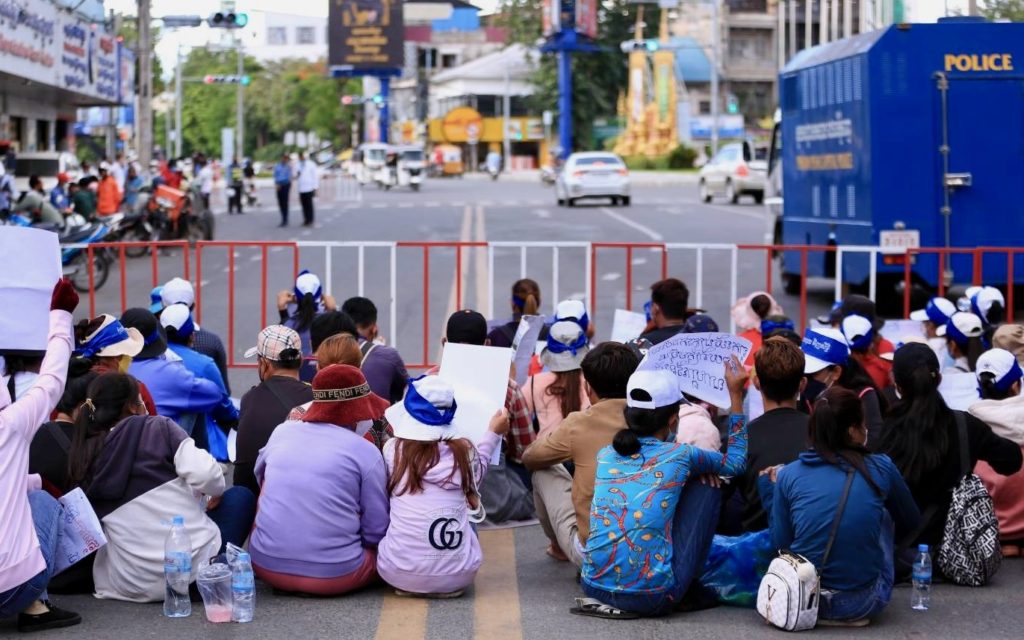 Yang Sophorn, president of Cambodian Alliance of Trade Unions, said her union members were considering joining the strike to support the NagaWorld workers.
"Today is the first week I joined the strike. So if after the first and second week there is no solution, maybe we will decide to join the strike. Not as an observer — we will join the strike with other union members as well."
CATU represents workers in textile, garment, footwear, travel goods and bag producing factories, and says it has helped tens of thousands of workers to advocate for benefits.
Protester Bou Sreymeang, 37, said she was encouraged by the labor leaders' attendance.
"Their participation is really meaningful for us. They keep us motivated and try our best to continue to strike for our rights to have a union in our workplace," Sreymeang said.