Accounts of scam operations, forced labor and human trafficking have emerged from a number of Sihanoukville precincts where rows of stark concrete buildings stand with windows barred and entrances heavily guarded.
In one notorious, crime-ridden area near O'Tres beach, victims say several scam operations surround Crown FC president Rithy Samnang's KB Hotel, which is referred to in Chinese as Kaibo — the same name used for a nearby alleged forced-labor site. One of his partners in the hotel is a Chinese fugitive, wanted over money laundering. Other scam operations are allegedly housed within a separate Sihanoukville compound linked to Anco, a business run by Samnang's father-in-law: prominent developer and CPP senator Kok An.
Rescued workers from businesses using space within the compounds have spoken of lavish rewards for successful scams as well as detention, debt slavery and beatings, including a victim who said he was only rescued after directly contacting Preah Sihanouk provincial governor Kuoch Chamroeun.
When approached about the accounts of criminal activity in the precincts, businesses of Samnang and An gave no response or denied knowledge. The tycoons and their associates did not reply to repeated requests for comment. Governor Chamroeun also did not answer questions, though a provincial spokesperson said authorities always respond to requests for help, and nearly all illegal activities had been stamped out.
But for Zhang*, 24, who considered jumping off a building to escape a compound where guards with flashlights roamed all night, and Lin*, also 24, those Sihanoukville compounds are the sites where they were bought, sold and confined against their will.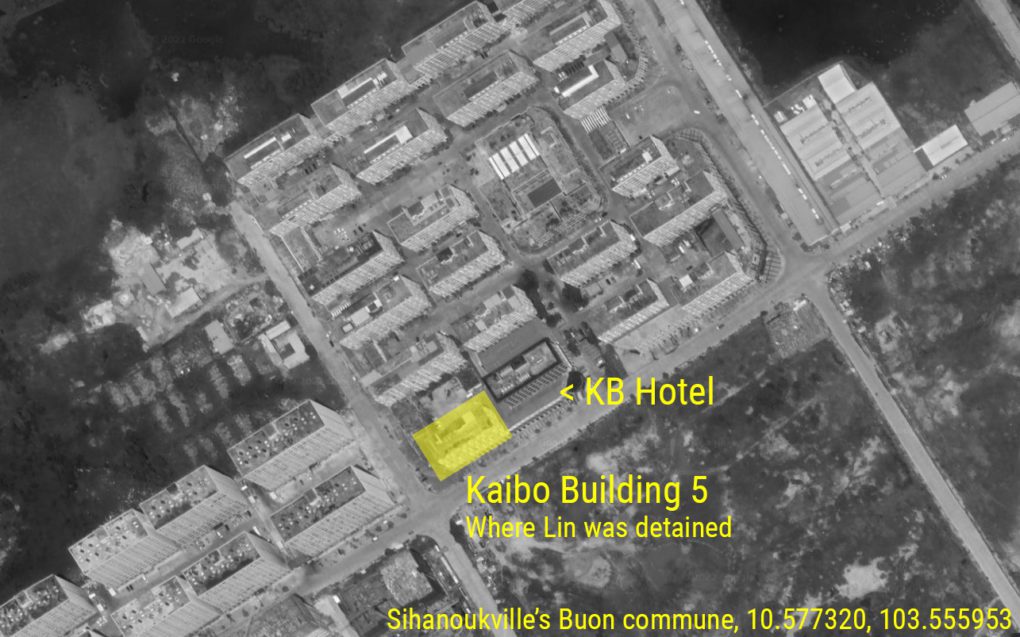 Kaibo Building 5
When Lin flew to Cambodia from China's Fujian province last March, he took a job working for a food stall inside a compound in Sihanoukville. Over the seven months he worked there, he began to realize that he was delivering food and preparing meals within a compound that housed online scam operations. Such operations had proliferated in Sihanoukville in a void left by Covid-19 and a ban on online gambling in the past two years.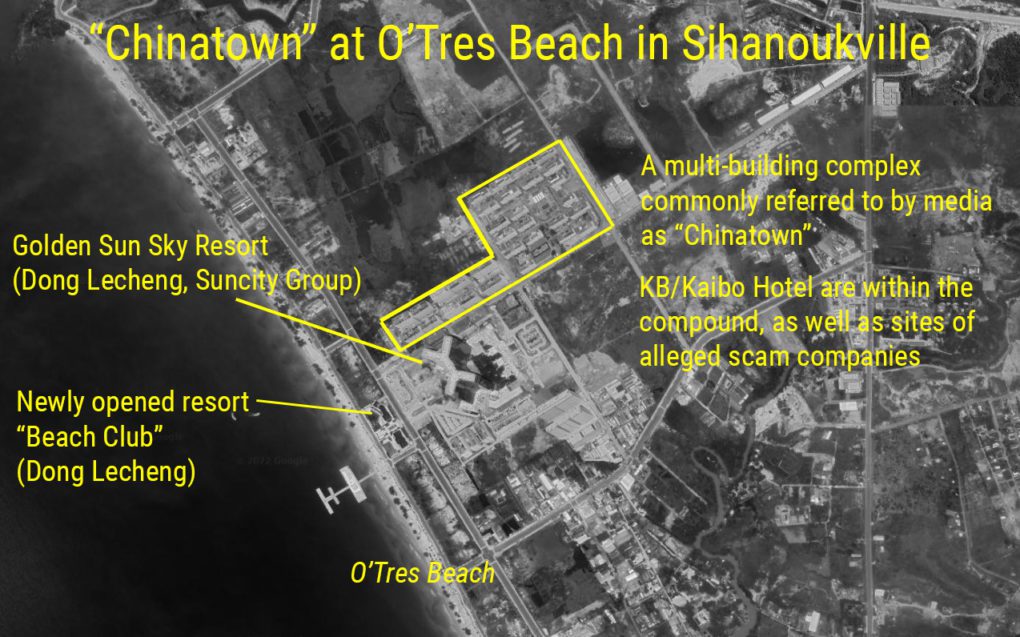 It wasn't until he was kidnapped and sold to a scam operation in Kaibo Building 5 that he fully understood what was happening across numerous skyscrapers and compounds in the city.
"I came to see the outside world. I didn't expect this to happen. I only wanted to come and have some fun," he said after he was finally released from the Kaibo compound.
Before he came to be housed in an unmarked hotel in Phnom Penh, where reporters met him in December, Lin, 24, said he had wanted to leave the food service job and return to China. He left his last shift around 1 or 2 a.m. and started walking along National Road 4 to a hotel to spend the night before taking a van to Phnom Penh. But he was stopped by four people who arrived on a white Toyota Alphard and held a knife to his waist and told him he would come work for them.
He asked a Chinese man in the van why he was being treated like this, and he recalled the man had replied: "You don't have a job now anyway. If you don't do it, you will be beaten or tasered."
Lin was first brought to a compound called White Sand Palace 2, where he overheard a human resources staff member saying that a scam operation had bought him for $12,000. The compound shares a name with the well-known and heavily guarded White Sand Palace hotel and casino in Buon commune, but Lin said his building was located along National Road 4.
He said he spent less than a week there. Three days were spent in a small dark room where they detained Lin after he refused to work, handcuffing him to a bed and only feeding him two bowls of instant noodles during that time.
Shortly after he was released from the room, Lin was told that he had been sold for $20,000 to another company, housed in Kaibo Building 5. The boss from White Sand Palace 2 had lied to the other company, claiming he was an impressive scammer, worthy of the high price, Lin said. The new compound was in an area of more than 20 buildings colloquially known as Chinatown.
On a dark street just inland from O'Tres beach, the Chinatown precinct is flanked by the under-construction Golden Sun Sky hotel, a project reportedly involving Suncity Group, the world's biggest junket operator whose CEO was arrested in November, as well as Ruili Airlines parent company Jingcheng Group, run by Chinese tycoon Dong Lecheng; and the Beach Club, whose opening in November was attended by Deputy Prime Minister Men Sam An, Preah Sihanouk governor Chamroeun, deputy governor Long Dimanche, tycoons Kok An and Ly Yong Phat, provincial police chief Chuon Narin, provincial military police chief Heng Bunty and provincial prosecutor Seang Sok.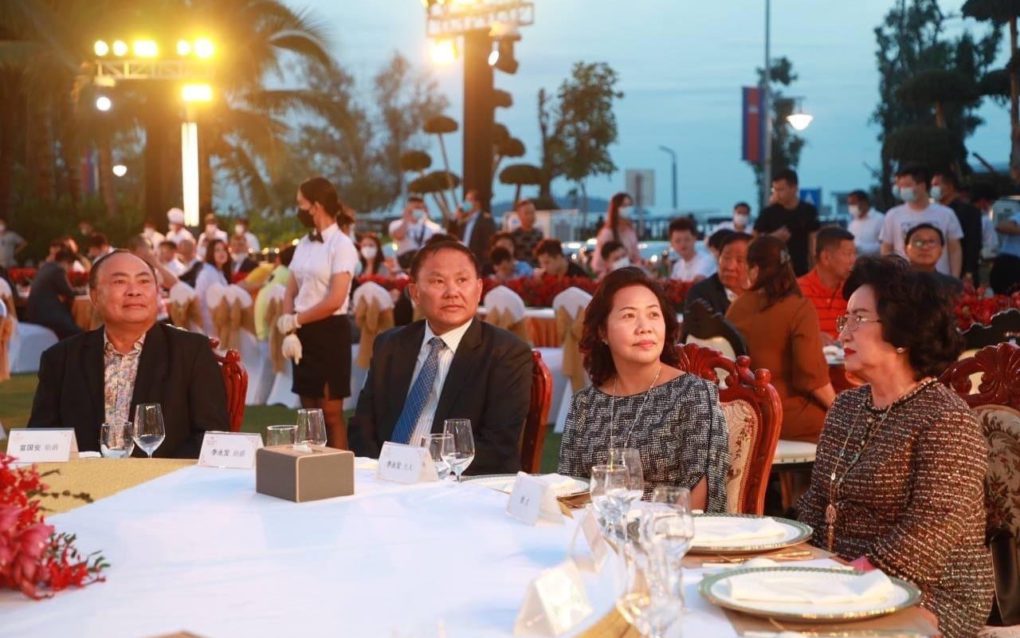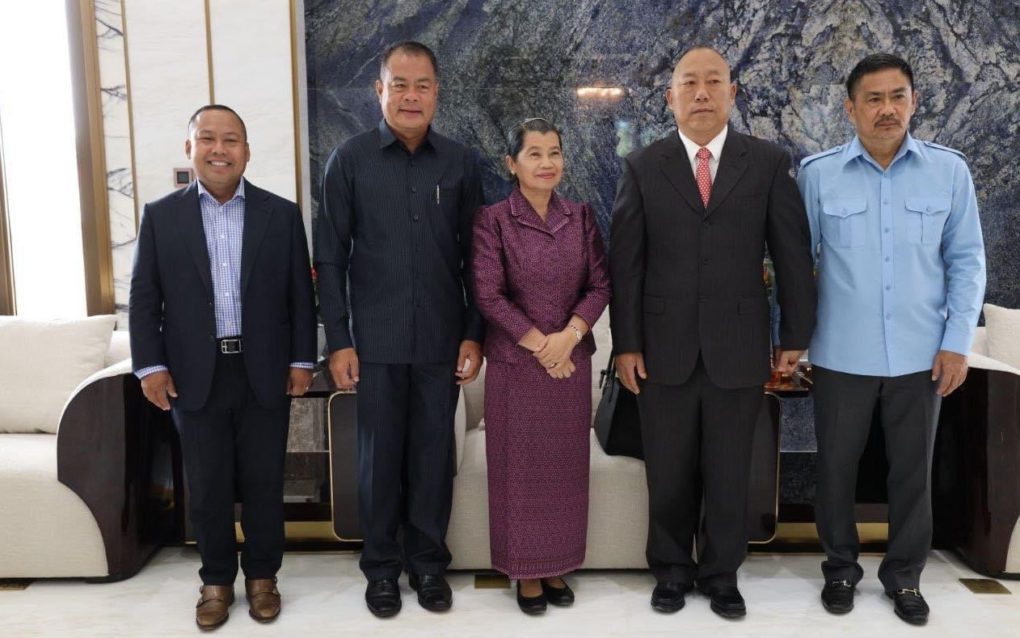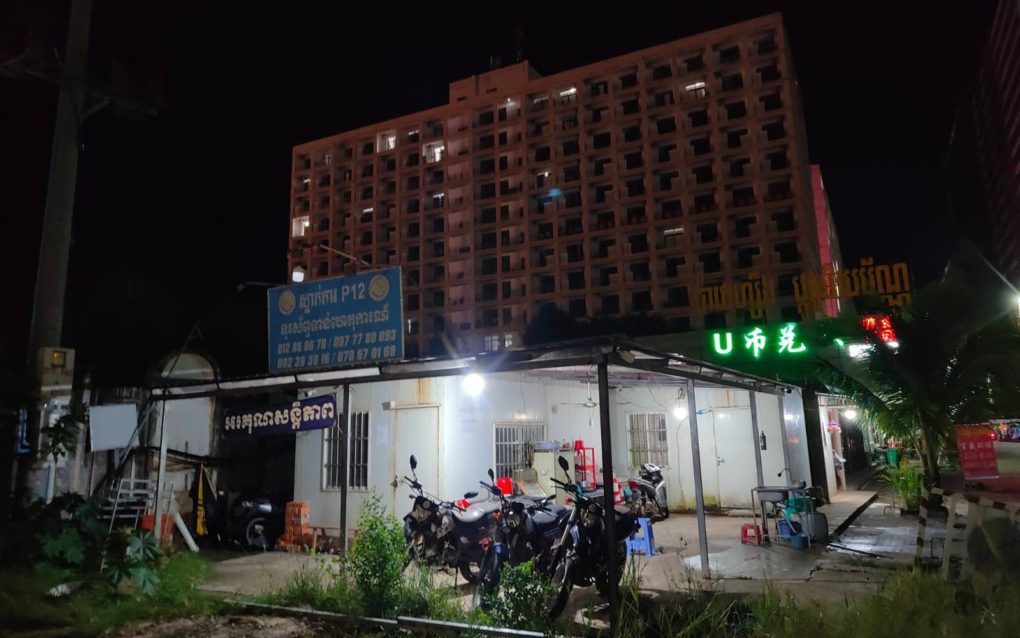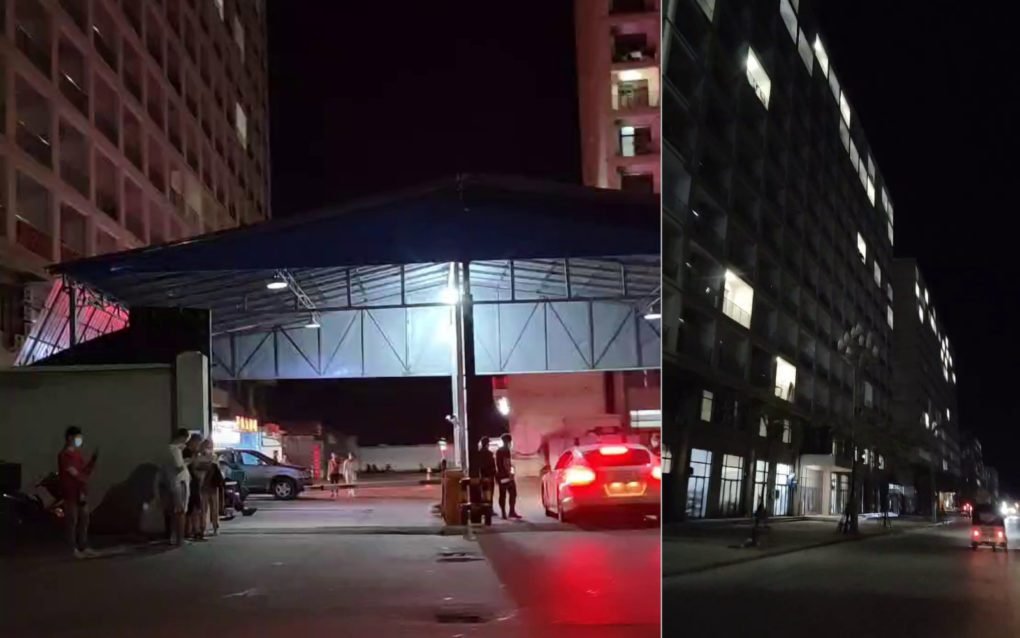 In her Facebook post from the event, depicting herself and other government officials cutting ribbon and socializing in traditional dress or suits, Deputy Prime Minister Sam An called the new club "Twin Chinatown," and touted the rise of the condo industry and how many jobs the beach resort and Dong's complex behind it would create for Cambodians.
Suspicious deaths have emerged from the precinct, including, in recent months, a handcuffed corpse dug up from a shallow grave nearby and another body found hanged at a construction site. There have been news reports of kidnappings and shootings in the area. Roadside restaurants and shops were seen to have metal bars inside. Outside customers were blocked from going all the way through to a far door leading to the compound's inner courtyard. Kitchens and pharmacy counters were on the inside of the bars, accessible only from the courtyard.
The precinct, where dozens of trafficking victims have told rescuers of mass scam operations involving forced laborers, also houses a commune police station and KB Hotel — known as "Kaibo" hotel in Chinese language booking sites and job listings. A Chinese-language job listing describes the "first phase" of the Kaibo development as a 16-building complex covering almost 14 hectares.
Shown a map, Lin pointed to a building directly adjacent to KB Hotel as being the facility — known to him as Kaibo Building 5 — where he had been held.
KB Hotel has three directors, according to the Commerce Ministry: Samnang, who is also president of Crown FC and founder of payment platform Pi Pay; Xu Aimin, who has been named as a fugitive in China for leading a billion-dollar online baccarat ring; and Chen Al Len.
A former director, until March last year, is Su Zhongjian, a Chinese national who is connected to more than two dozen companies including delivery app E-Gets and island resorts in Preah Sihanouk and Koh Kong provinces.
Loading…
Most known for leading Pi Pay and the football club, Samnang has directorships, often with foreign investors, in some 24 companies in Cambodia, including a resort on Koh Kong's Koh Smach island, the Sunshine Bay Hotel on Sihanoukville's Independence Beach, and Happy Lamb Hot Pot. His personal website also lists him as a founder of Xu Aimin's KBX Investment, though he is not listed as a director in the Commerce Ministry website.
Xu faced an Interpol Red Notice — an international criminal summons — in 2013 for allegedly laundering multimillion-dollar sums through multiple Hong Kong bank accounts, but he has appeared to find refuge in Cambodia. RFA has reported that he was granted citizenship, though this could not be verified in royal decrees. Xu has since become director of four companies, two of which involve Samnang and Su. One of Xu's solely-owned companies, KBX Investment, was in January granted permission from the Council for the Development of Cambodia to construct a $129 million hotel along Phnom Penh's Monivong Blvd.
Chen is a director for 14 listed companies — including three he co-directs with the Cambodian prime minister's notorious nephew Hun To.
Su was naturalized as a Cambodian citizen in 2015, according to a royal sub-decree, and he was a former director of a company with timber tycoon and special economic zone director Try Pheap, who has also been linked to an alleged human trafficking hub.
When his new boss for "BoTai Company," one of many scam operations within Kaibo Building 5, asked about working for an online scam, Lin decided to go along rather than protest as he had seen people beaten and tasered for standing up to supervisors.
So he began training to perpetuate a romance scam, known as "pig butchering" for how scammers groom a person on social media to like them and then ask for thousands of dollars — go in for the kill.
He was told to find photos of handsome men on Facebook, Instagram and WeChat and use them for profiles to start talking to English and Chinese speaking women from Singapore, Malaysia, Europe and the U.S. Women between 25 and 40 years old were the easiest to scam, he was taught. With phones using Malaysian and Singaporean SIM cards to look more legitimate, he started talking to women, telling some of them to invest in fake stocks controlled by the BoTai company's platform.
"To calm them down, I pretended to do the work but I didn't scam anyone," Lin said, adding that new recruits were given time to learn strategy. "I gained their trust and managed to get my [personal] phone back."
Each day, before he started his 12-hour, and sometimes up to 18-hour, shifts, Lin and his colleagues had to perform a "money-grabbing dance," which involved reaching out in different directions in search of imagined bills in time to a techno beat. The workers chanted slogans about how much money they would get in scams that day, and those who wouldn't participate were made to do squats or pushups or some other physical punishment.
Their managers would also make a point of rewarding workers in front of the staff of about 100 workers: Those who performed well would be taken to clubhouses and offered sex services, and one boss bought an especially high-performing worker a $94,000 car.
Lin's only reward was access to his personal phone, and during bathroom breaks he found messages from a group of volunteers trying to rescue Chinese nationals on Douyin — TikTok's Chinese brand. Lin said he initially tried to reach local police in China and the Chinese Embassy in Phnom Penh, but neither could assist.
After he proved to a representative of the volunteer group that he was detained in the Kaibo building, he was told to message Preah Sihanouk provincial governor Kuoch Chamroeun on Facebook messenger, who responded two days later and gave him a contact of an assistant of the Sihanoukville police chief.
Chamroeun did not respond to questions. But provincial spokesperson Keang Phearum said authorities always respond to requests for intervention.
"Please be informed that in the past, for all illegal activities, the competent authorities have cracked down on almost all cases and continue to investigate the remaining cases to find the perpetrators and punish them according to the law."
Buon commune chief Seng Nim said he could not recall who owned the buildings in the precinct. "I signed it, but I can't remember it, and after I signed it I sent it to the district," Nim said.
Around 50 nationalities lived in his commune, mostly Chinese, but he did not have figures, he added. "We don't know how many people are in the [Chinatown] buildings. We have never been inside there."
He said he also did not have details on suspicious deaths in the area. "We have received information about this. I can't say how many," Nim said. "Sometimes we forget it and can't remember which day."
A representative for KB Hotel denied there had been any rescues from the property, saying it could have been another location. Subsequent calls to ask about its relation to surrounding buildings were not answered.
A management representative for Rithy Samnang initially told VOD that reporters could meet with the tycoon, but stalled the meeting, saying Samnang was unwell and then traveling outside Phnom Penh. When a reporter sent a message asking whether the tycoon was aware of the presence of online companies and wanted to respond, the representative said he would pass the message to Samnang but did not respond to later messages from a reporter.
Preah Sihanouk police chief Chuon Narin could not be reached for comment.
Last week, 13 Thai scam workers were removed from the "Chinatown GM Office," which online maps mark as being on the same block as KB Hotel. And a trafficking victim has told of being harvested for blood while detained at a "Kaibo" compound when he refused to work.
Fearing the scam operation would sell him elsewhere, Lin said he was initially hesitant to get into an unmarked car on the day the police arrived. The boss of BoTai already tried to intimidate him after the police arrived, saying "we know everything" and throwing Lin's passport on the ground in order to hand it back. But Lin was then brought to a Sihanoukville police station to wait and testify, and eventually brought to Phnom Penh to wait under the volunteer group's support until he could afford a flight back to China.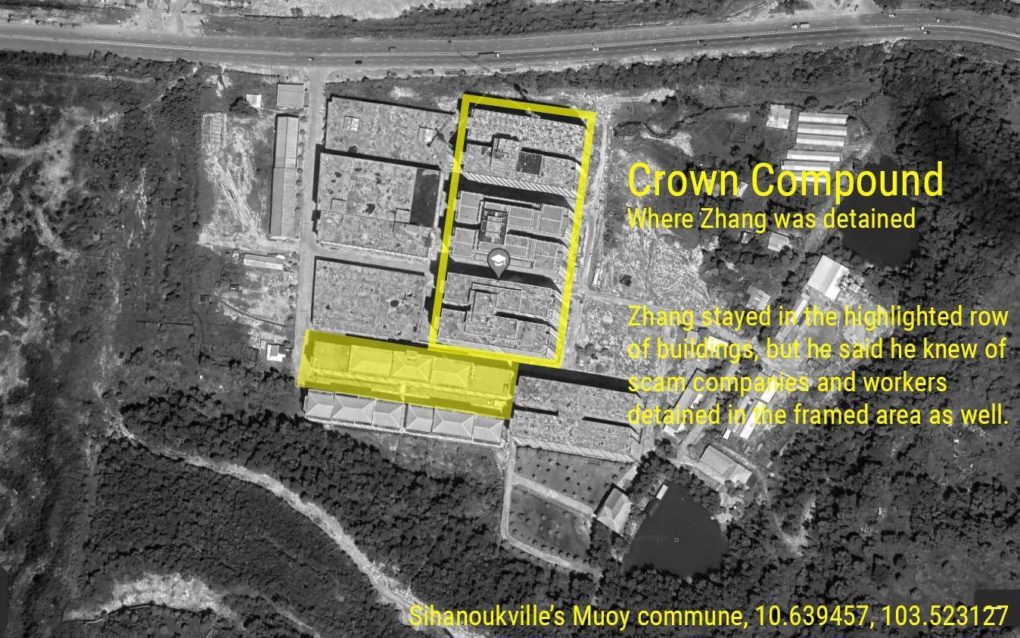 'Crown' Compound
A tuk-tuk driver stalling outside an unmarked compound off National Road 4 in December said very few people were allowed to go in or out of the premises. But there were thousands of people inside, he said.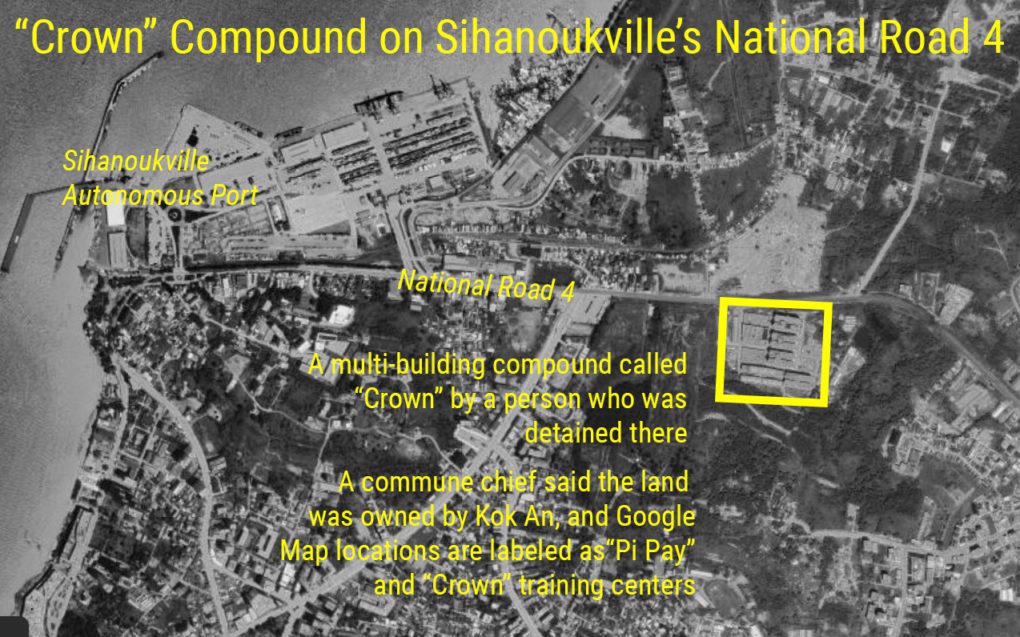 The compound, labeled Crown High-Tech Incubation Center on online maps, has several entrances, all of them monitored by guards. In November, a sign was visible inside saying "Crown Sales Department."
Zhang, 24, said he was brought to the compound in September 2021 after he was abducted during a job search and sold to different scam companies. He was beaten twice during earlier stops and had a damaged spine, he said.
In the first dozen days at the compound marked on maps as "Crown," he was placed in a quarantine room operated by another business owner in the compound, charged $50 per day for the room and meals, he said. At that time he could hardly stand with his injuries. When his quarantine was over, two guards dragged him to the building where he would be working.
The scam operation that bought him was small — with about 30 or 40 people working there — compared to other operations inside the compound. He estimated there were more than 1,000 people there in all.
There were several guards flanking every exit from the building where he stayed, and one guard at each of the elevators.
"There's no way you could run from there even if you wanted. The guards patrol with flashlights at night," he said.
Zhang spent a week listening to recordings about how to perpetuate scams, which he described as brainwashing. He was given 20 or 30 accounts on Telegram on two different phones, and he started exploring groups and direct messaging all kinds of people: Chinese Americans, Japanese, Koreans, typing phrases into Google Translate when he didn't speak the same language.
He would start with a "hi," ask them how the pandemic was going in Japan or the U.S., ask about food and lifestyle before asking people to buy cryptocurrencies. Zhang said he never successfully convinced anyone to pay the company, but those who succeeded in scamming people were rewarded publicly: He recalls his boss once presented a coworker with $7,000 in cash when they had landed a large scam.
Zhang said they had a quota of talking to six people per day and each chat thread had to have at least 60 messages. Their earnings paid down their ransom, or the money that the company paid to take them in plus the expenses of quarantine. Zhang said he could take around five minutes for a bathroom break, and each additional minute would cost him $10 that he would need to pay on the spot, or it was added to his ransom.
Those who didn't perform were forced to do physical punishments, like pushups and jumping like a frog across the room in front of the rest of the staff. Zhang said he was once told to frog jump: "I couldn't do it with my injuries but I still had to do it."
"Every day after work I went around the building to try to find a way to escape," he said. He thought about jumping off the building.
A uniformed guard at the front of the gated compound along National Road 4 told reporters that he didn't know what was happening in the buildings behind him, but he did know the owner, Kok An, calling the ruling party senator and tycoon "grandfather."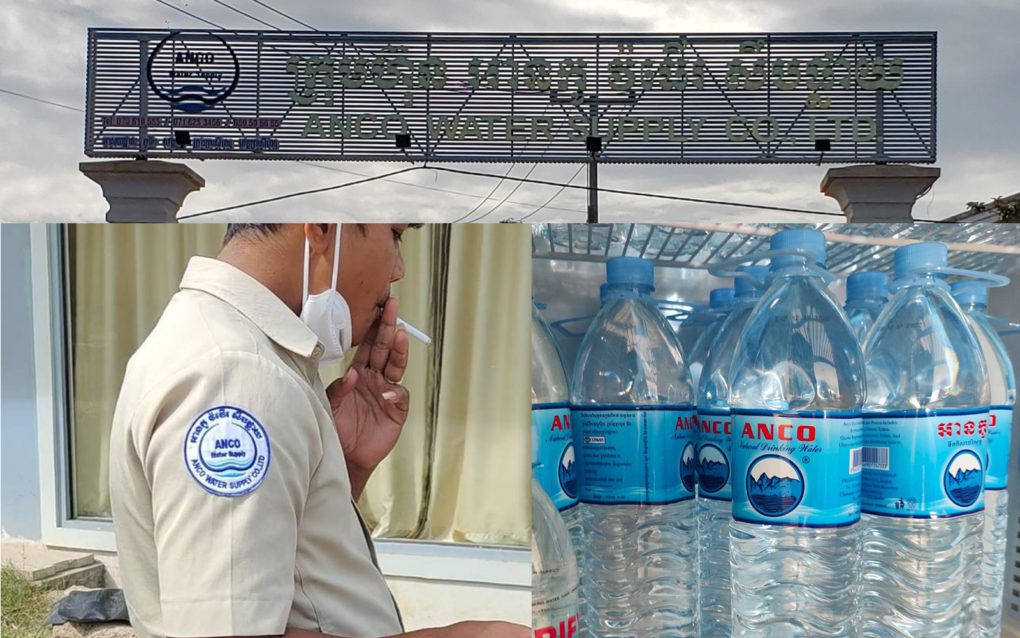 The guard said he was paid $260 per month from Anco, the same company that runs a water supply company some 6 km east along the national road. His uniform bore the same logo used by Anco Water Supply and the bank under the same name.
"They all belong to grandfather and this is his building that he rents to the Chinese. … These buildings belong to Kok An," he said.
Bottles marked by Anco Water Supply, An's company, filled refrigerators in a convenience store just outside the compound gate.
A woman who answered the phone for Anco Water Supply said the land at the location was being rented to Chinese companies.
When asked about forced labor, she said she could not talk about it. "We are part of one company, but we are in clean water while it is another part," she said. "We are under the same umbrella but the staff are separate."
She told reporters to send a formal letter to meet with company directors, but there has been no response to the letter after more than a week.
A man who answered a number for Senator An denied he was An. Sao Sokha and Eng Hy, chief and spokesman for the military police, which Zhang said was involved in his eventual rescue, have not responded to questions.
Muoy commune chief Chhit Sophath said the compound in question — which he said was owned by An — was located in neighboring Bei commune. "There are many Chinese people there," Sophath said.
Bei commune police chief Ouk Phanareth and Bei commune chief Kann Loeurng both said the compound belonged to An, but denied further knowledge.
Police have previously told media that An was the owner of a Poipet casino building that caught fire in 2019; photos of the refurbished building have been circulating Thai social media, with warnings to avoid this building because of scam companies inside. One Thai national sent VOD a photo of the building late last year, saying he was sold to a scam company working inside the building.
Zhang said he eventually got in touch with a Chinese entrepreneur-run rescue team, texting them daily until early November, when Cambodian military police came into the Sihanoukville "Crown" compound and brought Zhang out.
*Names have been changed to protect sources.
Additional reporting by Michael Dickison