Tens of thousands of garment workers, who are facing slashed work hours and wages amid the global pandemic and economic downturn, will struggle to repay mounting microfinance debt, a new civil society report says.
The majority of more than 100 surveyed microloan-holding union workers said they were already eating less food or had taken another loan to repay their debts, according to the report released on Tuesday by labor rights group Central, human rights organization Licadho and the Cambodian Alliance of Trade Unions (CATU).
The vast majority of surveyed workers, all CATU members from three garment factories located in Phnom Penh and Kampong Chhang province who were questioned between March and May, said they would not be able to repay debts if their factory suspended operations and that "their livelihoods were much worse or slightly worse after taking a loan," the report says.
Among the 158 loan holders polled, the most common reason for taking on debt of any kind was to repay another loan. More than half of the workers said they had borrowed from microfinance institutions (MFIs), while a quarter took loans from relatives, a fifth borrowed from private lenders and just 4 percent borrowed from banks.
Of the 106 microloan-holding workers surveyed, 16 had sold land in order to repay their microloan, while 32 others said they planned to sell land in the future. Nearly 80 percent of all microloans were collateralized by land titles, a common financial practice which the civil society groups have said puts borrowers at risk of losing their land and livelihoods as well as potentially leads to other human rights abuses, including human trafficking and child labor.
The groups again called on MFIs to stop requiring land titles as collateral and for the government to require MFIs to return millions of land titles currently held by lenders to their owners.
Before the Covid-19 pandemic, the average worker was already spending more than they could earn in one month on food, rent, household expenses and loan payments, the report says. Now, surveyed workers were earning less than $100 per month on average — less than a quarter of their average monthly household expenses — after dozens of garment factories have suspended operations during the pandemic.
"Garment workers have worked tirelessly to provide food for their families," CATU president Yang Sophorn said in a statement. "Now they can barely afford to feed themselves. Without debt relief or social protections, I'm worried that things are going to get worse and worse for these workers."
Dork Savan, a worker at Yi Da Manufacturer Co. Ltd. in Kandal province, said she holds about $17,000 in microloans from an MFI and bank, which she took to build a house.
The loan payments have become a major obstacle after her job was suspended, and she has only received $30 suspension pay per month from the factory.
The lenders allowed her to pay only the interest, which reduced her monthly payment from $400 to $155, but she said she still can't afford to repay the loans.
"I still have difficulties," she told VOD. "Especially this month, I cannot pay the bank, even the interest rate. I told the bank already that I won't have any ability to repay unless I return back to work."
Dork said the lenders have the right to put her house up for auction if she fails to make her payments, and she suspects she might be forced to do so without any government intervention.
"So the only thing [I can do] is be forced to sell the house to repay the bank, but I ask, then where can my children live?" she said. "This is the problem."
More than 2.6 million Cambodians held more than $10 billion in microloans at the end of last year, with an average microloan of $3,804 — "by far the highest average microloan size in the world," the report says.
Garment workers held about 1 in 5 microfinance loans in the country as of the end of last year, according to the Cambodia Microfinance Association (CMA).
This year, some 250 Cambodian factories producing apparel, footwear and travel goods have totally suspended operations, with more operating at reduced capacity, according to a letter from industry groups from early June.
More than 130,000 workers in the sector have lost their jobs as European and North American buyers have canceled current orders or failed to place new ones due to declining consumer demand. The business groups estimate that export sales will fall by about half in the second quarter of 2020 compared to last year.
Last week, the Garment Manufacturers Association in Cambodia wrote a letter to the Labor Ministry asking to postpone minimum wage negotiations for next year due to the pandemic and ensuing economic crisis.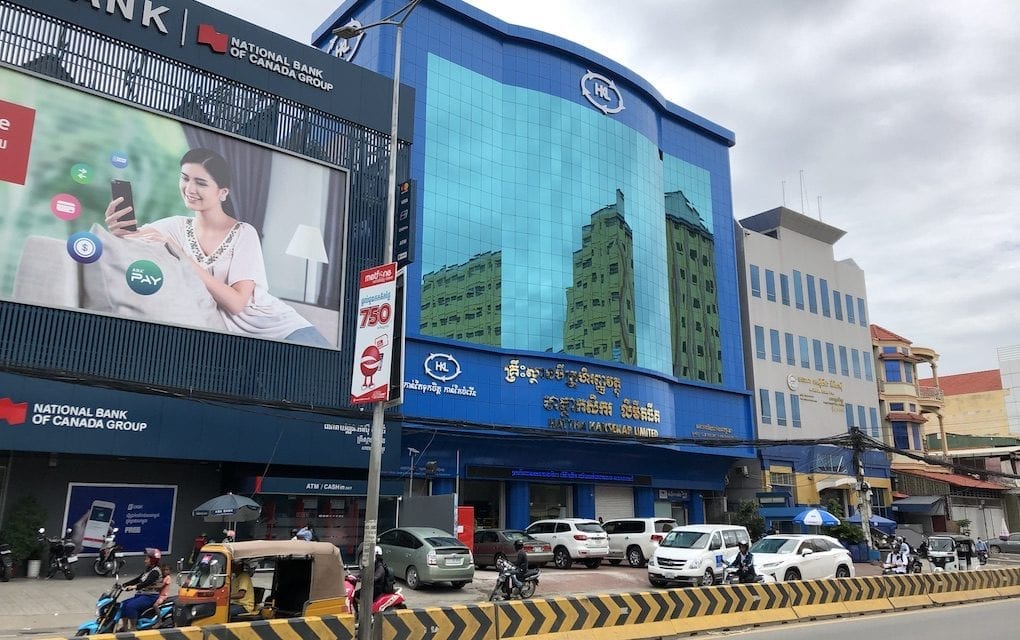 CMA spokesman Kaing Tongngy acknowledged that borrowers are under higher pressure due to the economic impacts of Covid-19 and said that the microfinance sector had responded by reviewing borrowers' requests to restructure loans.
As of the third week of June, more than 220,000 borrowers have asked for loan restructuring, with some asking for loan payment suspensions for three to six months and others asking to only pay interest, Tongngy said.
As of May 10, CMA reported that more than 137,000 people had asked member institutions for loan restructuring and over 118,000 clients had their requests granted.
In March, the National Bank of Cambodia urged banks and MFIs to consider restructuring loans and deferring payments in order to aid borrowers affected by the economic downturn.
CMA has said its members are providing assistance on a case-by-case basis, but the report's authors argue that financial institutions should suspend all repayments for at least three months and stop using land titles as collateral.
"These actions have secured important relief for those borrowers, but there are hundreds of thousands of borrowers, including many garment workers, who will never submit formal complaints due to a lack of access, awareness, and/or knowledge about the process," the report says.
When asked about concerns over loan officers pressuring borrowers to pay back loans — which rights groups have said have included coerced land sales and pressuring clients to take additional loans from private lenders — Tongngy said MFIs had to use land titles as collateral on microloans, but credit officers are barred from compelling workers to sell their land.
"In the microfinance sector, if a credit officer did that, he or she would be breaking the code of ethics. That employee would face being fired from their job or other fines from their institutions," he said, noting workers can call CMA's hotline to report unfair practices by a loan officer.
"Our staff will look into their cases and in some cases, we will intervene," Tongngy added.
Speaking to VOD ahead of the report's release on Monday, government spokesman Phay Siphan said the civil society organizations did not understand the banking system and were encouraging borrowers to drop their responsibilities. He argued that Cambodia operates in a free market system, and the government could not interfere in private credit transactions beyond recommending that the industry offer flexible compromises.
"No party can force others to break the terms of a contract," Siphan said. "Even the prime minister has no right to break or dissolve a contract between a lender and creditor."
The report's authors also called on international investors and foreign development agencies that fund microfinance institutions to establish debt relief programs and investigate human rights abuses resulting from microfinance debt.
"What Cambodian borrowers need right now is debt relief, not millions of dollars in financing for profitable, foreign-owned MFIs to expand their loan portfolios," the report says.
It highlighted funders including USAID, Australia's Department of Foreign Affairs and Trade, and the U.N., which put up a $12 million "Women's Livelihood Bond" to support loans to women in Southeast Asia, with about $6 million earmarked for Cambodian MFIs. A subsidiary of German state development bank KfW also announced an $18 million loan to Hattha Kaksekar Limited (HKL) in March, according to the report.
On Friday, the World Bank's International Finance Corporation (IFC) approved loans of up to $50 million to Amret and $25 million to HKL, two of the nation's largest MFIs.
Emily Zeeberg, a spokeswoman for the U.S. Embassy in Phnom Penh, told VOD on Tuesday that USAID and its lending partners had "restructured their agreements to focus on leasing agricultural machinery equipment, which does not require land titles for securing loans."
"We hope this initiative will encourage other financial institutions to look at alternative loan products that will lower or change collateral requirements," she said in an email.
IFC and KfW did not respond to emailed requests for comment as of Tuesday evening.
Additional reporting by Danielle Keeton-Olsen