Women have been at the frontlines of recent Cambodian demonstrations — whether labor, environmental or political — clashing daily with authorities over the NagaWorld casino's alleged union-busting or protesting weekly for the release of their jailed politician husbands. Their entry into activism came about from seeing what they believed was injustice around them, four women told VOD, as they described the stresses and pride they've found in advocacy.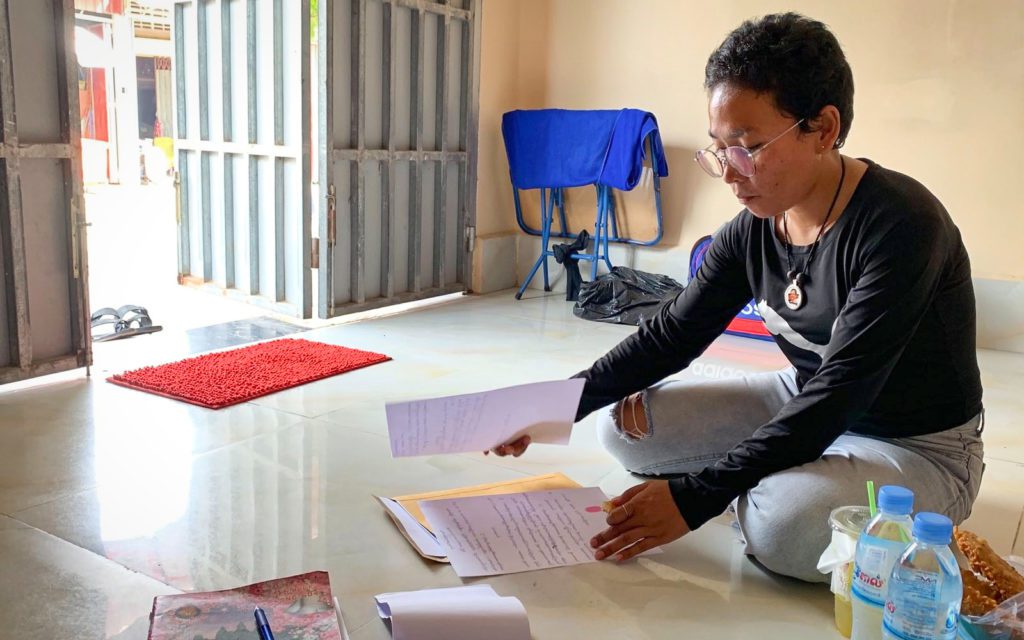 So Metta: 'I Don't Give Up'
So Metta was riding through the Choam Chao roundabout last month when another motorbike hit her from behind. She was thrown to the ground, her head hitting the pavement.
The man who hit her laughed and sped away, she said.
Metta couldn't help but suspect that it was intentional. It is part of the pressure she has felt as an activist and determined protester: She feels she is always under threat.
Metta was born Eng Malai in 1987 in Kampong Cham, where she dropped out of school in fifth grade to help with the family's finances after her mother died. She worked as a farm laborer, dishwasher and other jobs for a decade, before finding work as a restaurant cook. Her father drank alcohol, and the family was poor, Metta said.
She said she felt discrimination from other residents related to her family's low social status. Eventually, she changed her name to So Metta, a Pali Buddhist word for loving-kindness. She didn't want to deal with insults anymore, and wanted to do good in the world, she said.
Metta said a few events attracted her toward activism. One was the mass public protests of 2013, when supporters of the opposition CNRP alleged election irregularities, though she was too busy with work to attend them herself, she said.
Another was the murder of political analyst Kem Ley in Phnom Penh in 2016, which caused an outpouring of public support at his funeral march. She had often listened to him on the radio, and after his death she felt more inspired to want to address issues in society, she said.
Her first protest activity was in early 2019 with environmental group Mother Nature — whom she had reached out to on Facebook — when she joined them in a blessing ceremony to try to protect an old tree marked for removal due to road construction in Sihanoukville.
"I felt happy," Metta said. "I could fulfill my role as a citizen to protect trees."
Later, she joined a protest for the release of environmentalist Ouch Leng, who was in jail in Kratie province after patrolling Prey Lang Wildlife Sanctuary in 2020. She held up banners outside the provincial prison and at the local market. There were many police officers watching them, and she felt more afraid that time, she recalled.
She soon joined activist group Khmer Thavrak, and campaigned for the suspension of MFI interest payments during Covid-19, and commemorated the death of Ley in July 2020. The group demonstrated for the release of jailed unionist Rong Chhun until she was arrested September 7, 2020 for incitement.
She nevertheless remained undeterred, she said. She protested in prison about inmates being required to pay for water and electricity. She alleged that other prisoners beat her in prison, spurred on by guards.
"I do not give up when they attack us with insults," Metta said. "If we are soft, fearful and feel threatened, their strategy will win."
Metta said that what makes her strong is that when authorities persecute her, she becomes more determined. She wants to protect her rights and the freedoms of others, and show that the authorities are doing something wrong, she said.
Metta added that outside of her activism, she likes to cook and read law and history books. Women and men both participate in protests, but women are more likely to be able to oppose physical harassment, she said.
Metta was released under court supervision late last year, and she has continued to join protests. She has again clashed with authorities, including last Tuesday, which has made last week's traffic incident seem ominous, she said.
"Attempts to persecute on the streets are a tactic that is often used to stop activists," she said. "It hurts to see Cambodians killing each other and there is no development of the country."
Phuon Keoreaksmey: 'My Mother Cried Because I Had Promised to Stop'
Phuon Keoreaksmey says the reason she joined the Mother Nature environmentalist group was not the environment — it was seeing authorities committing what she thought were "unjust" actions against activists.
Keoreaksmey, born in 2001 in Svay Rieng's Bavet city, moved to Phnom Penh in 2017. She is the youngest of four children and is studying Information Technology at a university in Phnom Penh.
She had job offers from a bank and an internet provider, but decided in April 2020 that she would instead join Mother Nature, becoming the group's youngest member, after she saw the arrests of its activists, she said.
Three environmentalists were arrested while filming a video in Phnom Penh publicly calling on the Environment Ministry to disclose what had happened to ivory and bones of tigers and rhinoceroses confiscated from trafficking between 2013 and 2018.
She watched their video and felt it was "the most unjust thing" that authorities had arrested the nature-loving youths, she said.
"The reason I became an activist was not because I loved nature, but because I saw the injustice to environmental activists."
She met a Mother Nature member when they were invited to a Cambodian Youth Network event, and her first action for the environmental group was participating in a two-minute video about dust on National Road 3.
As the group was under pressure at the time, she wore a mask in the video, and did not face any problems.
But the next time, she joined a cycling campaign about protecting Koh Kong Krao island, and the group was blocked by authorities.
Later in 2020, she was arrested alongside two other Mother Nature members while raising awareness about the sandfilling of Phnom Penh's Boeng Tamok lake. In prison, she read books and wove scarves to reduce stress.
Since her release under court supervision, Keoreaksmey has continued to file petitions about garbage problems in Phnom Penh, wastewater in Siem Reap and the war in Ukraine, and commemorating the death of environmentalist Chut Wutty.
Keoreaksmey's father is a police officer, and he has frequently complained about her activities, she said. Her mother, too, was disappointed when she went to campaign for Koh Kong Krao on her birthday.
"My mother was waiting for me to celebrate my birthday while waiting to see me live on Facebook, and my mother cried because I had promised to stop working with Mother Nature. But I will continue."
Keoreaksmey said her parents had not stopped her: They understood what she was trying to do was the right thing, despite outside pressures.
She added that it was only through working with Mother Nature that she began to appreciate the environment.
"After the campaign, I came to love nature more and more, and understood that if other young people and I get more involved, a solution will be possible," she said.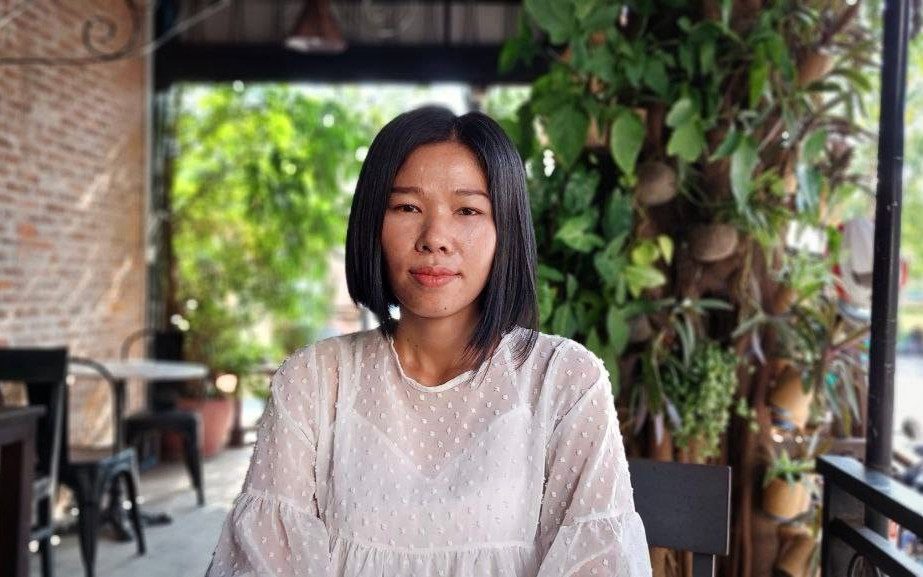 Mam Sovathin: 'I Have Only Willpower These Days'
Mam Sovathin's 4-year-old daughter has been watching her livestreams of near-daily clashes with police while protesting mass layoffs at NagaWorld.
The daughter lives in Takeo with Sovathin's mother, and they both plead with her to stop, Sovathin said.
"My mom cried when the authorities tormented me. … She is old and she doesn't feel well when someone hurts her own daughter," she said. "My daughter told me, 'Mom, please stop doing the livestreams. If you continue, police will keep fighting you. I hate the police — why do they keep hitting you?'"
Sovathin, 34, is a single mother who started working at Phnom Penh casino NagaWorld in 2016 after hearing she could receive a relatively high salary.
But she was not happy with the treatment of workers, and joined the union, she said. One friend and co-worker was suddenly fired at midnight after a mistake in exchanging money with a customer, she said. She felt the firing was unreasonable. "At the time the problem was resolved with the customer, but the company still kicked her out. I saw it in front of my face. I didn't expect this could happen for that reason."
Sovathin was one of more than 1,300 workers targeted for layoffs last year amid a Covid-19 slump, but she is contesting her termination and has been demonstrating almost every day since December.
"This strike is getting longer and longer. My physical energy is gone. I have only willpower these days," she said.
She recalled New Year's Eve, when the protesters were first surrounded by a large force of armed officers, and the unionists huddled together to try to prevent the arrest of their leaders. She was scared but proud of the workers' unity, she said.
For four months, she has clashed with authorities almost every day, getting encircled by armed officers and bused away from the casino to the outskirts of the city. Her life feels ridiculous at times, she said.
Her daily routine doesn't involve much more than making food, doing chores and waiting for the time to go protest.
"I'm the one who livestreams. I always get a hard push to the bus. Every time I pass by the strike area, I feel afraid from inside my body," Sovathin said. "When I'm walking they try to take my arm. And I've told them, please don't use violence. And he replied, 'I'm not using violence. But you don't stop.'"
She has struggled with her livelihood since the protests, allowing some fellow strikers to stay with her in her rented room and selling paper flowers, especially on Valentine's Day. "It helps me continue to breathe," she said.
She has come to feel hopeless about any institution caring enough to help them, but she has no plans to stop.
"It has been a difficult experience for these few months. But I need to resist even if the hope is only 1 percent," Sovathin said. "I think if Naga can dissolve this union successfully, I'm not sure about the future of Cambodia."
"I've realized about who is involved with corporations — even traffic police and public buses. The process from the top to the bottom is tied up. That opened my eyes that this is my real society."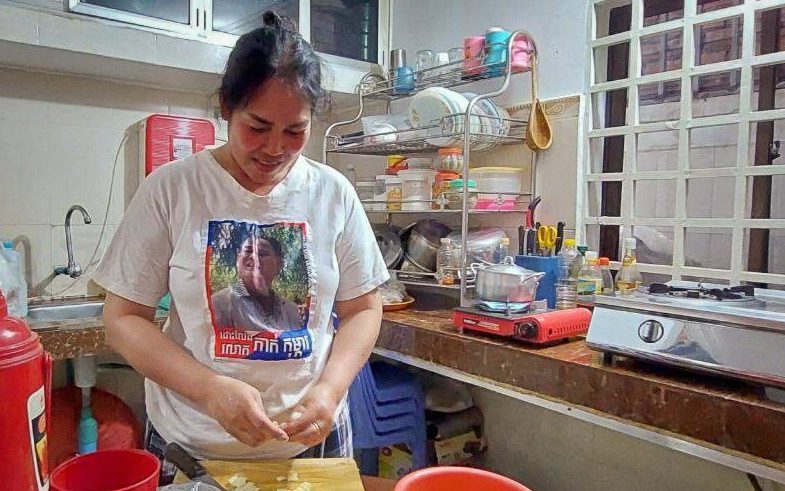 Prum Chantha: 'Authorities Follow Us Home All the Time'
Prum Chantha says she has faced all sorts of violence at protests: dragged by her arms and legs, shoved to the ground, shouted at and abused.
Chantha's Friday Women is a small group of about 20 ardent protesters, many of them calling for the release of their politician husbands. For a time they gathered weekly outside the Phnom Penh Municipal Court, though recently their actions have become more varied, notably by visiting myriad foreign embassies to file petitions about Cambodian politics.
"In front of the court, the authorities dragged me and lifted me and dropped me on the sidewalk," she said. "My knees bled sometimes."
Chantha began protesting on June 19, 2020 after her husband, CNRP activist Kak Komphear, was arrested for incitement. She didn't realize the next two years would be so turbulent, she said.
"My very first time I was scared. But the more I go out to protest, it hurts more and more but I don't feel scared inside. It makes me think this is a kind of challenge," she said.
Chantha said she was only a housewife, cooking for her children and taking care of the home. Most of her fellow Friday Women protesters were the same, she said, adding that they struggled with their breadwinner husbands in jail.
Her teenage son has also been outspoken — and both jailed and assaulted on the street as a result. Last year, her husband and son were in jail, and her mother died. She would look around and be dismayed by her life falling apart.
"I cried almost everyday. The hardest time for me was when my child was arrested. Sometimes I cried until I fell asleep," she said. "I saw other families being happy together. And I hope that someday I will have that kind of happiness again."
But she was proud of not staying silent, she said. "The authorities follow us home all the time. I don't feel scared anymore. I'm used to that fright."