When So Metta began joining protests with the youth activists calling themselves Khmer Thavrak, she thought of a quote from slain political analyst Kem Ley, who said that those who do social work in Cambodia will be given a "visa" from officials to one of three destinations: fleeing the country, jail or death.
"Before joining, I was determined, because in all of this work we have to face [the consequences]," she told VOD at a coffee shop about 15 km outside the city center on Thursday morning. "If we do not go to prison, we will die or have to flee the country."
Kem Ley's words ring especially true now that she joined three of the group's members in state custody on Monday evening, arrested after participating in a 50-person protest for the release of other jailed activists and dissidents.
Behind the small yet persistent protests, mostly held outside the Phnom Penh Municipal Court, a network of youth activist groups has been growing, and authorities have made significant efforts to stifle their protests.
VOD spoke to Metta about the Khmer Thavrak movement on Thursday. As reporters tried to contact her on Monday about the ongoing arrests of activists, her phone dropped calls as if it was disconnected.
Phnom Penh Municipal Police spokesperson San Sokseyha confirmed on Tuesday that Metta had been arrested the day before around 6 p.m. Metta's colleague said she had been arrested after seeking refuge at the U.N.'s human rights office because police officers had been following her.
National Police spokesperson Chhay Kim Khoeun also confirmed Metta's arrest, but he deferred on the location of the action.
"Just know that she was arrested. Don't ask me where," Kim Khoeun said on Tuesday.
Metta took up activism under a pseudonym to protect her identity, but has recently also used her real name, Eng Malai, in Facebook posts organizing protests.
Two core members of Khmer Thavrak, Hun Vannak and Chhoeun Daravy, have been detained on incitement charges since August 13, when police raided her and her colleagues' Pur Senchey district rented house. Another Khmer Thavrak member, Tha Lavy, was arrested at a protest on Monday, as the Interior Ministry declared the group's activities "illegal."
Metta said it was becoming increasingly difficult to organize movements, but she was mentally prepared for backlash from authorities.
"We are ready with both heart and physical [body], and we are not afraid, even a little," she said. "They threaten us even more, mistreat us even more, but I am encouraged even more. We're even more inspired and want to move forward."
Joining Together
Khmer Thavrak started from a core group of about 30 activists in January, Metta explained, with small groups of four or five people sporadically joining over the past nine months. She too joined that way: Metta worked as a chef at a Kratie restaurant, and later at a Chinese restaurant in Phnom Penh, but she was always following social issues on the news.
When environmental activist Ouch Leng was arrested and detained at the Kratie Provincial Court in March, she joined the three-day protest in front of the court, connecting with members of Khmer Thavrak. She started taking more days off from work at the Chinese restaurant to join campaigns, and then committed to activism full-time after the owner of her restaurant closed shop and returned to China due to a lack of tourists amid Covid-19.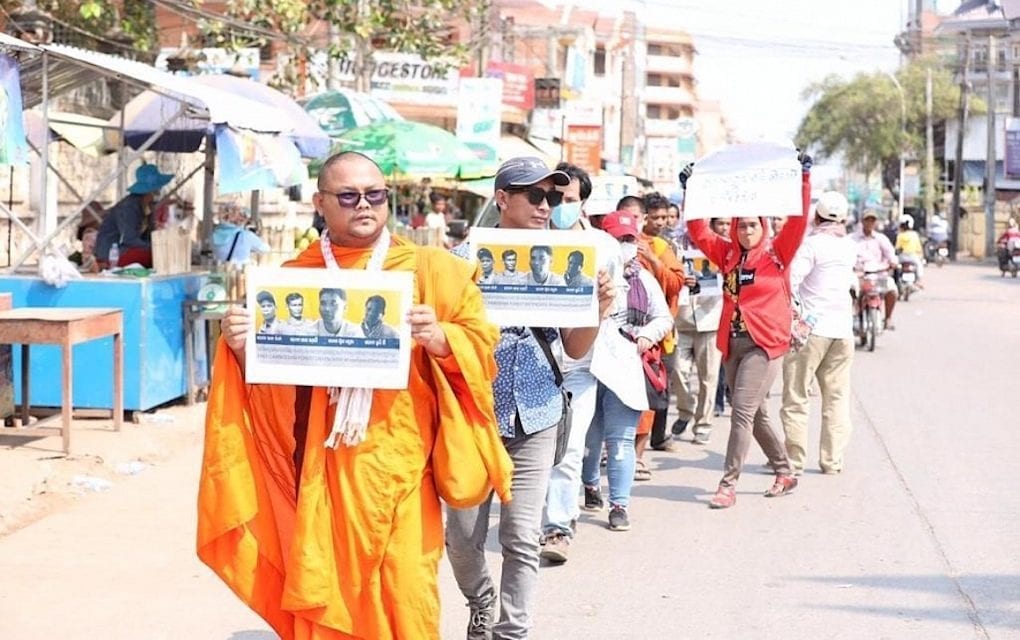 "[I] just followed outstanding people like them, as I had felt an urge to participate in social [work] since we have seen a lot of issues in the context of our society," she said. "I am a member of the youth, and I want to participate in improving our society."
She estimated the group has more than 200 members across the country's provinces, coming together with a desire to see Cambodians, especially young people, engage in political issues, love the nation and practice solidarity.
Two of the founding members, Vannak and Daravy, began their activism long before, working as prominent activists in environmental group Mother Nature, which was also targeted by authorities this month. Metta said the two left the environmental group in order to focus on a broader range of issues outside Mother Nature's scope, including Cambodia's border with Vietnam and land rights.
Before the group naturally rallied around its detained members in late August and this month, Thavrak organized protests demanding the release of unionist Rong Chhun, arrested after raising questions and concerns about border posts in Tbong Khmum province.
Metta said that Cambodia's border had been part of the group's focus from the outset, as well as authorities' attempts to suppress speech on the subject.
"We are worried about losing territory," she said. "Our main focus is our territory, and, in part, we have seen people's rights to expression in our society getting smaller and smaller. … So when we looked at these two or three points, we decided that we should combine, and we created a group. We work on these together."
Before Chhun's arrest, the group rallied against microfinance institutions for trapping low-income Cambodians into debt during the pandemic, holding a protest in front of MFIs in Battambang in May. In June, monks involved in the group held silent demonstrations in Battambang province and created a campaign video advocating for Buddhist devotees to participate in social affairs without retribution, shortly after Siem Reap's Buddhist authorities investigated and ordered the defrocking of internationally-recognized activist Luon Sovath for alleged promiscuity.
Khmer Thavrak again confronted authorities during memorials for slain political analyst Kem Ley, stopped both from holding protests at the gas station where Kem Ley was shot and from marching to his hometown in Takeo province.
Ongoing Defiance
After the arrests of Daravy and Vannak, Metta told VOD on Thursday that the group was exercising more caution with its communications, but they were not changing plans over the arrests.
Metta said they had made two requests to Phnom Penh authorities in order to hold an eight-day protest at the capital's Freedom Park, both of which were denied. A VOD reporter saw Metta at Monday's protest before her arrest was reported later that evening.
Sok Rotha, a member of the Khmer Student Intelligent League Association (KSILA), said his organization had started working with Khmer Thavrak after both groups went to the Caltex gas station where Kem Ley was killed for his memorial in July.
KSILA, an advocacy group formed in 2014 that focuses on border issues, saw that the two groups had aligned on the beliefs that injustices were happening around border negotiations, and they started collaborating on future protests, including Monday's demonstration.
Two members of the group, Venerable Koet Saray and Mean Prum Mony, were arrested over the weekend. According to rights group Licadho, the two were arrested at the offices of Khmer Thavrak.
Even as Khmer Thavrak has grown, the group works as a collective, organizing events and making policies together, Metta insisted.
"In my group, no one is the leader and no one is the subordinate," she said. "All are leaders and we taught ourselves to be leaders. … We are all leaders."
One of the group's internal policies is to not admit to any wrongdoing unless they had committed a crime, she said — therefore discouraging any of their members to sign confessions from police officers to give up their work.
That determination extends to their activists facing prison time. According to Metta, authorities offered Daravy and Vannak their release if Vannak signed a document promising to stop all political activities and to no longer provide information to the media. Vannak refused, and Metta claimed that if pressured, other Khmer Thavrak members also would refuse to sign confessions.
"If the authorities block our team's activity, we will uphold our demands until both of our people are released, plus the others who are arrested too," she said on Thursday.
As of publication on Tuesday, she remained in police custody.
Additional reporting by Ouch Sony