A treason trial against former opposition leader Kem Sokha is set to resume on Wednesday.
Sokha's main opposition CNRP had made electoral gains against the ruling CPP before his arrest in September 2017, when he was accused of working with the U.S. to topple the government. The party was outlawed two months later.
Through 14 previous hearings — from January 2020 until Covid-19 hit two months later — the trial has debated Sokha's sources of funding and whether his political activities were democratic or treasonous. Sokha faces up to 30 years in prison if found guilty.
Sokha was asked about his activities from 1993 to 2007, including in the last five years of that period when he temporarily left politics to found the Cambodian Center for Human Rights, according to a defense lawyer.
The morning hearing focused on the main evidence put forward against Sokha: a video recording of a 2013 speech in Australia, defense lawyers later said.
According to a government transcript, Sokha says in the video that he has been supported by the U.S. since he entered politics in 1993 and was recently advised to pursue grassroots support in the model of the 2000 overthrow of Yugoslavian dictator Slobodan Milosevic.
Meanwhile, government lawyer Ky Tech asked the court to use Khmer characters instead of countries' full names to ensure "good relations."
Tech said the nations involved in the case were: Indonesia, Yugoslavia, Serbia, Australia, the U.S., Canada, Taiwan and India, as well as the E.U.
Journalists and human rights monitors were barred from attending, ostensibly due to lack of space and equipment, and foreign embassy officials took most of the seats available. Court access was eventually granted in later hearings.
Sokha was again questioned about the sources of CCHR's funding, and argued that receiving support from U.S. donors USAID and democracy-building organization the International Republican Institute was legitimate, according to defense lawyers.
"To charge with conspiracy with a foreign power we [must] have secret documents, contracts or agreements," defense lawyer Meng Sopheary said.
VOD was founded as part of CCHR in 2003, though it was later split off. One of CCHR's co-founders, Pa Nguon Teang, remains a director-in-exile for VOD's parent organization, the Cambodian Center for Independent Media.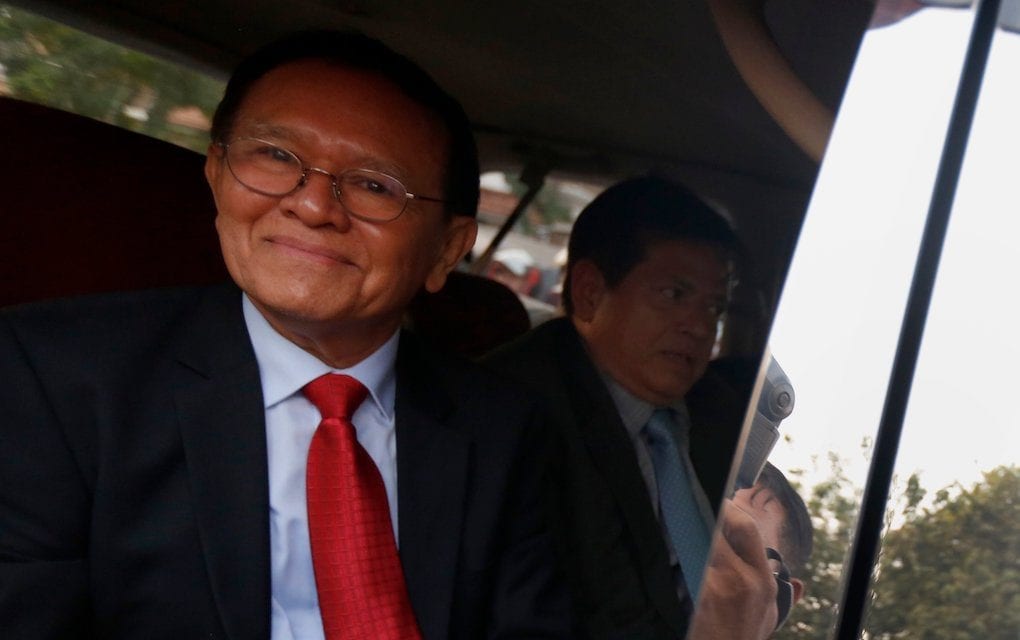 Defense lawyers argued that the full, hourlong video of Sokha's speech in Australia should be shown in court, not just a two-minute clip.
Government lawyer Tech said that this turned out to be a boost to his case. There were only two phrases omitted in the two-minute version, he said, "dictatorship" and "dictatorship in Cambodia."
"Losing these two words, it will not make any change. There is nothing changed in the content," Tech said. "Actually, adding this evidence even makes me feel stronger and even believe more in this case."
"In short, Kem Sokha cannot be free."
Sokha defended his visits to the U.S., saying they were for professional development.
"U.S. professors did not teach me to have a coup d'etat, did not teach me about color revolution," Sokha said. "They taught me about human rights and democracy."
Sokha objected to the repeated questioning of his past activities, telling the court that he could not remember the details.
"Do you remember what activities you conducted?" a judge asked.
Seated with a medical mask on for most of the morning hearing, Sokha answered that he could not provide the court with particulars.
"I do not remember because many years have passed," he said. "If you keep asking the same things, judges please call and question America."
Government lawyers argued that Sokha's reported expenses for his former party, the Human Rights Party, fell below plausible costs.
"The figure he reported to the Ministry of Interior and the scope of work he said does not match up with each other, even a little," Tech said, but did not elaborate on what the scope of work was that supposedly went beyond the reported expenses.
The court heard that the HRP had reported expenses of about $100,000 in 2012, according to Voice of America.
Another video was shown in court: this time from a speech Sokha gave at a CNRP fundraising event on November 30, 2013 in Long Beach, California.
"I also personally have been supported by the U.S. government to train in democratic practices for five years," Sokha tells an audience. "As a result, what we have gained so far, it makes Cambodian people stand up."
Sokha was speaking four months after Cambodia's July 2013 national elections, which saw the ruling CPP claim 68 parliamentary seats over the CNRP's 55.
In the courtroom, government lawyer Ly Chantola asked Sokha about the meaning of the phrase "stand up."
Sokha replied, "'Stand up' here means people understand about democracy and human rights."
In court, lawyers argued over the admissibility of the government's evidence of photos taken from an anonymous Facebook account critical of the CNRP.
Before he left his house in Toul Kork district that morning, Sokha told reporters he remained hopeful he would be able to participate in the next commune and national elections.
"The current government leaders don't want to walk away from the international community," Sokha said. "We have clearly seen that [Hun Sen] attends international meetings, and he is always present and always keeps contact."
The E.U. was set to announce EBA trade sanctions the following week.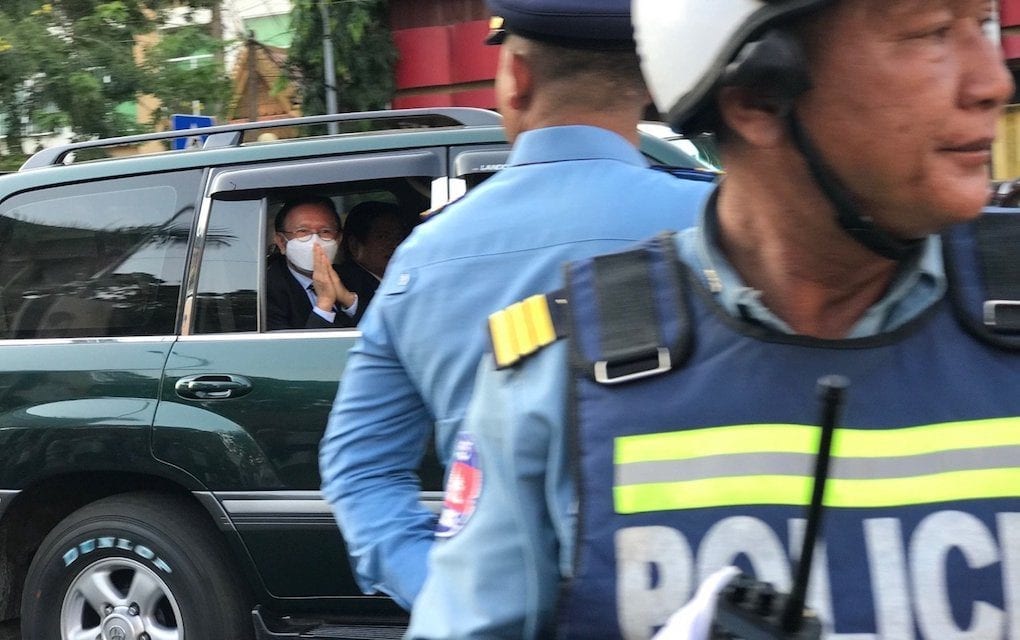 Debate continued over the value of using evidence from the anonymous Facebook page Koun Khmer.
Presiding judge Koy Sao said just 10 percent of the trial's total evidence came from the page, and that penal judges would discuss the evidence's value.
Sokha's lawyers walked out of his trial hearing before it finished. The lawyers had raised concerns over a document because they did not see a seal in the top right corner, indicating that the document had been officially introduced as evidence in the court.
Amid heated debate, defense lawyer Ang Udom tried to make another comment but presiding judge Sao stopped him.
"Mr. Udom, sit down. You are the one who causes a lot of trouble," he said. Sao then banged his gavel on the podium. Defense lawyer Sopheary asked to leave.
"I'm asking to leave now because you don't listen to the few words from me," she said.
Government attorney Chantola asked Sokha about a 2010 meeting with former U.S. politician and presidential candidate Hillary Clinton. The lawyer cited an article in which Sokha, then-head of the Human Rights Party, said Clinton had urged his party to merge with the Sam Rainsy Party.
"Based on her experience, she said that to beat the ruling party the opposition parties should unite," Sokha is quoted as saying.
But in court, Sokha said he didn't recall meeting with the former U.S. first lady and presidential candidate. "As I remember, I had never met her," he said.
Presiding judge Sao addressed a request from defense lawyer Udom to call foreign nationals who are accused of conspiring with Sokha to the court for questioning.
Sao told Udom to stop making the request, stating that the court was prevented from calling foreigners under Articles 27 to 32 of the 1961 Vienna Convention on Diplomatic Relations.
Questioning continued on Sokha's alliance with Sam Rainsy, whom judge Seng Leang referred to every time as "the convict."
Describing one of Rainsy's speeches in which he suggested Cambodian armed forces turn their guns against the government, Leang questioned why Sokha would cooperate with Rainsy.
"Two party leaders, one with a violent stance and another with a nonviolent stance. How can you work together?" Leang asked.
Sokha was asked about the CNRP's interest in reforming the National Election Committee before the 2013 election and whether the party received support from international organizations. Sokha said both the CNRP and ruling CPP received election-related training from U.S.-funded democracy-building organizations the National Democratic Institute and International Republican Institute.
Compiled by Michael Dickison