Millions traveled around the country this New Year holiday as provincial officials and hospitality workers spoke of being surprised by larger-than-expected crowds returning for the first time in three years.
Official Tourism Ministry statistics recorded 5.2 million local and foreign tourists just from Wednesday through Saturday. Battambang had the highest visitor count at over 653,000, trailed by Kampong Cham's 541,000 and Siem Reap's 455,000.
At the Grand Bayon Siem Reap Hotel, receptionist Srey Leav said the hotel was flooded by guests — to the point that the electrical system was pressured in a way it hadn't been since Covid-19.
"There were so many guests," Leav said, adding that most visitors had been from Phnom Penh. "There seemed to be a disturbance to some electronic devices."
The city prepared major Sangkran celebrations to be held over five days, including concerts, dance performances, boat rides and markets. On the city's streets, residents and visitors were seen spraying water at each other amid the festivities.
Meng Kunthy, whose family owns the Bayon Modern Residence hotel, said the holiday period was the busiest since Covid-19 crippled the industry.
"I'm very happy," Kunthy said. "Super excited to see a lot of tourists."
The number of guests still weren't back to pre-pandemic levels, "but at least it's about 70% of it," she said.
"I wasn't able to go out and celebrate Khmer New Year myself because I was busy working at the hotel. I happily missed out on celebrating the New Year."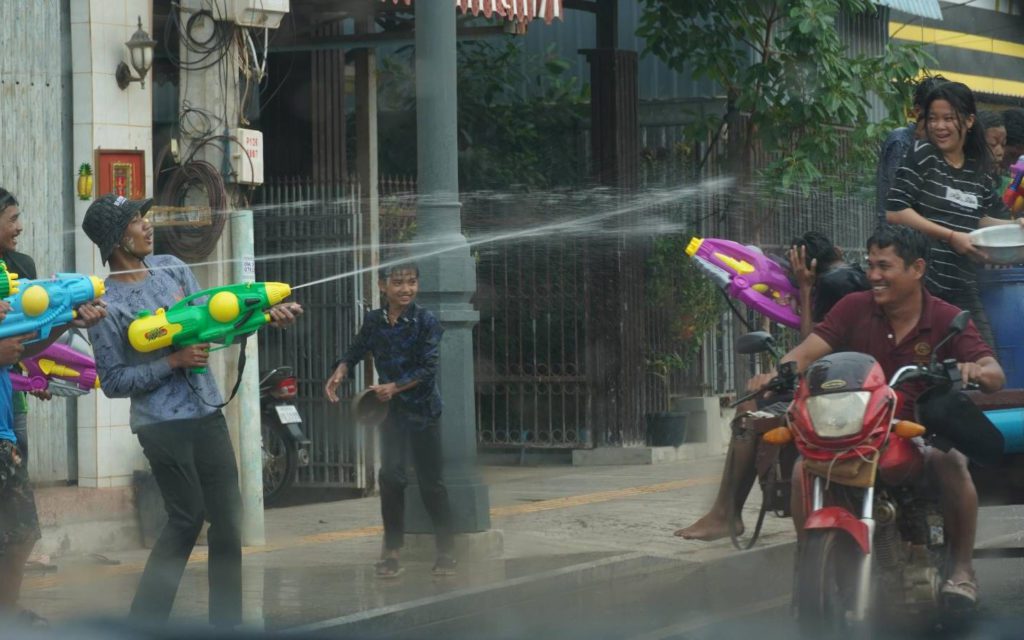 In Kampong Cham, tourism department deputy Sam Phalla said people had rushed back following the quiet of the past two pandemic years.
"We were very surprised to see the huge number of tourists who came to visit our Kampong Cham province on Khmer New Year than we could imagine," Phalla said, noting that Kampong Cham was not a major tourist destination compared to some other provinces.
Nevertheless, pagodas across the province had organized traditional games — sack jumping, clay-pot pinata, dances, monkey games — and people gathered both in their villages and the provincial capital.
"All the people celebrated in their own villages and districts in the morning, but later in the afternoon everyone came to the center of town to celebrate together," she said. A large stage was set up just outside the provincial hall.
After a water-blessing ceremony for buddha statues, masses of people broke into splashing water with each other, she said.
"I'm very happy and fully support the decision to have held Sangkran, as we missed celebrating it the past two years due to the Covid pandemic," Phalla said. "People couldn't go anywhere freely or do anything [before], so now people could go out and have fun."
Battambang deputy governor Soeum Bunrithy said his province also had a range of celebrations, from concerts and arts to fireworks. Photos posted online by the administration show large crowds getting sprayed by water in front of makeshift stages.
National Police, however, also announced that 27 people had died on the roads April 14-16, alongside 80 people injured, though it did not say how this compared to the average number of holiday accidents.
Tourism Minister Thong Khon said the number of tourists was more than expected. "Based on surveys and observations, it's not that the tourists are no longer afraid of getting Covid-19, but they are very happy to get out and enjoy the Khmer New Year, which was missed," Khon said.