Nearly 100 families living near Takhmao city are facing eviction as authorities pledge to restore the heavily-polluted river running next to their homes in a project linked to a real estate company with connections to the prime minister's family.
Say Sorphea, the chairman of the board of directors for company Active Properties — who is also the wife of tycoon and notorious general Phoeun Phalla — confirmed Friday that her company is involved in the widening and restoration of Prek Tnaut river along with the ministries of public works and land management. They say the effort will prevent flooding in Phnom Penh. A former company chairperson is the wife of the prime minister's son Hun Manet.
But as residents brace for eviction, Sorphea could not say when the project was expected to start or finish, and referred further VOD inquiries to another manager who could not immediately be reached. "Our workers are restoring the streams in these areas," she said. "We were asked to finish it as soon as possible."
About four months ago, 96 of the families living alongside Prek Tnaut river in Stoeng Chrov village were called to a meeting with district officials and told that a river widening and cleaning project was in the works. But rather than reaping the benefits, existing villagers — most of whom settled here after the Khmer Rouge and don't have hard land titles — will be evicted.
Past where the paved road ends and ramshackle homes become more tightly-packed along the riverbank, Prek Sopheap, 55, has lived for two decades raising her seven children and farming rice on the land hugging the water. She sat with her legs dangling off the front porch as she recalled the district meeting, where she was so angry she found herself wanting to shout.
Surrounded by stilted houses, piles of garbage and small plots of farmland, the Prek Tnaut river connects to the larger Bassac river, with most families farming on rented land or selling small trinkets to survive.
"I know it's part of development, but I'm wondering why they only care about the Phnom Penh residents," Sopheap said.
"What about us? Where will we go after this?"
The river has been polluted for years, but this rainy season, chemical and sewage pollution has gotten so bad that residents say they can hardly sleep at night from the smell and deal with daily dizziness and nausea. For Sopheap, relocating elsewhere would be worse: She's in debt about $3,000 to the bank. "It would be difficult for me to start over again. I don't have enough capital," she said.
Villagers have received no information about when they could be evicted or whether they will receive compensation, said Sok Lim, commune chief of Choeung Ek commune where Stoeng Chrov village is located. The village was once part of Takhmao city's Doeum Mean commune, but was redistricted to Phnom Penh's growing Dangkao district about six months ago.
Around that same time — shortly before the district meeting — excavators came to the area to dig near the riverbank.
Villagers chased them away, but it made them suspicious of what could happen next. No ministry members have come to inform them or even the commune chief of plans; the only regular visitors to the winding roadway are bicycling Mormon missionaries.
"I'm not sure when, but possibly the project will kick off soon," Lim said.
One in-the-know resident, who would not share his name after claiming that VOD would misquote him, directed reporters to a signpost about a 15-minute drive away near Boeng Tompun lake, where a new Aeon Mall is surrounded by a frenzy of construction and land-for-rent signs.
The filling-in of the lake has been previously blamed for pollution in Prek Tnaut river via canals connecting the bodies of water.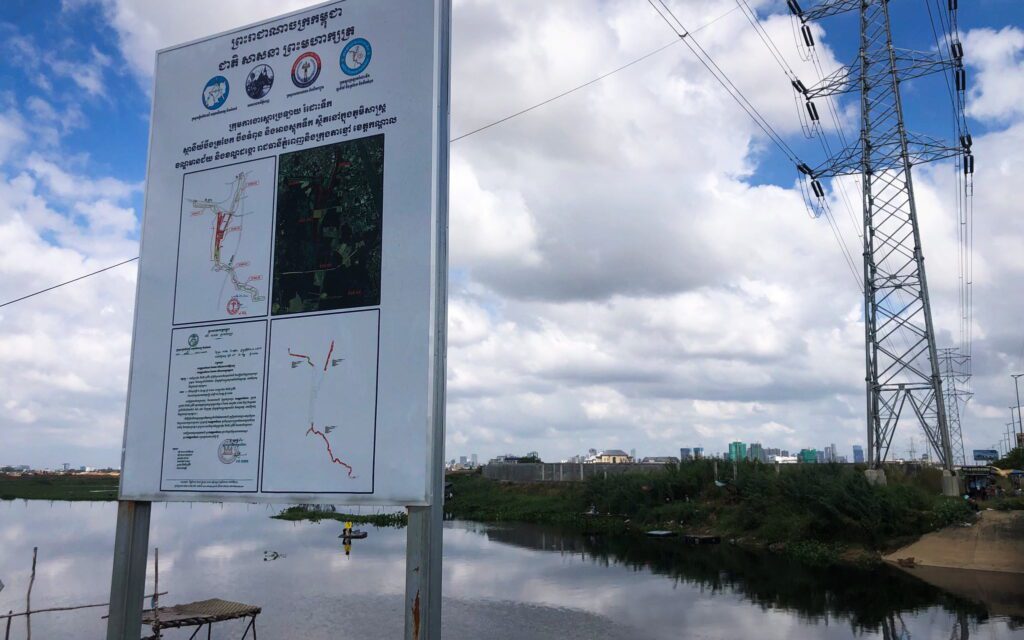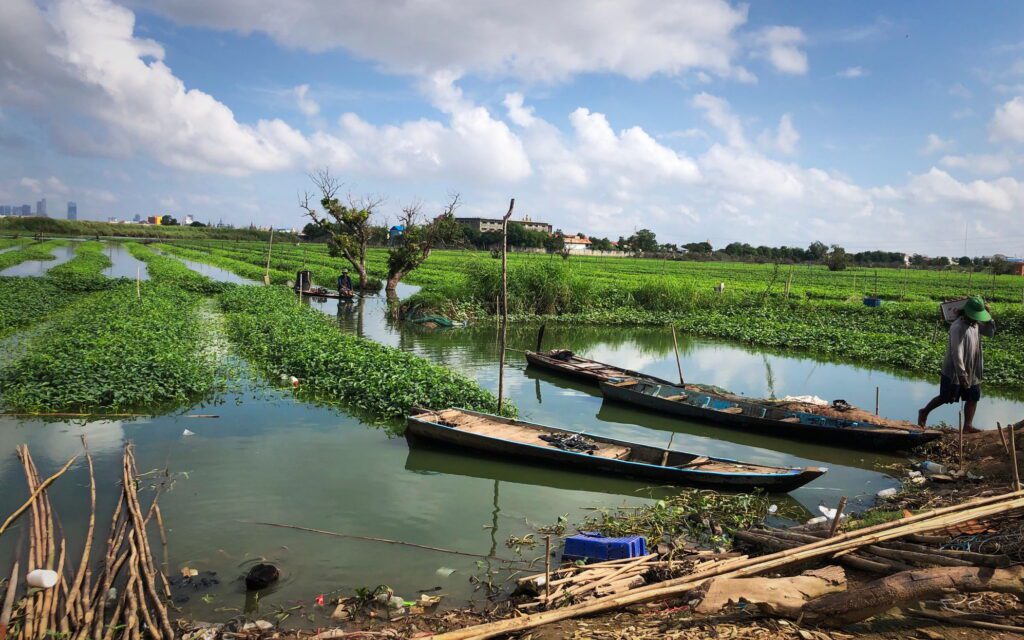 An official letterhead mounted on a signpost — signed by Chhan Saphan, secretary of state of the Ministry of Public Works and Transport, and Sam Piseth, the director of the Phnom Penh Department of Public Works — said that Active Properties would take charge in restoring 8,668 meters' worth of streams in Takhmao city and Phnom Penh districts Dangkao and Meanchey, plus the Choeung Ek reservoir.
"To ensure that the project can go smoothly, the authorities and other relevant parties should cooperate closely with the company — Active Properties," said the letter, dated September 15, 2021.
Chairwoman Sorphea has received at least four previous state land grants, including several plots on the fast-disappearing Boeng Tamok on the northwest outskirts of Phnom Penh where about 200 families are taking a last stand against eviction.
Active Properties' previous chairwoman was Pich Chanmony, the wife of Hun Sen's eldest son and planned successor Hun Manet, according to Open Corporates.
A flurry of calls to other officials provided little more information. Meanchey governor Hem Darith said he "is not clear about the project" and referred questions to the public works ministry. Pal Chandara, the spokesperson of the Ministry of Public Works and Transport, did not pick up the phone; nor did Dangkao district governor Kim Nhep.
Pheng Sovicheano, the secretary of state of the Ministry of Public Works and Transport, said he "does not know about the project because I am not in charge of it." Sam Piseth, the director of the department of public works in Phnom Penh did not pick up.
Another Stoeng Chrov resident, 74-year-old Mei Sipha, said she isn't sure how much she should expect in compensation for the home she's lived in along the river for 20 years. She hopes it would be enough to build a similarly-sized house to fit the four grandchildren she's raising.
"It's good that the government is planning to restore this stream to prevent flooding in the city," she said. "But frankly speaking, I do not want to leave this place. I don't have any choice but to go with the flow."