A recent wave of arrests of youth activists show the government's fear of outspoken dissidents, and the potential for small demonstrations to become large-scale protests, political activists and analysts say, while a ruling party official denied any such fear yet suggested that the CPP intended to put out a "fire" before it spread.
At least nine activists affiliated with three different youth advocacy groups protesting for environmental causes and the release of jailed government critic Rong Chhun have been charged and imprisoned in the last month, with a few others detained and then released.
While a spokesperson for the ruling CPP on Monday alleged that the dissolved main opposition CNRP was behind the demonstrations, one CNRP leader said the party had drawn inspiration from the young activists.
"[Prime Minister] Hun Sen can no longer accuse the CNRP of leading the protests," said deputy party president Mu Sochua, noting a recent editorial in government-aligned media portal Fresh News that claimed she and another CNRP vice president, rather than youth activists, were orchestrating Monday's blocked demonstrations to the capital's Freedom Park.
"We are very proud to say that we are totally inspired by the courage and determination of the youths," Sochua said in an email.
From household debt and the partial withdrawal of Cambodia's duty-free trade access to the E.U., to land grabs and alleged border encroachment, Sochua said the government was "fully aware of the desperate situation" faced by Cambodians, which the government was "incapable of addressing."
"The government is fearful of any sign of protest as people are affected by the economic impact of Covid-19," she said, adding that officials were mistaken if they thought they could "silence these independent groups."
The late July arrest of Chhun, a union leader jailed over his claims that Cambodia was losing land to Vietnam, sparked regular, youth-led protests, which followed recurring demonstrations by the wives of jailed CNRP members calling for their spouses' release. Chhun was once a CNRP-appointed member of the National Election Committee. He also joined a bicycle-riding environmental campaign earlier this year in which young activists called for an undeveloped island off Koh Kong province to be made a marine protected area.
But even with key opposition figures in jail and a high level of fear among the general public, small groups were remaining active, according to Sochua. Like many senior CNRP leaders, more than 100 of whom were banned from politics for five years, she fled Cambodia to avoid arrest following the 2017 dissolution of the party and jailing of CNRP president Kem Sokha, whose treason trial is still pending.
"There is clearly a sign of a people uprising that was not the case when CNRP leaders lead the protests," Sochua said.
Putting Out Fires
Political analyst Hang Vitou surmised that the CPP-led government may still suspect youth activists' rallies were linked to the CNRP, so authorities were cracking down on their protests — no matter the size — to limit their actions and demoralize others who may wish to stand up against the state.
The arrests show the CPP's fear of small protests ballooning into larger actions, which could affect the party's rule, Vitou said.
"A whole forest fire could result from the fire of a matchstick or a candle. So the movement of demonstrations could begin from a small rally like what the young activists have done. That's why [the government] is afraid," he said.
Vitou suggested that officials should pursue solutions to national problems rather than protesters. Eventually, the greater the pressure on activists, he said, the more people will join a movement to stand up against the government.
He also recommended social justice activists keep their distance from political parties, explaining that support for the opposition could land them on the receiving end of criminal accusations.
CPP spokesperson Sok Eysan said the government had nothing to fear from youth activists, and their arrests were the result of authorities carrying out their duty to maintain peace, political stability and social order in the country — a common refrain from officials.
"The youth activist groups are assigned by organizations that take actions, with goals and plans, under orders from the outlawed terrorists who ran away from their homeland," Eysan said, referring to CNRP members who have left the country. "So they are not allowed to stand up."
"The CPP's royal government is holding complete power in its hands by gaining support from the military and people nationwide. Why do we need to fear them?" the spokesperson continued.
Still, in sharing what he called a party adage, Eysan suggested that the government was attempting to put out a potential protest firestorm before it even ignited.
"The CPP's royal government has a proverb: 'Don't let a spark become a fire. Put it out before the fire grows,'" he said.
"One rises up, one beaten up. Two rise up, two beaten up," he added, using another turn of phrase. "These do not mean any fear."
In December, Prime Minister Hun Sen warned that Cambodia's political opposition would be extinguished if the E.U. cut Cambodia's "Everything But Arms" (EBA) duty-free trade perks, which happened in August, because the European bloc would no longer have enough sway in the country to protect the CNRP.
"Your [influence] with me will also be reduced, meaning you will have participated in killing the always-critical opposition group," Hun Sen said at the time.
'Illegal Activities'; 'Abstract Ideals'
In a statement on Monday, the Interior Ministry accused advocacy groups Khmer Thavrak and Mother Nature Cambodia of operating without registering with the government and causing social instability and public disorder by publishing articles, photos and videos, and holding demonstrations "without legal permission."
The ministry appealed to the public to "not participate in the illegal activities of these groups."
Earlier that day, authorities prevented dozens of activists from holding an announced rally in Freedom Park, after officials had said the demonstration would not be permitted.
Mean Prommony, the vice-president of a third group, Khmer Student Intelligent League Association (KSILA), and Koet Saray, a defrocked monk and member of KSILA, were charged with incitement on Monday, while two more Khmer Thavrak activists were also arrested.
At least one other member of Khmer Thavrak, Hun Vannak, has been detained since last month, while three activists from the environmental group Mother Nature — of which Vannak was formerly a prominent member — were jailed last week on incitement charges.
Activists told VOD that the more pressure authorities put on young dissidents, the more likely they would be to participate in protests.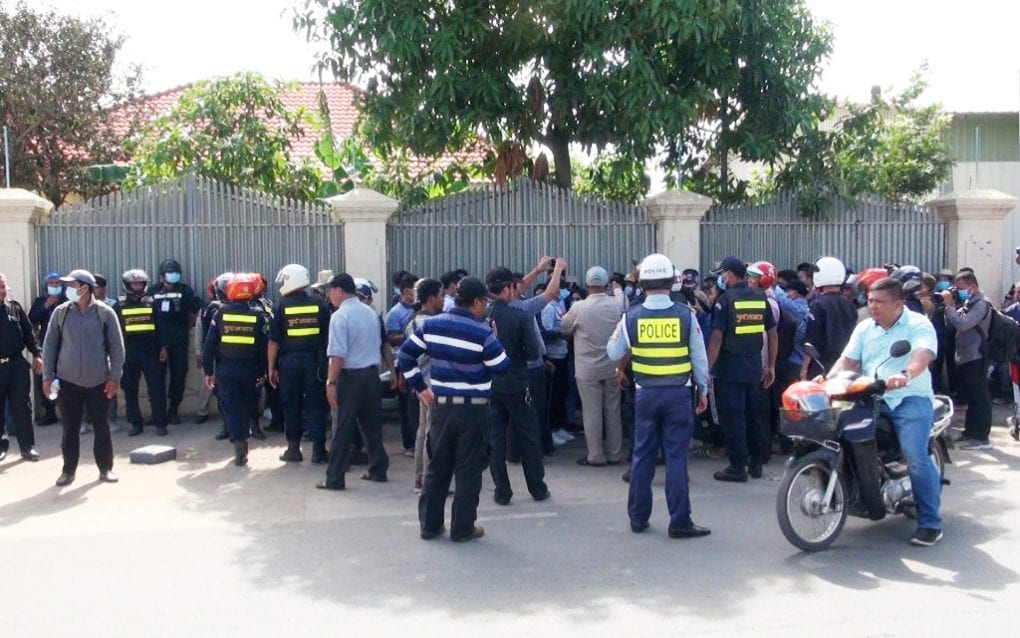 "I think there is a genuine element of fear in [the government] that Cambodian youth could act as a spark for others in the 'general population' to rise up," said Alejandro Gonzalez-Davidson, a co-founder of Mother Nature.
Gonzalez-Davidson, a Spanish national who lived in Cambodia for years before he was deported and not allowed to return, said more Cambodians were protesting for "abstract ideals" like "a better future, a better society, a new Cambodia — one that is not ruled by Mr. Hun Sen and his clique," rather than specific injustices like land thefts.
Last month, about 20 protesters, including Khmer Thavrak members, briefly marched in Phnom Penh holding Cambodian flags and wearing T-shirts proclaiming "I Love the Nation."
One protester, 20-year-old Tha Lavy, who was arrested on Monday, told VOD at the time that the march was about supporting "patriotic heroes" arrested trying to defend Cambodian territory.
"When they arrested those who demonstrated patriotism in protecting the national border, our people did not concern themselves with the national problem, and let powerful people use their power to arrest our patriotic heroes," Lavy said. "We cannot accept it, and want to spread a message for people to love our nation."
According to Gonzalez-Davidson, "Things might appear calm over the next few days or weeks after the current wave of arrests, but then we will end up with more and more youth willing to take risks for the above ideals."
Kung Raiya, a Cambodian dissident in Thailand who is seeking political asylum, agreed that authorities couldn't arrest all the nation's young activists, calling them brave role models who stand up to demand justice for innocent people.
"I think the government is also afraid of arresting youth groups," Raiya said. "Its strategy is only to arrest their leaders who might potentially lead protests to demand the government respect and recover democracy."
A 'Brazen Violation'
Human rights advocates and U.N. rapporteurs have raised concerns about the recent arrests of activists, with one saying the crackdown was "chilling" and served to intimidate others from freely exercising their rights.
"While unfortunately the judicial harassment and intimidation of activists and human rights defenders is not uncommon in Cambodia, alarmingly the number of arrests of outspoken individuals has surged in a short space of time, and there has been a clear targeting of high-profile activist voices," said Chak Sopheap, executive director of the Cambodian Center for Human Rights.
Sopheap said the government should be reminded that freedoms of expression, association and peaceful assembly still apply, even if people are sharing information or protesting for a cause with which officials disagree.
"Authorities have responded heavy-handedly to the latest peak in public participation, inflicting violence and intimidation on protesters, particularly women," the rights advocate said in an email.
The increasing use of force by authorities against protesters — some of whom have been injured in recent weeks — was "shocking," "entirely unjustified" and signified a "brazen violation" of peaceful assembly rights, she said.
Rhona Smith, the U.N. special rapporteur for human rights in Cambodia, also voiced concern over the arrests, urging on Tuesday that detained individuals be brought before a court and that their freedoms and rights to due process be ensured.
On Sunday, U.N. Special Rapporteur on Human Rights Defenders Mary Lawlor said she too was receiving "alarming reports" of arrests in Cambodia, and noted that "Peaceful protest is not a crime."
The U.N. human rights office in Cambodia expressed concern over the reported arrests in an email on Monday, and said they were monitoring developments.
One Khmer Thavrak activist, Eng Malai, who also uses the name So Metta, was arrested on Monday evening about an hour after leaving the U.N. office in Phnom Penh, according to police officials and another activist in the group.
Ly Sreysros, president of the Young Analysts Group, concurred with other observers that authorities' recent actions against youth activists might stem from fear that small protests could lead to wider demonstrations, especially involving poor people who have lost their jobs due to the partial withdrawal of EBA trade preferences or the Covid-19 economic crisis.
She added that in democratic countries, the government should be open to peaceful protesters demanding solutions to societal ills, and find resolutions, rather than muzzle them.
"When people have troubles and we don't allow them to speak out, that's a problem, which could change the situation in the country," Sreysros said.
"The change of regimes or leaders in some countries has begun from the leaders of those countries being incompetent and not solving their citizens' problems."
Additional reporting by Ouch Sony